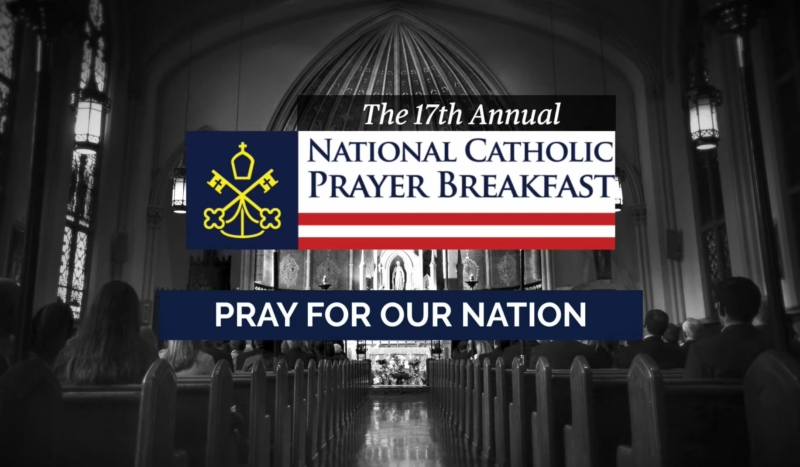 CV NEWS FEED // After two cancelations due to COVID last year, the National Catholic Prayer Breakfast will be back and in person again this year.
The 17th annual National Catholic Prayer Breakfast will take place in Washington, DC on Sept 13-14, featuring Bishop Steve Lopes, Ordinariate of the Chair of St. Peter, as the keynote speaker.
Jeff Cavins will make an appearance as Special Guest Speaker as well.
Attendees will pray the Divine Mercy Chaplet together for the United States, its leaders, and one another. They will also celebrate Mass at the beginning and again and the end of the conference.

"Having not been together for this event for almost two years, everyone is really looking forward to a 'Catholic reunion' of sorts in our nation's capital," Event Chairman Mark Randall told CatholicVote Friday.
"We need to pray and support one another – more than ever," he said. "We say that every year" he added, "but there is a certain urgency to it this year, I think."
The Church has faced a number of controversies during the first nine months of the Biden administration. Church leaders and America's second Catholic president have confronted each other numerous times over central issues relating to public policy and Catholic teachings on religious freedom, abortion, and sexuality.
The president "respectfully disagrees" with the U.S. Bishops, White House Spokeswoman Jen Psaki once said when confronted with the Church's opposition to a Biden policy move allowing scientific experimentation on aborted cadavers.
More recently, Bishop Thomas Tobin of Providence, RI, reproved Biden for calling himself a "Devout Catholic" while he "continues to fervently support and promote the death of unborn children in abortion."
Bishops in leadership positions within the United States Conference of Catholic Bishops (USCCB) have used even stronger language.
"Because President Biden is Catholic, it presents a unique problem for us," said Archbishop Joseph Naumann of Kansas City, Kansas, who chairs the USCCB's Committee on Pro-Life Activities earlier this year. "It can create confusion. … How can he say he's a 'devout Catholic' and he's doing these things that are contrary to the church's teaching?"
As a representative of the USCCB, Naumann has also officially called on Congress to reject the Biden administration's aggressive campaign to remove pro-life protections from spending bills, forcing American taxpayers to fund abortions.
"These are dark times," Mark Randal told CatholicVote, "but being physically together, united in faith, will no doubt encourage all of us to remain strong."
For more information about the National Catholic Prayer Breakfast, visit their website here. CatholicVote.org is a co-sponsor of the 17th annual NCPB.