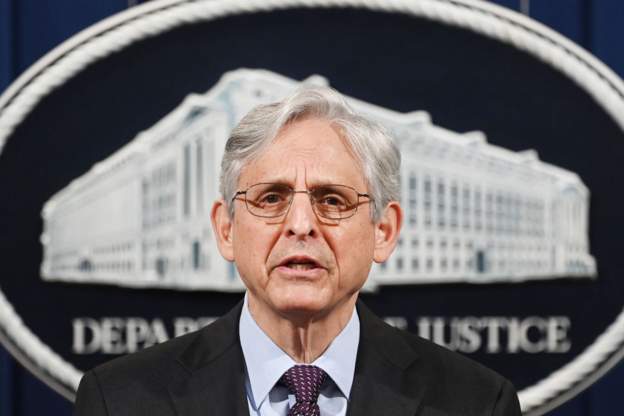 CV NEWS FEED // Fifty-eight percent of Americans want Attorney General Merrick Garland to enforce the federal law that prohibits protests at the homes of Supreme Court justices, according to a new Judicial Network poll.
Pro-abortion groups have repeatedly violated the law by gathering illegally outside the homes of pro-life justices to protest the overturn of Roe vs. Wade. Radicals began descending on the justices' homes before the ruling came down, which many commentators saw as an especially egregious violation, intended to pressure the Court in favor of abortion.
Among those who agreed that Garland should take action against such activity were 56% of Independents and 50% of Democrats, the Judicial Network found.
"61% of registered voters agree that these types of protests undermine our democracy," the organization reported. "Including 60% of Independents and 52% of Democrats."
In addition, "60% of registered voters agree that Joe Biden should condemn protests at the homes of Supreme Court justices," including "57% of Independents and 51% of Democrats."
The Judicial Network also polled voters about specific activities by abortion radicals since the Supreme Court's prospective decision in the case of Dobbs vs. Jackson was first leaked in early May:
71% of respondents agree that activist groups paying "bounties" for tips about where justices are dining is behavior that goes "too far." 
Including 69% of Independents and 61% of Democrats.

59% are less likely to vote for an elected official who refuses to speak out against acts of rage, vandalism, and violence against a pregnancy resource center.
Including 61% of Independents and 49% of Democrats.
The numbers are a vindication of complaints by Republican officials and conservative and pro-life organizations over the past few months that the Biden administration and pro-abortion Democrats have been shockingly silent about a current rash of violence, threats, and even terrorism by abortion groups.
Many critics have cited CatholicVote's violence tracker, which documents examples of vandalism and other criminal aggressions against churches and pro-life clinics. There have been well over 100 such incidents in the past three months alone. (Readers can find CatholicVote's violence trackers against churches and pregnancy resource centers by clicking here and here.)
Some Democrats, meanwhile, have been accused of egging on the violence. Sen. Liz Warren, D-MA, baselessly accused pregnancy resource centers of "torturing" women and called for officials to "crack down" on the organizations. CatholicVote recently launched a petition letter that charged Warren with "adding fuel to the fire of abortion terrorism."
"Democrats have to know better than this," said CatholicVote Communications Director Joshua Mercer. "They know that when it comes to some of these radical groups, their rhetoric is explicitly violent, and the lives of pro-life Americans – from the justices to volunteers at crisis pregnancy centers – are under real threat."
Mercer pointed out the congressional testimony of one clinic owner whose staff had to spend thousands on security after a man approached their center armed with a machete. "And don't forget the would-be assassin of Justice Brett Kavanaugh," Mercer said. "He told police he was acting on pro-abortion sentiment, and he was arrested the same day a radical abortion group published the addresses of justices, encouraging followers to go after them."
Democrats are watching the same news as the rest of America, Mercer said. "They do know better, and we won't let them get away with pretending they don't."
"Americans overwhelmingly agree: Threats, protests at the homes of Supreme Court justices, vandalism, violence, and other intimidation tactics undermine our democracy," said Carrie Severino, president of the Judicial Network. "From their unwillingness to enforce the law to their dangerous rhetoric, Democrats are putting the justices' lives at risk."