Updated June 25, 2022
Attacks Since Supreme Court Leak:
31
CV NEWS FEED // More than thirty pregnancy resource centers and offices of pro-life groups have been attacked since a draft Supreme Court opinion overturning Roe v. Wade was leaked in early May. Pro-abortion domestic terrorists have claimed responsibility — and are promising more attacks in a "summer of rage". 
Click/tap on the icons on the map to view locations, details, and photos of each attack.

The pregnancy resource centers, which provide free medical and financial support to pregnant and new mothers, have been spray-painted with pro-abortion and anarchist messages and symbols. Several have been set on fire. Other pro-life groups which advocate for the right to life have also had their offices vandalized.
The attacks appear to be organized under the umbrella of two domestic terror groups — Jane's Revenge and Ruth Sent Us — which have arisen since the Supreme Court opinion leak was published on May 2, 2022. Many of the attacks have similar messages, including "If abortions aren't safe, neither are you".
After an attack in Madison, Wisconsin, Jane's Revenge claimed credit and said they were at "war" with pro-life groups. They demanded "the disbanding of all anti-choice establishments" and said the first attack was "only a warning". Since then, several attacks have used the words "Jane Was Here" or "REVENGE". The group is planning a "Night of Rage" for the night after the final Supreme Court decision is released. The identity of the group's leadership and the sources of its funding are unclear.
The group Ruth Sent Us has organized illegal protests outside the homes of Supreme Court justices, and has also called on its extremist supporters to storm Catholic churches during Mass. They even warned on Twitter, "We'll be burning the Eucharist to show our disgust for the abuse Catholic Churches have condoned for centuries." Ruth Sent Us is also a shadowy group, though Influence Watch has connected the group to two Democrat activists named Vara Ramakrishnan and Sam Spiegel.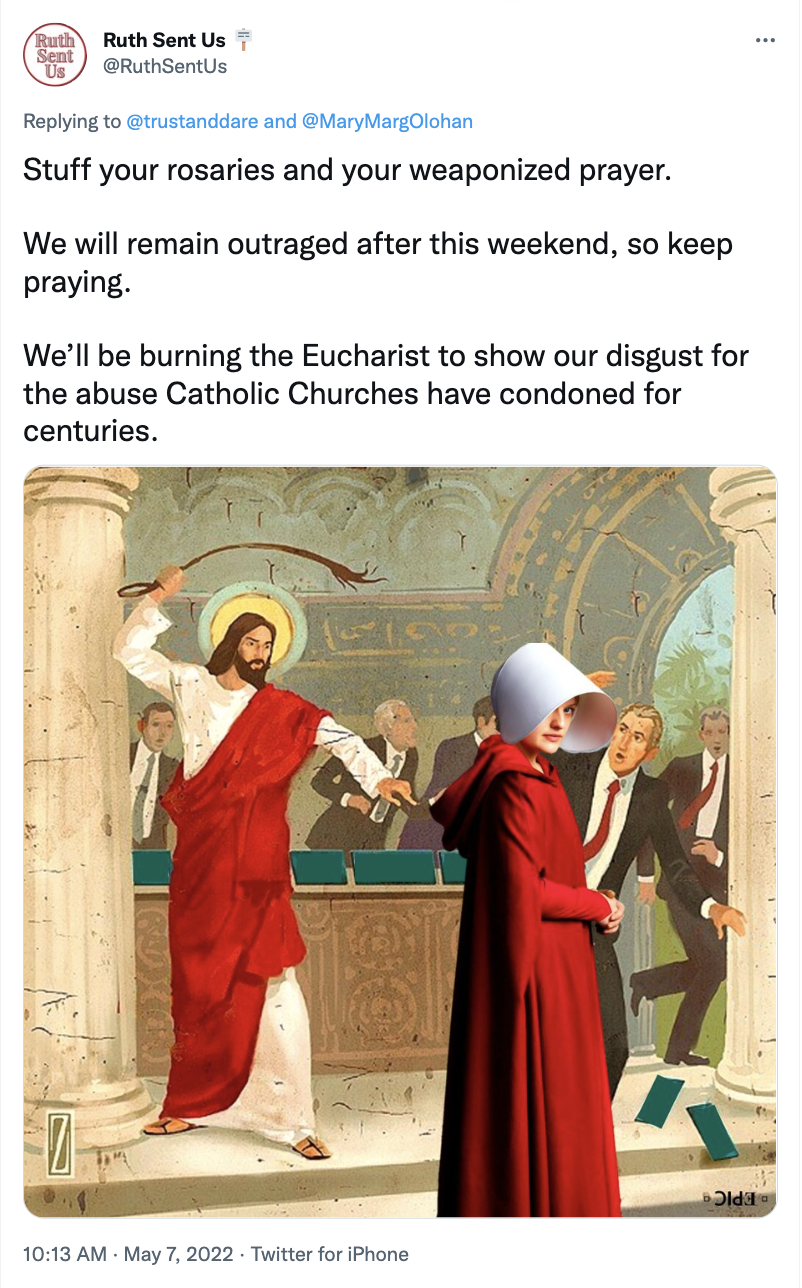 The map and this post will be updated as the news develops.
List of attacks:
Austin, Texas — Trotter House (May 3, 2022)
Frederick, Maryland — CareNet Frederick (May 4, 2022)
Portland, Oregon — Southeast Portland Pregnancy Resource Center (May 5, 2022)
Denton, Texas — Loreto House (May 7, 2022)
Reiserstown, Maryland — Alpha Pregnancy Center (May 7, 2022)
Manassas, Virginia — First Care Women's Health (May 7, 2022)
Alexandria, Virginia — Concerned Women for America (May 7, 2022)
Frederick, Maryland — BirthRight of Frederick (May 8, 2022)
Keizer, Oregon — Oregon Right to Life (May 8, 2022)
Madison, Wisconsin — Wisconsin Family Action (May 8, 2022)
Portland, Oregon — Mother & Child (May 9, 2022)
Ypsilanti, Michigan — Family Life Services (May 11, 2022)
Long Beach, California — His Nesting Place Home for Mothers & Children (May 16, 2022)
Sebastopol, California — Pregnancy Center Billboard (May 24, 2022)
Lynnwood, Washington — Next Step Pregnancy Services (May 25, 2022)
Auburn, Alabama — Women's Hope Medical Clinic (May 25, 2022)
Eugene, Oregon — Dove Medical Clinic (May 27, 2022)
Hollywood, FL — South Broward Pregnancy Center (May 28, 2022)
Anchorage, Alaska — Community Pregnancy Center (June 2, 2022)
Des Moines, Iowa — Agape Pregnancy Center (June 2, 2022)
Washington, DC — Capitol Hill Pregnancy Center (June 3, 2022)
Federal Way, Washington — CareNet Pregnancy & Family Services of Puget Sound (June 4, 2022)
Asheville, North Carolina — Mountain Area Pregnancy Services (June 6, 2022)
Buffalo, New York — CompassCare Pregnancy Services (June 7, 2022)
Vancouver, Washington — Options360 Women's Clinic (June 9, 2022)
Gresham, Oregon — Gresham Pregnancy Resource Center (June 10, 2022)
Philadelphia, Pennsylvania — HOPE Pregnancy Center (June 15, 2022)
Minneapolis, Minnesota — Minnesota Concerned Citizens for LIfe (June 15, 2022)
Dearborn Heights, Michigan — The Lennon Center (June 19, 2022)
Jackson, Michigan — Jackson Right to Life (June 21, 2022)