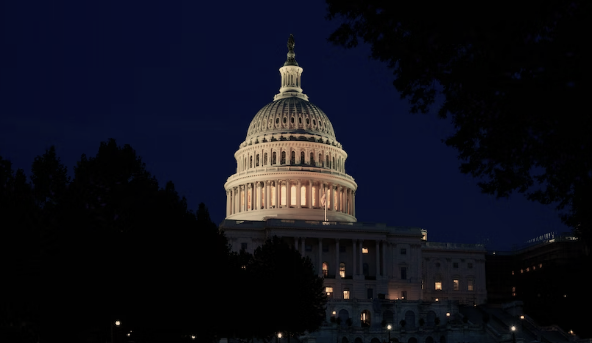 CV NEWS FEED // Lawmakers in the House of Representatives on Wednesday voted 222-208 to pass H. Con. Res. 3, a resolution "condemning the recent attacks on pro-life facilities, groups, and churches." All but one of the Catholic Democrats in the House voted against the measure, refusing to condemn pro-abortion violence. Their names are listed below.
CatholicVote reported this week on a more substantial bill which included the condemnation passed by the House Wednesday but also would have required the Biden Justice Department to publish its internal communications about recent pro-abortion violence and make a number of assurances that it would finally investigate and prosecute the incidents after several months of attacks against pro-life groups and churches.
Republican lawmakers on Wednesday set aside that more comprehensive bill for later consideration and instead called for a vote on the simple resolution condemning the attacks.
Only three Democrats voted with all Republicans to pass the resolution on Wednesday, including Catholic Rep. Vincente Gonzalez, D-TX.
All Catholic Representatives in the Republican Party voted in favor of the resolution, while all but one (Gonzalez) of the Catholics in the Democratic Party voted against it.
There are currently 122 Catholics in the House, 66 of them Democrats and 56 Republicans.
"Tonight 209 Democrats voted against a resolution condemning the recent firebombing, violence, and vandalism against pro-life care centers and Catholic churches," said CatholicVote President Brian Burch after the vote. "Their vote sends the unmistakable message that pro-abortion domestic terrorism is above the law. For Catholics in the House to join with fellow Democrats in refusing to address these unspeakable acts of violence is beyond egregious. It's an outright betrayal of American Catholic voters and their allies who serve women in need."
CatholicVote has tracked at least 78 attacks on pregnancy care centers and other pro-life groups and 108 attacks on Catholic churches since May 2022. Readers can click here to view CatholicVote's regularly updated list of attacks on pro-life organizations and here to view CatholicVote's list of attacks on churches.

Below readers can find a full list of Catholics in Congress and how they voted on H. Con. Res. 3 – "Expressing the sense of Congress condemning the recent attacks on pro-life facilities, groups, and churches." (To see how all members of Congress voted, click here.)
| | | | | | |
| --- | --- | --- | --- | --- | --- |
| First | Last | Party | State | District | Vote |
| David | Schweikert | Republican | Arizona | 1st | YES |
| Ruben | Gallego | Democratic | Arizona | 3rd | NO |
| Greg | Stanton | Democratic | Arizona | 4th | NO |
| Raul | Grijalva | Democratic | Arizona | 7th | NO |
| Paul | Gosar | Republican | Arizona | 9th | YES |
| French | Hill | Republican | Arkansas | 2nd | YES |
| Mike | Thompson | Democratic | California | 4th | NO |
| Mark | DeSaulnier | Democratic | California | 10th | NO |
| Nancy | Pelosi | Democratic | California | 11th | NO |
| Kevin | Mullin | Democratic | California | 15th | NO |
| Anna | Eshoo | Democratic | California | 16th | NO |
| Jimmy | Panetta | Democratic | California | 19th | NO |
| Jim | Costa | Democratic | California | 21st | NO |
| David | Valadao | Republican | California | 22nd | YES |
| Salud | Carbajal | Democratic | California | 24th | NO |
| Grace | Napolitano | Democratic | California | 31st | NO |
| Pete | Aguilar | Democratic | California | 33rd | NO |
| Jimmy | Gomez | Democratic | California | 34th | NO |
| Norma | Torres | Democratic | California | 35th | NO |
| Ted | Lieu | Democratic | California | 36th | NO |
| Linda | Sánchez | Democratic | California | 38th | NO |
| Robert | Garcia | Democratic | California | 42nd | NO |
| Nanette | Barragán | Democratic | California | 44th | NO |
| Lou | Correa | Democratic | California | 46th | NO |
| Mike | Levin | Democratic | California | 49th | NO |
| Juan | Vargas | Democratic | California | 52nd | NO |
| Yadira | Caraveo | Democratic | Colorado | 8th | NO |
| John | Larson | Democratic | Connecticut | 1st | NO |
| Joe | Courtney | Democratic | Connecticut | 2nd | NO |
| Rosa | DeLauro | Democratic | Connecticut | 3rd | NO |
| Neal | Dunn | Republican | Florida | 2nd | YES |
| John | Rutherford | Republican | Florida | 5th | YES |
| Darren | Soto | Democratic | Florida | 9th | NO |
| Mario | Díaz-Balart | Republican | Florida | 26th | YES |
| Carlos | Giménez | Republican | Florida | 28th | YES |
| Jesus | García | Democratic | Illinois | 4th | NO |
| Darin | LaHood | Republican | Illinois | 16th | YES |
| Frank | Mrvan | Democratic | Indiana | 1st | NO |
| Greg | Pence | Republican | Indiana | 6th | YES |
| Mariannette | Miller-Meeks | Republican | Iowa | 1st | YES |
| Zach | Nunn | Republican | Iowa | 3rd | YES |
| Jake | LaTurner | Republican | Kansas | 2nd | YES |
| Steve | Scalise | Republican | Louisiana | 1st | YES |
| Garret | Graves | Republican | Louisiana | 6th | YES |
| Andy | Harris | Republican | Maryland | 1st | YES |
| Richard | Neal | Democratic | Massachusetts | 1st | NO |
| Jim | McGovern | Democratic | Massachusetts | 2nd | NO |
| Lori | Trahan | Democratic | Massachusetts | 3rd | NO |
| Stephen | Lynch | Democratic | Massachusetts | 8th | NO |
| Bill | Keating | Democratic | Massachusetts | 9th | NO |
| Debbie | Dingell | Democratic | Michigan | 6th | NO |
| Dan | Kildee | Democratic | Michigan | 8th | NO |
| Lisa | McClain | Republican | Michigan | 9th | YES |
| Brad | Finstad | Republican | Minnesota | 1st | YES |
| Betty | McCollum | Democratic | Minnesota | 4th | NO |
| Tom | Emmer | Republican | Minnesota | 6th | YES |
| Michelle | Fischbach | Republican | Minnesota | 7th | YES |
| Pete | Stauber | Republican | Minnesota | 8th | YES |
| Ann | Wagner | Republican | Missouri | 2nd | YES |
| Blaine | Luetkemeyer | Republican | Missouri | 3rd | YES |
| Matt | Rosendale | Republican | Montana | 2nd | YES |
| Mike | Flood | Republican | Nebraska | 1st | YES |
| Susie | Lee | Democratic | Nevada | 3rd | NO |
| Jeff | Van Drew | Republican | New Jersey | 2nd | YES |
| Chris | Smith | Republican | New Jersey | 4th | YES |
| Frank | Pallone | Democratic | New Jersey | 6th | NO |
| Rob | Menendez | Democratic | New Jersey | 8th | NO |
| Bill | Pascrell | Democratic | New Jersey | 9th | NO |
| Mikie | Sherrill | Democratic | New Jersey | 11th | NO |
| Gabe | Vasquez | Democratic | New Mexico | 2nd | NO |
| Teresa | Leger Fernandez | Democratic | New Mexico | 3rd | NO |
| Nick | LaLota | Republican | New York | 1st | YES |
| Andrew | Garbarino | Republican | New York | 2nd | YES |
| Anthony | D'Esposito | Republican | New York | 4th | YES |
| Nydia | Velázquez | Democratic | New York | 7th | NO |
| Adriano | Espaillat | Democratic | New York | 13th | NO |
| Alexandria | Ocasio-Cortez | Democratic | New York | 14th | NO |
| Mike | Lawler | Republican | New York | 17th | YES |
| Pat | Ryan | Democratic | New York | 18th | NO |
| Paul | Tonko | Democratic | New York | 20th | NO |
| Elise | Stefanik | Republican | New York | 21st | YES |
| Joseph | Morelle | Democratic | New York | 25th | NO |
| Brian | Higgins | Democratic | New York | 26th | NO |
| Greg | Murphy | Republican | North Carolina | 3rd | YES |
| Virginia | Foxx | Republican | North Carolina | 5th | YES |
| Patrick | McHenry | Republican | North Carolina | 10th | YES |
| Brad | Wenstrup | Republican | Ohio | 2nd | YES |
| Bob | Latta | Republican | Ohio | 5th | YES |
| Marcy | Kaptur | Democratic | Ohio | 9th | NO |
| David | Joyce | Republican | Ohio | 14th | YES |
| Mike | Carey | Republican | Ohio | 15th | YES |
| Stephanie | Bice | Republican | Oklahoma | 5th | YES |
| Cliff | Bentz | Republican | Oregon | 2nd | YES |
| Val | Hoyle | Democratic | Oregon | 4th | NO |
| Lori | Chavez-DeRemer | Republican | Oregon | 5th | YES |
| Andrea | Salinas | Democratic | Oregon | 6th | NO |
| Brian | Fitzpatrick | Republican | Pennsylvania | 1st | YES |
| Brendan | Boyle | Democratic | Pennsylvania | 2nd | NO |
| Madeleine | Dean | Democratic | Pennsylvania | 4th | NO |
| Mary Gay | Scanlon | Democratic | Pennsylvania | 5th | NO |
| Matt | Cartwright | Democratic | Pennsylvania | 8th | NO |
| Dan | Meuser | Republican | Pennsylvania | 9th | YES |
| John | Joyce | Republican | Pennsylvania | 13th | YES |
| Mike | Kelly | Republican | Pennsylvania | 16th | YES |
| Chris | Deluzio | Democratic | Pennsylvania | 17th | NO |
| Chuck | Fleischmann | Republican | Tennessee | 3rd | YES |
| Pat | Fallon | Republican | Texas | 4th | YES |
| Michael | McCaul | Republican | Texas | 10th | YES |
| Veronica | Escobar | Democratic | Texas | 16th | NO |
| Joaquin | Castro | Democratic | Texas | 20th | NO |
| Tony | Gonzales | Republican | Texas | 23rd | YES |
| Henry | Cuellar | Democratic | Texas | 28th | NO |
| Sylvia | Garcia | Democratic | Texas | 29th | NO |
| Vicente | Gonzalez | Democratic | Texas | 34th | YES |
| Greg | Casar | Democratic | Texas | 35th | NO |
| Jen | Kiggans | Republican | Virginia | 2nd | YES |
| Ben | Cline | Republican | Virginia | 6th | YES |
| Gerry | Connolly | Democratic | Virginia | 11th | NO |
| Alex | Mooney | Republican | West Virginia | 2nd | YES |
| Bryan | Steil | Republican | Wisconsin | 1st | YES |
| Scott | Fitzgerald | Republican | Wisconsin | 5th | YES |
| Mike | Gallagher | Republican | Wisconsin | 8th | YES |