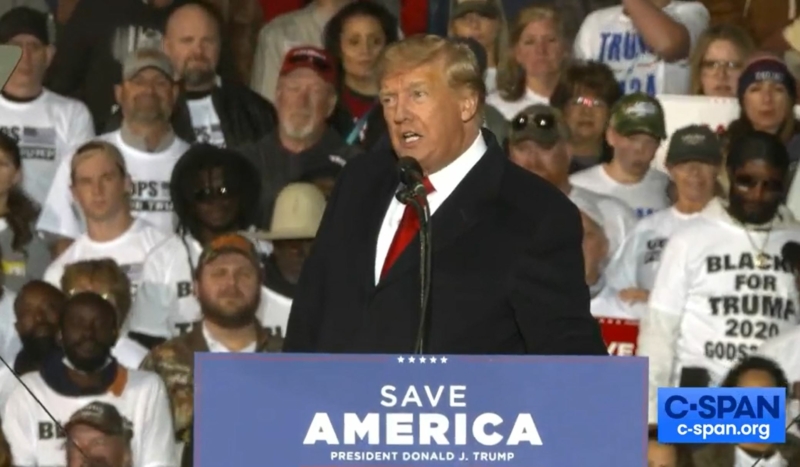 CV NEWS FEED // Former President Donald Trump vowed Monday that if reelected he would ban biological males from women's sports.
"We will ban men from participating in women's sports," Trump said at a rally in Conroe Texas Saturday. He called the issue "ridiculous," and went on to criticize University of Pennsylvania athlete Lia Thomas, who was born male but now identifies as female and has broken numerous women's records on a women's swim team.
Trump also alluded to "trans" weightlifter Laurel Hubbard, although not by name. Also born male, Hubbard has smashed global women's records by competing as a female.
As NBC News reported Monday, this was not the first time Trump has denounced the phenomenon of so-called "transwomen" (males identifying as female) competing with women in sports. Trump spoke plainly on the topic in a speech at the Conservative Political Action Committee last year, decrying "biological males" who claim womanhood and almost invariably best their truly female teammates and opponents:
"Young girls and women are incensed that they are now being forced to compete against those who are biological males," Trump said. "It's not good for women. It's not good for women's sports, which worked for so long and so hard to get to where they are." He later added, "If this does not change, women's sports as we know it will die."
During his campaign for the presidency, Joe Biden repeatedly vowed to promote the LGBTQ movement. Soon after his election, the Biden administration partnered with radical leftist activists as they aggressively pursued the new agenda of claiming women's sports for male competitors who opted to present themselves as female. As CatholicVote reported in June 2021:
The Biden administration has worked consistently to assert "sexual orientation" and "gender identity" as protected under Title IX. Critics, on the other hand, point out that the legislation was originally predicated precisely on the distinction between biological males and females — asserting the right of females to their own educational programming, including female sports.

[The] Biden Justice Department recently filed a legal brief claiming that an effort by West Virginia lawmakers to protect women's sports violated Title IX, which the DOJ argued does "not permit West Virginia to categorically exclude transgender girls from participating in single-sex sports restricted to girls."

"In observance of Title IX's 49th anniversary, the U.S. Department of Education's Office for Civil Rights today issued a Dear Educator Letter and, in conjunction with the U.S. Department of Justice's Civil Rights Division, a new fact sheet," the Department of Education stated…
The issue of protecting women's sports from the redefining ideology of the LGBTQ movement has become a rallying point for pro-family activists, state lawmakers, and governors. Potential contenders for the Republican presidential nomination in 2024 have also taken steps to legally fortify girls and womens sports against male participation.
Meanwhile, the LGBTQ movement has found an ally in Big Tech and in corporate America, who threaten economic consequences against Republicans who move to protect women and girls.
"You can't be cowed by these organizations, particularly by woke corporations, from doing the right thing," Gov. Ron DeSantis, R-FL, said last summer after signing a bill into law which banned biological males from female sports arenas. "We have to protect our girls."
Readers can find Trump's full remarks in Conroe, Texas here.