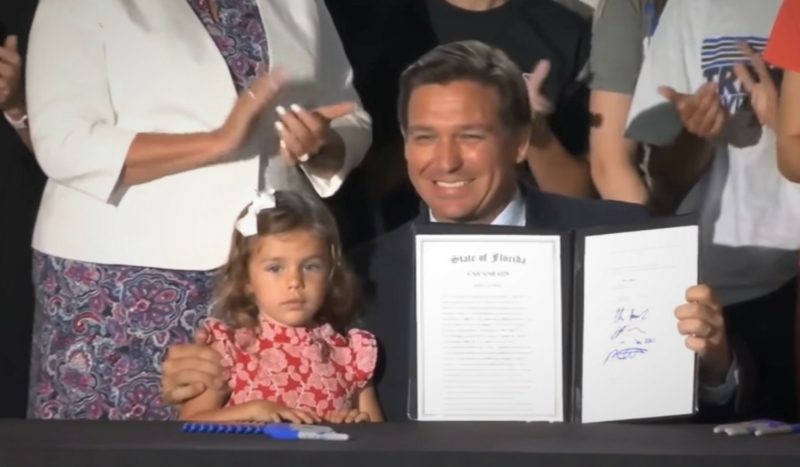 CV NEWS FEED // Gov. Ron DeSantis, R-FL, signed legislation Tuesday making it illegal for biological males to compete against females in state-sponsored girls and womens sports.
A number of states have enacted similar laws in recent months, despite considerable threats from corporations and media. As CatholicVote has reported, leading LGBT activists have spoken openly about working with big businesses to economically sanction states where lawmakers considered such laws.
"We've seen bills like this in a bunch of different states come before Republican governors who … don't sign them because they came under corporate pressure not to sign them," said Fox's Tucker Carlson in a Tuesday interview with DeSantis.
"You can't be cowed by these organizations, particularly by woke corporations, from doing the right thing," DeSantis said. "We have to protect our girls," he added.
Terry Schilling agrees, and believes the threats have proven less effective than the LGBT movement anticipated. According to Schilling, who serves as President of the American Principles Project, voters and conservative leaders have turned a corner.
"In acting to defend women's sports in Florida today, Governor Ron DeSantis has solidified his reputation as a fearless conservative who will face down attacks from the woke elite in order to do what's right for his constituents," Schilling said in a statement Tuesday.
"This is also a watershed moment for the movement to protect women's sports," he said, pointing out that recent GOP resistance to the LGBT movement is something he didn't see until recently.
"When we began working on this issue over two years ago, very few Republicans were interested in standing up for female athletes. Many were fearful of the boycott threats from woke corporations and bad publicity from the leftist-dominated media," Schilling explained:
But by joining Florida to a growing coalition of states that are moving to explicitly protect a fair playing field for female athletes, Gov. DeSantis has sent a message to the woke elite: attack us at your peril. While economic boycott threats might have worked against a single state, the strength of many state leaders standing together to defend women's sports is certain to neutralize the left's favorite playbook.
"The momentum has shifted, and our movement is winning," Schilling concluded. "We commend Gov. DeSantis for his important leadership on this issue, and we look forward to continuing to work with political leaders in other states and Washington DC to further our incredible progress toward ensuring fair and equal opportunities for female athletes nationwide."
The new law does indeed represent the continuation of a growing trend among state lawmakers passing legislation to protect female athletes after supporters of the LBTQ movement began pitting them against biological males who identify as female.
The trans effort in female sports quickly led to controversy as "trangender women" and "girls" (born male) began beating women and girls handily in athletic events from golf to track and field, and from cycling to competitive weightlifting.
In one prominent case, a number of female athletes filed suit against the Connecticut Interscholastic Athletic Conference, which had complied with LGBTQ-movement demands that they allow males to compete in female sports.
While all excellent athletes, each of the Connecticut girls was directly disadvantaged by the presence of males at competitive events. Alliance Defending Freedom, the legal firm who represented the girls, pointed out that one of them had proved four times to be the "fastest girl in a state championship race," but then lost to a male.
Another finished just "one place short" of advancing to the final round of the Indoor Track and Field State Championships. Then "two biological males who identify as female competed against her. The boys won first and second, and also both beat female state records.
One of the women in that case, former high school track-runner Selina Soule, praised DeSantis for his new legislation this week.
"I am grateful to Florida lawmakers and especially Governor DeSantis for preserving fairness and women's sports and allowing countless young girls and women the opportunity to succeed in the sport that they love," said Soule, according to the Daily Wire.
"I only wish the rest of the country would take these obvious steps to ensure fairness and equality for women and girls like me. Once again: Thank you, Governor DeSantis."
Readers can watch Gov. Ron DeSantis discuss the new law with Tucker Carlson below.