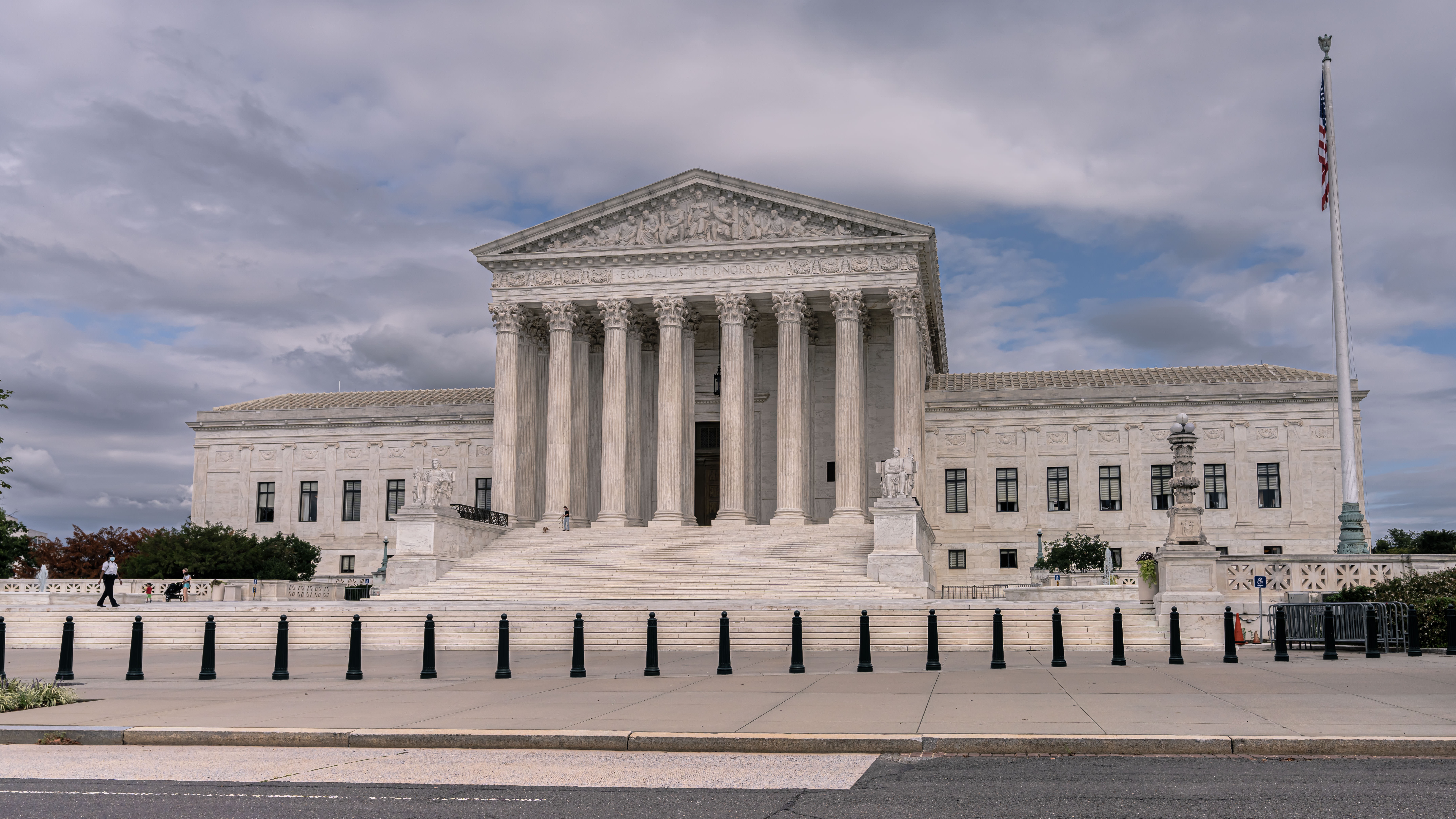 CV NEWS FEED // Tuesday will mark one year since the Supreme Court's draft opinion in the case of Dobbs v. Jackson was leaked to the public on the night of May 2, 2022.
Politico published the leaked opinion, describing it as "a full-throated, unflinching repudiation" of Roe v. Wade. The draft was nearly identical to the actual ruling of the Court that was issued nearly two months later on June 24 – despite multiple threats from pro-abortion activists.
These threats included a failed assassination plot on the life of Justice Brett Kavanaugh, whom the leaked decision showed voting with the majority of the Court to overturn Roe. On June 8, between the leak and the final Dobbs decision, the perpetrator traveled armed from California to the Justice's Maryland home. When the gunman was arrested, he directly cited the leak – and Kavanaugh's pro-life vote – in describing the murder motive. It was determined that in addition to Kavanaugh, the would-be assassin also planned to kill two other pro-life justices.
In January 2023, nearly nine months after the unprecedented leak, the Supreme Court concluded an investigation unable to determine the identity of the person responsible, who, in all likelihood, was pro-abortion and motivated by a desire to undermine the decision overturning Roe v. Wade.
The leak also prompted an onslaught of attacks on Catholic churches and pro-life pregnancy resource centers (PRCs) across the country. CatholicVote continues to track the attacks as they are perpetrated. As of today, CatholicVote has tracked 151 attacks on churches and 84 on PRCs and other pro-life groups since the leak.
To mark the one-year anniversary of the Dobbs leak, we reached out to the churches and PRCs that were attacked and in many cases vandalized. Many opted to share their stories with us. Here are some of them.
---
CareNet Frederick – Frederick, MD
attacked May 4, 2022
From Executive Director Linda King:
Unfortunately, we have been the target of vandalism twice before. The response is, and has been, to continue serving our community with the vital services we offer. The center has upgraded the security in and around our building to help our staff and volunteers feel safe. We also stress to keep an eye out for anything that seems out of place or suspicious.

Throughout the months of May and June, we were contacted by our local enforcement on a regular basis. I do not know if the investigation is currently ongoing.

In spite of attempts to harm and discredit our center, we will not be deterred from doing what we've been doing for 40years in the Frederick community. Our doors remain open to women and men making a pregnancy decision. Over the last five years, 99% of our clients have been satisfied with the care and service they received. Unfortunately, activists feel threatened by us because they don't understand that we give women and men an alternative to the abortion clinic and provide a real source of hope.
Next Step Pregnancy Services – Lynnwood, WA
attacked May 25, 2022
From Executive Director Heather Vasquez:
The vandalism in May 2022 did nothing to halt the clinic's 'business,' in fact, we remained open the whole time despite the broken windows and spray paint. Within a week, those were repaired, and all staff and volunteers continued with their regularly scheduled work.

Law enforcement were called and came by to get a report and were given the surveillance video. Also three Federal Agents came by as well to interview me. To date we have heard nothing further from either party and I assume the perpetrator was never caught.

To be honest, the incident did nothing really to halt our work. It, however compelled us to be more observant and cautious of all folks coming in. We did have two more cameras placed as well. It also brought to light what we, in fact, do to some of the public who were unaware.

We are here for women and their needs. We meet them where they are. We do not dictate their choice for them – we welcome, we listen, we offer evidence-based medical care and information, and are qualified to do so given we have licensed physicians, nurses, and sonographers who are credentialed and qualified for the work they do. The biggest threat for us is the vast amounts of misinformation out there about places like ours.
Hope Clinic for Women – Nashville, TN
attacked May 25, 2022
From CEO Kailey Cornett:
Our staff showed incredible missional focus on the initial day of the attempted arson and the weeks following. Our focus has always been and will always be the women we serve. We were open by 10 am to be able to see the women coming in our doors for pregnancy tests, ultrasounds, annual exams, and critical testing. The need doesn't stop, and our staff set their eyes on those clients.

We have received many follow-up visits, calls, and letters from local and federal law enforcement regarding this case. We are grateful for all the support we've received from law enforcement through these past five months. I go back to my initial thoughts when security camera footage was found for our incident – my heart goes out to the woman (or man) whose anger and pain brought them to the point of causing damage like that. We are continuing to pray they find hope and healing. Hope Clinic continues to be a safe place for tough choices, and this doesn't change for us.
Mountain Area Pregnancy Services – Asheville, NC
attacked June 6, 2022
From Executive Director Kristi Brown:
Initially, there was a bit of fear among staff and volunteers but no one left our organization because of the attack. We upgraded our security, and everyone feels safe and secure. As leaders of our organization, we constantly work with staff to remind them of good safety protocols.

Our investigation was closed in Oct. 2022 due to no arrest and no further info to go on. Currently, no contact with law enforcement. However, they occasionally patrol our property and will use our parking lot to write up reports. So we feel as if they are still interested in our overall safety.

As Executive Director, I had never walked through anything this challenging in my career. At first, I was a bit scared and saddened that this happened to us. However, I recognized it for what it was, spiritual warfare, and it was definitely a cowardly act by those who have different beliefs from our center. This was a very challenging situation to deal with, but our God is good and mightier than those who harmed us. Because of God's power, we can stand, and stand tall, despite the circumstances of June 7, 2022.
The Lennon Center – Dearborn Heights, MI
attacked June 19, 2022
Executive Director Mariann Bolton told us that the words "if abortions aren't safe, neither are you" were spray-painted on the side of the building, and its windows were smashed. She stated that everybody in the community "felt horrible about it and stepped up to the plate," asking how they could help. She called this outpouring of support an example of "how God makes something good out of something bad."
Bolton also observed how the ordeal led to greater financial support for her PRC, saying "It was a boon for us in terms of publicity." She also said that "law enforcement have been great" to her and the center. "They just closed the case," and continue to maintain more of a presence on the premises. However, due to the lack of evidence and pictures, no one has yet been charged for the June attack.
Finally, Bolton mentioned that in the last few weeks, someone managed to hack The Lennon Center's Instagram account to falsely mislead people. "Someone went in and changed all the verbiage from pro-life to pro-choice."
Jackson Right to Life – Jackson, MI
attacked June 22, 2022
From Executive Director Kathy Potts:
The response from our volunteers was to become more emboldened in speaking for life. Jane's Revenge, or any other terrorist group, has not or will intimidate pro-life people in bringing the Truth to a broken and morally bankrupt society. We always do this rooted in charity and love.

There was follow-up from a local FBI branch but not any evidence to help with the case. Our local law enforcement is very good. If they ever have evidence to bring the perpetrators to justice, I have no doubt they will do what they can. Unfortunately, this seems to be rare.

The situation is a direct result of the darkness of the abortion culture and the widespread evil in our culture. It is heartbreaking to witness so many trapped in this darkness, not knowing the love and hope of Jesus Christ. That is our mission, to bring the heart of Jesus to those in darkness. We extend forgiveness and mercy for the act of terrorism but will continue to hope those responsible will be brought to justice.
Holy Ghost Parish – Chippewa Falls, WI
attacked June 30, 2022
From a statement shared by Fr. Brandon Guenther:
We continue to pray for women in crisis pregnancies, the unborn, and the conversion of all hearts to the Sacred Heart of Jesus that they may acknowledge the dignity of life from conception to a natural death. We pray also for an end to violence and vandalism and a return to civil discourse, taking always Jesus' own fearless proclamation of the Kingdom as our model. We pray that this remains an isolated incident. Finally, we trust that we live in a safe community dedicated … to the ideals of the Gospel. The outpouring of concern and encouragement is a testament to that. We are very touched and grateful for everyone's support.
St. Jane Frances de Chantal Catholic Church – Bethesda, MD
attacked July 10, 2022
The church's pastor Fr. Samuel Giese stated that little information was given on the motivation for the arson. He is still unsure if it was tied to the Dobbs decision, but regardless, he observed there is a "climate of hostility toward organized religion, and Catholicism in particular."
He said that local police, including many who are members of his parish, "were very responsive" and routinely kept him informed on the progress of the investigation. He also noted that the church received a great deal of support from the local Jewish community.