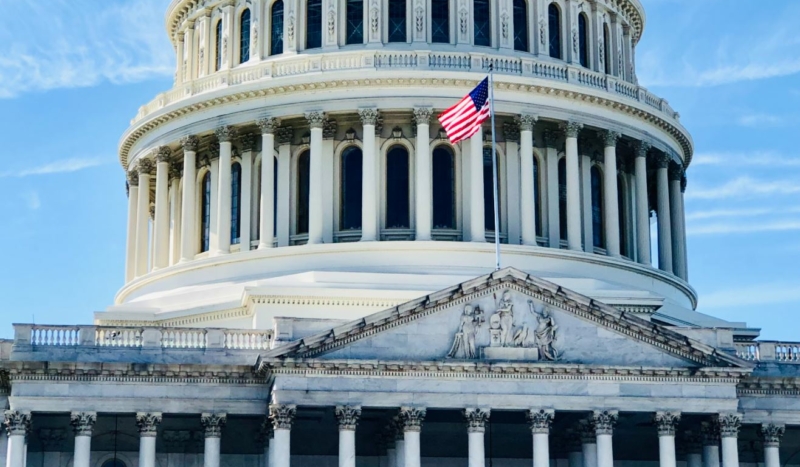 CV NEWS FEED // During and after a Tuesday House hearing on the Biden administration's controversial uses of federal law enforcement, several leaders weighed in on what critics warn is an erosion of equality before the law.
The House Judiciary Select Subcommittee on the Weaponization of the Federal Government held the hearing, which was entitled "Revisiting the Implications of the FACE Act." 
Last year, the Department of Justice and FBI have prosecuted dozens of pro-life Americans, many of them Catholic, under the Freedom of Access to Clinic Entrances (FACE) Act. The administration did not, however, prosecute a single pro-abortion criminal – despite an explosion of violence and threats against Catholic churches and pro-life clinics. The FACE Act forbids not only acts against abortion facilities, but also acts against houses of worship and pro-life medical centers.
As CatholicVote reported, witnesses and lawmakers at the hearing spoke pointedly about the Justice Department's and FBI's recent pattern of prosecuting peaceful pro-life protests while turning a blind eye to violence against Catholic churches and pro-life clinics."
---
Mark Houck
The first witness to testify in the hearing was Mark Houck, the Catholic father of seven who faced up to 11 years in prison for allegedly violating the FACE Act and whose home was raided by federal agents during the early morning hours of September 23, 2022. The pro-life activist was finally acquitted of all charges in January of this year.
>> EXCLUSIVE LOOPCAST INTERVIEW WITH MARK HOUCK <<
"Twenty years ago, I began pro-life work in the city of Philadelphia. I did peaceful protests and prayer vigils in front of many abortuary facilities in Philadelphia. They have always been peaceful," Houck said at the start of his testimony.
He then summarized the events of October 13, 2021, the day when he was praying with his son Mark Houck Jr., then 12, in front of a Planned Parenthood.
"A couple of women walked out of the facility. I began to offer them literature as I always do, with compassion, love, and great respect. In fact, I was 50 feet away from the entrance of the building."
He proceeded to cross the street with the women to a PRC. Then Houck said pro-abortion escort Bruce Love, who he had known throughout his two-decade ministry, "decided to run over, impede my progress, and get in the way of me ministering to the women."
Houck and his son walked back to their previous positions and resumed praying. Twenty minutes later, Love "came out of the building" and, as Houck recounted:
He made a direct line toward my son. [He] stood right next to my son … my 12-year-old boy who was a little intimidated and scared by this. I asked him if he could please give him some space. He did not. He has a right to be there. We just continued to pray.
Despite this, Love continued to talk to Houck's minor son calling his father "evil." Houck repeatedly asked him to get away from his son, finally escorting him back to where he usually stood. Then, the pro-life father described the subsequent altercation.
I turned around to face my son and go back to pray, and he turned around and began to badger my son again. At that point, I became a dad on the street, concerned for my son. I did push the man. He did fall down.

We went, we prayed for the man. We returned to the scene. I presented my information to the Civil Affairs Department that day.
He explained that his prosecution happened solely at the hand of the Biden-led federal government. The Philadelphia Police Department, District Attorney, and Civil Affairs Department did not intend to prosecute Houck, he said. "They had no interest in that."
Houck also detailed the sequence of events that transpired when his home was raided just under a year later.
They banged on the door, and they said, "Open up." They did not even declare who they were that day. They did not even ask me, "Could you please open the door, we're the FBI." They just said, "Open up."

So, I opened up the door peacefully. I said, "Please stay calm. I have seven babies in here."

They pointed M16 guns at me and my wife. My wife comes down and says, "Do you have a warrant for his arrest?"

They said, "We're taking him with or without a warrant."

My wife said, "You can't do that. That's kidnapping."
Houck concluded by expressing his gratitude for how things ultimately turned out. "Thankfully, we were able to be acquitted, and I'm blessed to share my story today."
Brian Burch
In a speech in front of the U.S. Capitol, CatholicVote CEO Brian Burch said:
I am here to speak on behalf of millions of Catholics nationwide who have watched in horror as thousands over the last three years of our churches have been vandalized and attacked. And now, since the Dobbs decision, crisis pregnancy centers that care for women in need have also come under repeated attack and violence

…

These attacks continue to this day. We have kept a tracker map on our website that is updated every single day, and rarely [does a week] go by when we are [not] adding yet another incident to this tracker.

Catholics nationwide have sacrificed for decades. Stuffing baby bottles with loose change. Bake sales. Collections. Praying on their knees. Counseling outside of pregnancy centers like Mark Houck does. 

Catholics do not deserve the treatment they are now [receiving from] their government. We are now seeing, at the highest levels of government, the weaponization of the Department of Justice and its misapplication of the law, and frankly, it's dereliction of duty in refusing to prosecute these crimes.
>> TRACKER: OVER 300 ATTACKS ON CATHOLIC CHURCHES SINCE MAY 2020 <<
>> TRACKING ATTACKS ON PREGNANCY CENTERS AND PRO-LIFE GROUPS <<
Tom McClusky
CatholicVote Director of Governmental Affairs Tom McClusky stated: "This hearing was a great first step into looking at not only the abuses by the FBI towards those who are pro-life but also the whole Biden administration's hostility towards Catholics and all who follow Catholic teaching."
Michael New
Pro-life political scientist Michael New, Ph.D., a senior associate scholar at the Charlotte Lozier Institute and assistant professor of practice at the Catholic University of America, said that Tuesday's hearing
was a resounding success for pro-lifers. Philadelphia pro-life activist Mark Houck provided powerful testimony about his early morning arrest at gunpoint by FBI agents. The other pro-life witness provided evidence that the FBI is aggressively prosecuting pro-lifers while doing little to investigate or prosecute numerous attacks on pro-life pregnancy help centers.

The lone hearing witness who supported legal abortion was Talcott Camp, the Chief Legal and Strategy Officer of the National Abortion Federation (NAF). During her remarks, Camp used anecdotes and cherry-picked data to give the misleading impression there was an unusually high level of abortion facility violence in 2022.

However, data from NAF's own 2022 report on abortion violence and disruption tell a different story. NAF's own data shows there was actually a 37 percent reduction in violent acts toward abortion facilities in 2022. Additionally, the number of instances of abortion-facility disruption fell by more than 5 percent between 2021 and 2022. NAF's report also indicates a decrease in abortion-facility blockades between 2021 and 2022. Overall, 2022 was certainly not an outlier in terms of the amount of disruption or violence at abortion facilities.
Teresa Bukovinac
Teresa Bukovinac, foundress and executive director of Progressive Anti-Abortion Uprising, a left-leaning, anti-capitalist pro-life group, said that
the FACE Act is a draconian law designed to oppress pro-life people and censor peaceful, life-affirming activism. You cannot reform a law that is inherently unjust, therefore, the FACE Act must be fully dismantled and repealed. We can protect pregnancy centers on a local level without legitimizing access to child killing.