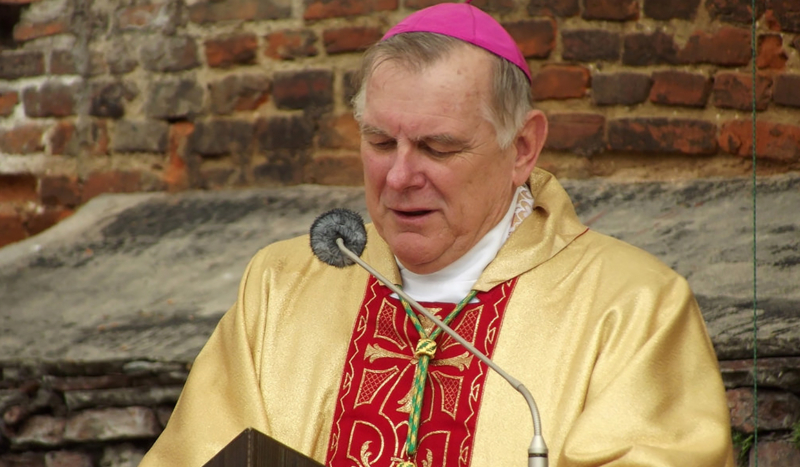 CV NEWS FEED // Thomas Wenski, the Archbishop of Miami, recently bashed Florida Republican Gov. Ron DeSantis for championing a state bill to control illegal immigration, which has been on the rise throughout the Biden presidency.
S.B. 1718 is currently under consideration by the Florida State Senate. As the New York Post summarized, it "would make it a felony to shelter, hire or transport illegal immigrants into or within Florida."
Gov. DeSantis is a practicing Catholic and recently signed into law universal school choice and a bill protecting unborn children from abortion after six weeks of gestation. 
The governor also supports the immigration enforcement bill. "With this legislation, Florida is continuing to crack down on the smuggling of illegal aliens, stopping municipalities from issuing ID cards to people here illegally, and ensuring that employers are hiring American citizens or those here legally," DeSantis said in February.
Wenski, who has been the archbishop of Miami since 2010 and is the metropolitan archbishop of the entire state of Florida, accused the governor of not being "empathetic."
The Archbishop said in a March 23 statement:
The bill would criminalize "empathy" by expanding the definition of "human smuggling." Anyone offering a ride to an undocumented migrant from church, school or workplace could be charged with a third degree felony. Requiring hospitals to collect data on patients' immigration status would discourage migrants from seeking timely medical care and would end up overburdening hospital emergency rooms. 

The sponsors of this bill want to take out their frustrations on the migrants with various punitive measures that unfairly demonize them and gratuitously seek to make their lives even more difficult. Theirs and our frustrations could more productively be directed towards Washington by urging Congress to address much needed immigration reform.
Some Catholics, however, say that in fact it is the absence of the law enforcement that DeSantis is pursuing that has resulted in the worst atrocities being committed against migrants.
During a Tuesday Congressional hearing, lawmakers from both major parties interrogated Robin Dunn Marcos, the Biden administration's Director of the Office of Refugee Resettlement, about the whereabouts of 85,000 children. 
"They're 85,000 kids who came across the border, we don't know [where they are], is that right?" asked Rep. Glenn Grothman, R-WI. Dunn Marcos failed to give a coherent answer to the question.
Rep. Grothman's colleague Rep. Jake LaTurner, R-KS, added that the questioning of Dunn Marcos showed how Biden's lax immigration policies and the ensuing border crisis "endangered the well-being of unaccompanied migrant children."
This is not the first time that Archbishop Wenski has criticized DeSantis for his efforts to curb the border crisis.
Last year, Wenski came under fire for mistakenly repeating a false activist talking point: that DeSantis had referred to children illegally crossing the border as "disgusting." That false information originated from an anti-DeSantis attack ad during the run-up to the 2022 Florida gubernatorial election, which the governor won in a nearly 20-point landslide. 
CatholicVote at the time reported:
A spokesperson for Gov. DeSantis told CatholicVote: "Coverage of the ad and the basis of the ad intentionally defame Governor DeSantis by misquoting remarks the Governor made at an event last week at the Museum of the Cuban Diaspora in honor and in celebration of immigrants who arrived in the United States as children."
"The ad is based on a knowingly false premise," the spokesperson told CatholicVote:
Gov. DeSantis did not call unaccompanied minors "repugnant" or "disgusting." He said: "I just think there's a lot of bad analogies that get made in modern political discourse. But to equate what's going on with the Southern border with mass trafficking of humans, illegal entry, drugs, all this other stuff with operation Pedro Pan, quite frankly, is disgusting. It's wrong. It is not even close to the same thing."
DeSantis, as well as CatholicVote CEO Brian Burch, asked Wenski for an apology and a retraction.