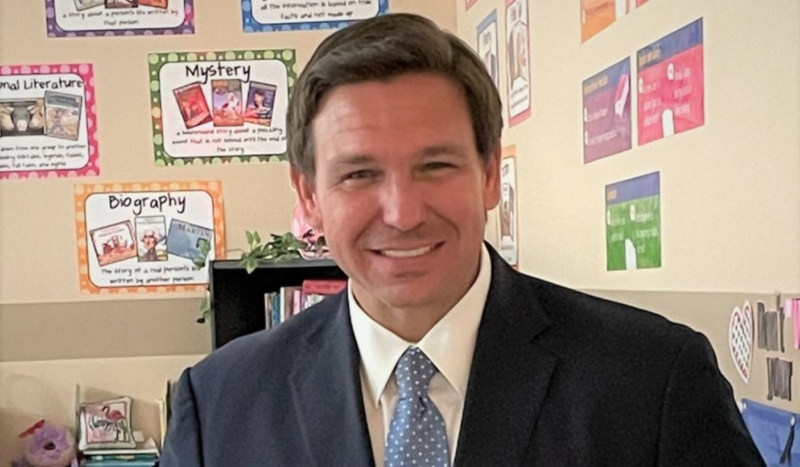 Florida Republican Gov. Ron DeSantis on Monday signed into law H.B. 1, making Florida arguably the best state for education freedom in the country.
Underscoring that the new law would give Sunshine State families the option to send children to the school of their choice, the governor put pen to paper while at Christopher Columbus High School in Miami, an all-boys Catholic school run by the Marist Brothers. The law dramatically expands the eligibility criteria of the Florida Empowerment Scholarship (FES), freeing all Florida parents to send their children to a school other than one in their zoned public district.
The FES is an education tax credit, often described as a voucher, assigned to each participating student. It was created by a law Gov. DeSantis initially signed in 2019, his first year in office. This recent addition to Florida laws further expands Gov. DeSantis's June 2020 signing of H.B. 7067, which was then described as the most permissive school choice bill in American history.
Upon signing the 2023 landmark school choice expansion into effect, Gov. DeSantis, who last year was re-elected in a historic landslide after running on an explicitly pro-school-choice platform, stated:
Now, primarily there will be a preference for low- and middle-income families, but at the end of the day we fundamentally believe the money should follow the student and be directed on what the parent thinks is the most appropriate education program for their child.
The legislation signed by DeSantis, a practicing Catholic, comes amid calls from American Church leaders for increased school choice in other red states across the country. In January, Bishop R. Walker Nickless of Sioux City praised the signing of the "Students First Act" by Iowa Republican Gov. Kim Reynolds. Bishop Nickless stated that with the state of Iowa securing education freedom, he "[looked] forward to serving more families in the Diocese of Sioux City who want to enroll their child in a Catholic school," adding that he was "pleased that the Students First Act will also help parents keep their child in the Catholic school of their choice."
In Texas, Catholic prelates like Bishop Michael Olson of the Diocese of Fort Worth lent their support to a few school choice bills currently being debated by the state legislature. Bishop Olson quoted St. Paul VI in a statement on the subject, remarking:
'Parents, who have the primary and inalienable right and duty to educate their children, must enjoy true liberty in their choice of schools.' Therefore, parental choice continues to be a top priority of the Texas Catholic Conference of Bishops.
The Lone Star State is known for its relatively relaxed homeschooling laws and is home to many charter schools. However, unlike Florida and Iowa, Texas currently does not have a single widespread voucher or education savings account program. There is hope that this will change in the very near future. Republicans hold all statewide offices, and enjoy healthy majorities in both chambers of the legislature. Republican Gov. Greg Abbott, who like DeSantis is also a practicing Catholic, promised last week: "This session, we'll deliver education freedom for every family in Texas."
Only time will tell if Florida, which has led the way on a number of social issues over the past few years, will inspire other states, especially those with Catholic and/or Republican governors, to expand school choice.