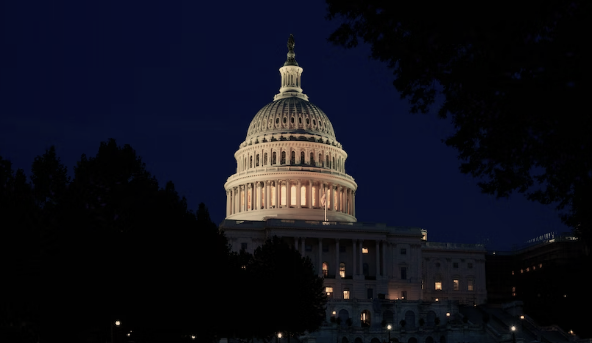 CV NEWS FEED // The omnibus spending bill currently under consideration in Congress includes millions of dollars earmarked for the Biden administration's continued prosecution of pro-life activists, CatholicVote Director of Government Affairs Tom McClusky found Wednesday.
Congress is facing nationwide scrutiny after Democrats released the $1.85 trillion, 4,155-page omnibus spending bill on Tuesday, leaving lawmakers less than three days to read it before voting. Many have decried the fact that the bill contains massive sums earmarked for various leftist social projects and programs, but what McClusky found will particularly shock Catholics and pro-life Americans, he said.
The relevant text he found in the bill earmarks $25 toward the DOJ, U.S. attorneys, and the FBI for "criminal enforcement under 18 U.S.C. 241-242."
· $10 million for the DOJ Civil Rights Division "for criminal enforcement under 18 U.S.C. 241-242"
· $10 million to the U.S. attorneys "for criminal enforcement under 18 U.S.C. 241-242"
· $5 million to the FBI "for criminal enforcement under 18 U.S.C. 241-242"
"The DOJ has weaponized 18 U.S.C. 241 against at least 17 pro-life activists thus far in conjunction with the Freedom of Access to Clinic Entrances (FACE) Act," McClusky explained. "As a result those convicted face 11 years rather than one year maximum imprisonment for a first-time, nonviolent offense."
The language appeared in last year's omnibus agreement "at some funding levels," he said, "but has taken on new relevance since this statute is now being abused in conjunction with the FACE Act."
CatholicVote has tracked nearly 180 pro-abortion attacks and acts of terrorism against pregnancy care centers and Catholic churches since May of this year alone. Despite numerous appeals, all the DOJ and FBI has offered is "empty platitudes," McClusky said. "Congress has a duty to stop this. Taxpayers should not be forced to finance this witch hunt."
CatholicVote President Brian Burch called the language "an affront" to the innocent pro-life Americans whose dramatic arrests and criminal charges by the Biden administration have already caused a firestorm of backlash in recent months. Those arrested or charged have included Catholic family men, pro-life feminist women, and in one case a Catholic priest.
In December 2021, Burch wrote a letter to the Department of Justice asking for answers as to why federal law enforcement did not seem to be taking sufficient action against attacks on Catholic churches. CatholicVote has now tracked over 250 attacks on churches since 2020, and the attacks accelerated dramatically in May 2020, when pro-abortion forces vowed "revenge" for the repeal of Roe vs. Wade.
While the FBI offered a few "vague assurances" later in the year, Burch said, "we still have no arrests, and no details about investigations or prosecutions of these heinous acts."