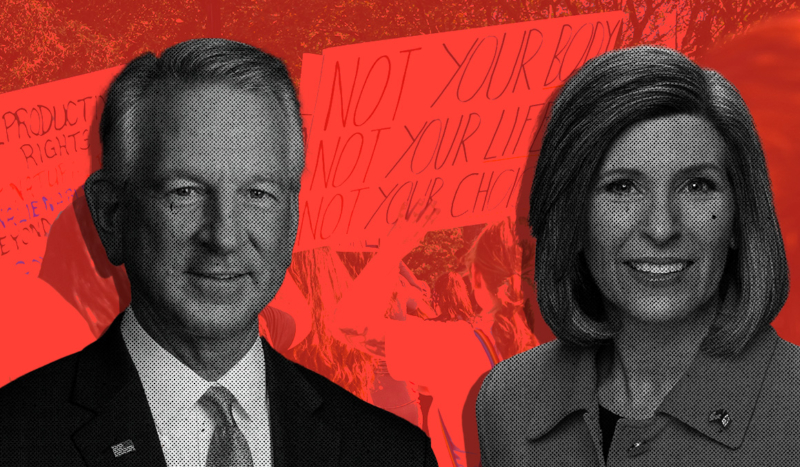 CV NEWS FEED // Republican Senator Joni Ernst of Iowa called her colleague Sen. Tommy Tuberville's, R-AL, efforts to end taxpayer-funded abortion in the military "abhorrent."
Ernst made the remark on the Senate floor last week, rebuking Tuberville's holds on military promotions, which he enacted in protest against the Department of Defense's (DoD) controversial new policy of using taxpayer money to accommodate service members' abortions.
Ernst accused Tuberville of "injecting politics into the military." Tuberville's efforts came only after the Biden administration announced in February that it had adopted the radical new abortion policy.
"What are we doing to these military men and women?" asked Ernst. "Politics are being injected right here today. We have men and women who deserve to be promoted."
In the midst of Tuberville's holds, the military nominees Ernst defended have come under heightened public scrutiny. Many of them have been discovered to be proponents of highly controversial far-left positions, which critics say are themselves a threat to military readiness.
As journalist and commentator Mollie Hemingway recently pointed out, 
Tuberville has blocked unaccountable, review-free unanimous consent for military promotions — all due to the Pentagon's completely illegal abortion funding policy. During his hold on this easy approval (that would otherwise occur without even a vote) it's been discovered that more than 40% of the nominees are beholden to DEI and other left-wing ideology at odds with an effective fighting force.
Ernst claimed that "military families" are saying "I don't want my kid serving in the military because they [sic] will be used as political pawns."
"That is dishonorable, and it's abhorrent," the senator stated.
Tuberville has repeatedly cited evidence to show that his holds do not affect military readiness. As CatholicVote reported last week:
In July, over 5,000 former and current military service members signed an open letter in support of Tuberville's decision to block the nominees.

"While some claim that Sen. Tuberville's position is negatively impacting military readiness, the Department of Defense has failed to present any evidence that substantiates this claim," the letter stated. "To the contrary, it appears true that the politicized agenda of Secretary Austin and the Biden administration are significantly diminishing military readiness."
CatholicVote Vice President Joshua Mercer said that it was in fact Ernst's comments that were "abhorrent."
"She is playing right into President Biden and Defense Secretary Lloyd Austin's pro-abortion radicalism," Mercer said.
Ernst is one of the five Republican senators who have in the past several days taken steps to end Tuberville's confrontation of the Pentagon's abortion policy. So far, all of their measures have proven unsuccessful. 
Other members of this breakaway group include Sen. Dan Sullivan, R-AK, the coalition's de facto leader, Sen. Lindsey Graham, R-SC, Sen. Mitt Romney, R-UT, and Sen. Todd Young, R-IN.
All members of the group are widely considered to be to the left of the majority of Republican voters on moral issues. Last year, all except for Graham voted to recognize same-sex "marriage."
Throughout her tenure representing the increasingly conservative state of Iowa, Ernst has consistently identified as "pro-life," and committed to the cause of saving children from abortion.
On her website, the senator lists "protecting life" among her "priorities."
Monday, five days after she condemned Tuberville on the Senate floor, Ernst issued a statement and signed a letter both slamming the Biden administration for funding abortions for minors at the border.
In the "background" section of her statement Ernst's office highlighted that "earlier this year, she introduced legislation to end" the same DoD policy she denounced Tuberville for protesting.
Mercer said Ernst issued this statement to provide "cover" for her campaign against Tuberville.
Ernst is facing mounting criticism from backers of Tuberville and opponents of the pro-abortion Pentagon policy over her attack on the Alabama senator. "Despite their espoused principles and campaign promises, life is simply not the top priority of many elected Republicans—at least, not like it is for their voters," wrote Eric Teetsel of the Heritage Foundation this week.
Ernst was first elected to the Senate in 2014, succeeding retiring Democrat Tom Harkin. She was re-elected in 2020, running nearly two percentage points behind President Trump.
She is next up for re-election in 2026 and has not yet indicated whether she is running for a third term.