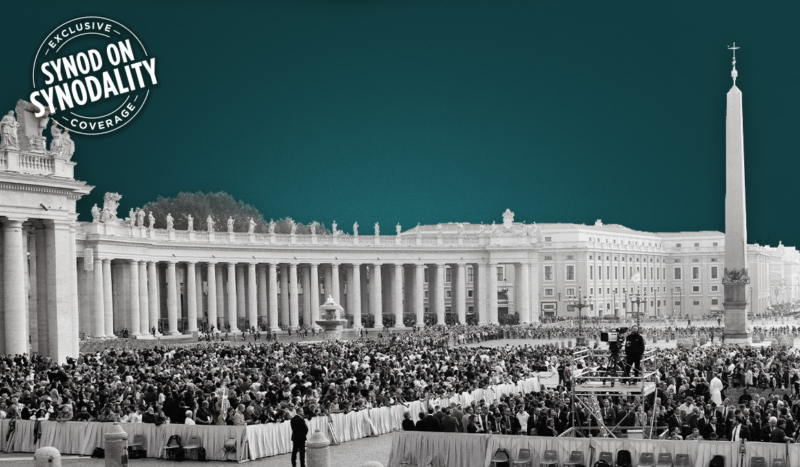 CV NEWS FEED // On October 5, participants at the Synod on Synodality put its new method of discussion and dialogue, known as "conversation in the Spirit," to the test.
As reported by CatholicVote, "conversation in the Spirit" is an eight-step discernment process used by synod participants to determine where the Holy Spirit is leading the Church.
The evening before, Cardinal Jean-Claude Hollerich SJ, after his introduction as the synod's general rapporteur, explained how the new methodology would work.
Module A, which ends Saturday, October 7, focuses on the first section of Instrumentum laboris, the synod's working document.
"This module," explained Hollerich, "is designed to allow us to 'warm up our engines,' to live and to experience the methodology that we will also use in the following modules. Above all, it will hopefully help us to learn how to make the alternation between Circuli Minores (round table meetings) and General Congregations fruitful."
He said the initial small group session on Thursday "must help us to make contact with synodality as a comprehensive vision, or rather, as the module title says, with the synodal Church as an integral experience."
The cardinal said of this first module:
This journey together has left traces in each of us: thoughts, emotions, feelings, intuitions, doubts, fears, enthusiasm… To undertake the work of the first module, each of us needs to reconnect with this heritage. The memory to connect with is the collective memory of the People of God, not just the personal memory of each individual.
In a press briefing on Thursday morning, Dr. Paolo Ruffini, Prefect of the Vatican's Dicastery of Communications, said the Circuli Minores started with a session of "mutual listening" in which each person had four minutes to communicate "what is most important to him or her," followed by a moment of silence and prayer. Then came a new round of "reactions" to the first round, another moment of silence, and a final round of synthesis summarizing "both agreements and disagreements."
The first question posed to participants was:
Starting from the journey of the local Churches to which we each belong and from the contents of the Instrumentum laboris, which distinctive signs of a synodal Church emerge with greater clarity and which deserve greater recognition or should be particularly highlighted or deepened?
The "conversation in the Spirit" methodology is aimed at allowing "the points on which we feel there is great clarity to emerge, but let us not overlook those where we feel there is still work to be done, where there is a mixture of light and shade, without fear of pointing out the reasons for uncertainty or doubt."
Some synod participants, who have been warned to keep strict confidentiality regarding what's discussed in the meetings, expressed optimism regarding the methodology, but others thought that the "overregulation" of the process is "a form of infantilization of the synodal process."