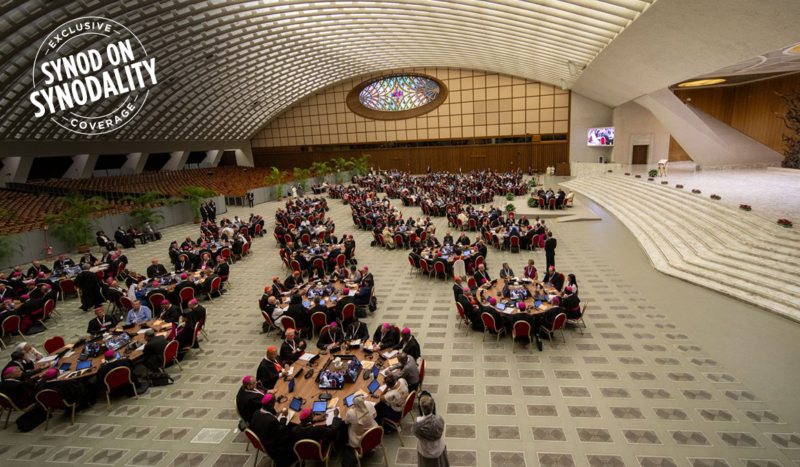 CV News Feed // Cardinal Jean-Claude Hollerich of Luxembourg urged participants at the Synod's opening meeting in Rome today to "walk together with Christ within His Church," regardless of their politics.
"Speaking about the Holy Spirit does not mean we forget our focus on Christ," Hollerich told those in attendance, who were seated in groups facing one another at round tables. "On the contrary, the Holy Spirit makes Christ present among us here, as he did in the Eucharist we have celebrated together."
Hollerich said that all the baptized faithful, lay and religious, "participate in the mission that our Lord Jesus Christ entrusted to Her… In order to grasp the reality of the mission of the Church we need to broaden our vision."
Hollerich continued,
The Church is the people of God, walking through history, with Christ in her midst. It is only normal that there is a group walking at His right, another at His left, while some run ahead and others lag behind. When each of these groups looks at Christ our Lord, together with Him they cannot help but see the group that is doing the opposite: those walking on the right will see those walking on the left, those running ahead will see those lagging behind.
He clarified, "In other words, the so-called progressive cannot look at Christ without seeing the so-called conservatives with Him and vice-versa. Nevertheless, the important thing is not the group to which we seem to belong to, but walking with Christ within His Church."
Climate change, migration, war, consumerist lifestyles that deny the existence of God, and "extreme polarization in society and also within the Church" are "evils plaguing our world," Hollerich said.
"This is the context in which the Church receives the call to become more and more synodal," he said.
He added that the "grammar of synodality changes with time," and that the faithful must pay attention to the signs of the times to discover this "grammar". However, he said that some of these fundamentals never change:
For us, these are the rules of Catholicity, such as the dignity stemming from Baptism; the role of Peter in the Church; episcopal collegiality; ordained ministry, the common priesthood of the faithful and their interrelation. With these fundamental elements of our Catholic grammar, we have to find the way to express the new insights the Holy Spirit gives us.
He reminded those present that a synod is not a parliament, where politicians propose and debate options.
Rather, Hollerich said,
We have one text to start from: the Instrumentum Laboris. It is the fruit of the synodal process which has involved the whole People of God. The process is not finished; it is now entrusted to our discernment. It should not be a battle between position A and B. Through genuine discernment, the Holy Spirit opens our minds and our hearts to new positions, leaving A and B behind!