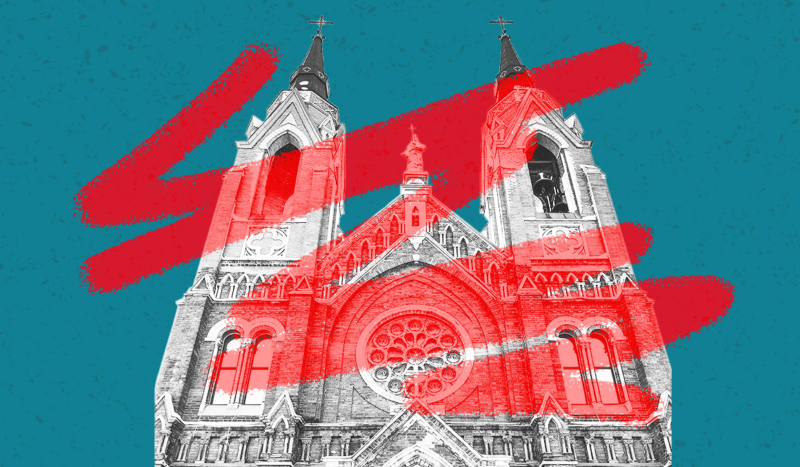 CV NEWS FEED // In an article published this week, Bishop Donald Hying of Madison, WI, looked at the origins of anti-Catholicism in the U.S. and proposed an antidote to it.
In the article, "Dealing with Anti-Catholicism," originally published on What We Need Now on October 31, Hying explored the history of anti-Catholicism in the United States and ways to respond to it.
Since 2020, over 350 churches have been attacked or vandalized, according to the CatholicVote Violence Tracker.
Hying noted that the historical backdrop of Protestant prejudice against Catholics in the U.S. provides "some context to the modern situation," but is not the main source.
He argued that ultimately, this modern violence is "not principally fueled by the old Protestant prejudices, but rather by our culture's moral stands concerning abortion, sexuality, and gender."
"Those who push the pro-abortion, pro-homosexuality, pro-transgender agenda rightfully view the Catholic Church as the largest and most influential obstacle in their path of radical activism," Hying wrote.
"When [proclaiming the truth concerning God and the human person] leads to anti-Catholic bigotry, faithful Catholics must call it out wherever they find it, even as contemporary cultural outrage remains highly selective and biased," Hying continued.
Hying cited examples of modern-day cultural bias against Catholicism, such as the L.A. Dodgers baseball team inviting and honoring an anti-Catholic drag group earlier this year.
Hying wrote that the drag group "has consistently and blasphemously mocked Jesus Christ, the Blessed Virgin Mary, and the Church," and yet it was honored at the Dodgers' LGBTQ night.
"After outcry from conservatives, the Dodgers withdrew the invitation, only to reinstate it after outcry from activists on the Left. Imagine any group, which mocks Muslims, Jews, or almost any other category of people besides Catholics, being publicly honored at a ballgame! It would never happen because the backlash would be mighty and fierce, as it should be," Hying continued. "So why is it OK to embrace bigotry against Catholics?"
"In the face of society's double-standard, we must remain faithful to Catholicism's internally consistent doctrine," he urged.
The Church teaches the truth about the human person… not because we hate or exclude anyone, but because we love everyone and want them to encounter the fullness of life, love, and grace which the Lord offers us through a life of faith and discipleship.
Hying noted that anti-Catholicism in America has roots that go back as far as the 1700s. The Protestant prejudice against Catholic beliefs such as papal authority, sacramental confession, and the Real Presence in the Eucharist, created a "fervently Protestant culture" in the early years of American colonialism through the Protestant settlers. As a result, early Catholic immigrants coming to America often encountered penalties for being Catholic.
Despite the modern slogan "separation of Church and state", Hying explained, "nearly all colonies had a state-supported Protestant church. These churches were favored in law (with Pennsylvania being the sole exception), and Catholics were prohibited from voting or holding office."
At the time of the American Revolution, Catholicism was hated in all the colonies, and only legal in three of them.
Receiving or participating in Catholic sacraments used to have "hefty" consequences, Hying explained. "For instance, the Penal Laws of Virginia enacted a month's imprisonment and today's equivalent of a $5,000 fine for attending Mass, and come 1699 in Maryland, any priest found exercising his priestly duties or operating a Catholic school would be imprisoned for life."
"This traditional prejudice, coupled with the fact that the vast majority of immigrants flooding America's shores in the 19th and early 20th centuries were Catholic, fomented a virulent anti-Catholic, anti-immigrant hatred which became a nativist movement against anything perceived to be foreign to white, Protestant culture," Hying wrote. "At times this hatred spilled over into violence, as it did in May 1844 when 'a Nativist mob burned two Catholic churches in [Philadelphia]. In the days that followed, Catholic homes were torched, and Catholics were shot on their doorsteps and hung from lampposts.'"
Amidst the older Protestant persecutions and the modern anti-Catholic hate, the Church hasn't wavered in her teachings.
"Catholicism supports all authentic goods," the bishop wrote, "and every other activity, value, institution, and experience which makes us authentically human and holy."
"How do we convince our fellow Americans of this truth? By becoming saints! The Catholic faith is most attractive when her children are vibrantly alive with holiness, reflecting God's love to all they encounter," Hying concluded:
What we need now is to better live out God's love—because the more each of our lives reflects Jesus, the easier it will be for those around us to see that the Church isn't the enemy of cultural progress, but that rather she is actually the greatest guarantor of human dignity and flourishing.