[EDITOR'S NOTE: Warning. This story describes graphic and degenerate acts of sacrilege.]
News broke that the LA Dodgers reinvited the Sisters of Perpetual Indulgence (SPI) to be awarded at the team's LGBTQ+ Pride Night. While the Dodgers claimed in a statement that SPI deserves to be applauded for its decades of "lifesaving work," the reality is that it is an anti-Catholic hate group, and its bigotry towards Catholics makes that unmistakable.  
Below is a list of some of SPI's most heinous acts mocking Catholicism and desecrating the sacred.
SUPPORT CATHOLICVOTE'S AD CAMPAIGN HERE
Mocking the Holy Mass
According to a book on SPI, Queer Nuns, the group has reviled the Holy Sacrifice of the Mass in various ways, including "blessing" a gathering with a dildo dipped in poppers and filling chalices with yogurt at a funeral to represent swollowing semen.
Grotesque Caricaturization of Religious Life
The SPI openly presents itself as a caricature of Catholic nuns and religious sisters. Sample "religious names" of SPI members include:
"Sister Mysteria of the Holy Order of the Broken Hymen"
"Sister Sermonetta of the Flying Phalus"
"Sister Rose of the Bloody Stains of the Sacred Robes of Jesus"
"Sister Missionary Position"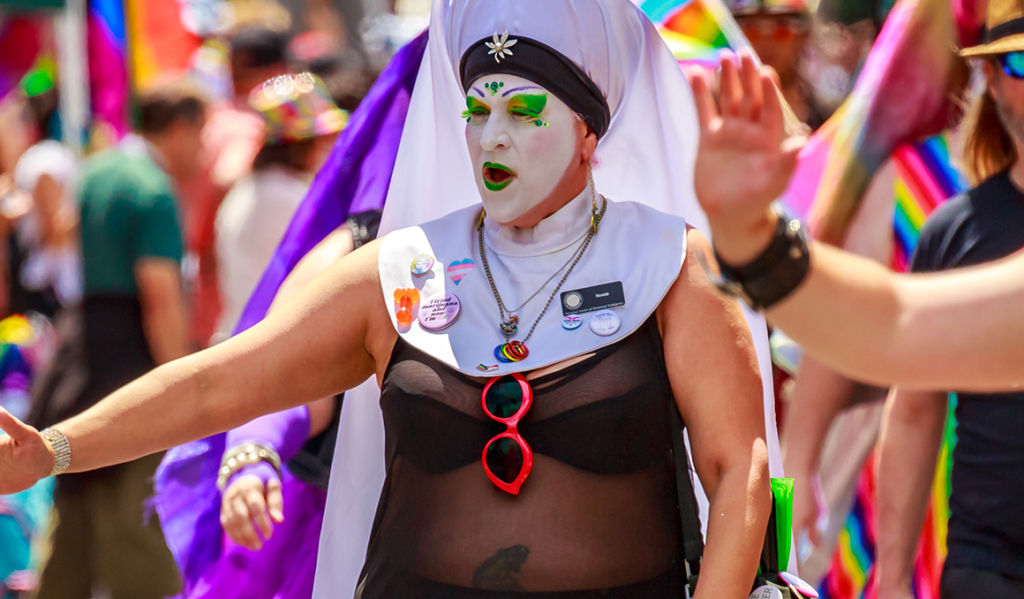 To join the group, there is a yearlong, four-step process with ranks named "Volunteer," "Postulant," "Novice Sister," and finally "Fully Professed (Black Veil)." 
SUPPORT CATHOLICVOTE'S AD CAMPAIGN HERE
Sacrilegious Events
The "Sisters" host annual "Hunky Jesus" drag shows in which men dressed as Jesus perform strip-teases, pole dances, and sex-simulations. 
It's not just Jesus that they mock in provocative demonstrations, but also the Blessed Mother.
These blatant acts of desecrating Catholicism have been going on for decades. In 1995, the SPI initiated a tour of 13 gay bars to ridicule the Catholic devotion of the Stations of the Cross. At each "station," men dressed as the Virgin Mary, Mary Magdalene, and other biblical women shouted sexual encouragement to the fake "Jesus." 
SUPPORT CATHOLICVOTE'S AD CAMPAIGN HERE
What now?
If Catholics object to honoring this group they get labeled as "killjoys" and "Pharisees." Left-wing pundits argue that SPI's acts of hate are just "harmless parody," and just a little "out there," but the consistently vulgar performances of SPI using Catholic themes tells the real story.  
In response, CatholicVote is launching a massive ad campaign against the Dodgers' decision to honor SPI. Brian Burch, president of CatholicVote, has vowed that the celebration of anti-Catholic bigotry will not be tolerated.
"Every advertiser, every season ticket holder, every charity, every fan must speak out against the Dodgers' decision to promote anti-Catholic hate," Burch said.
SUPPORT CATHOLICVOTE'S AD CAMPAIGN HERE