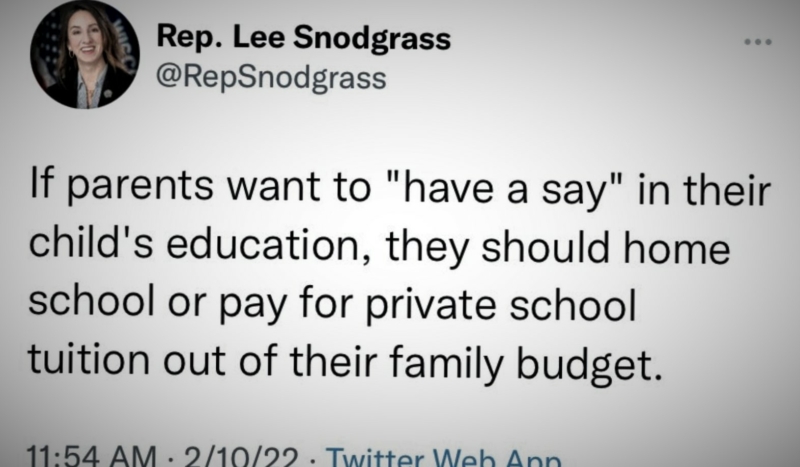 CV NEWS FEED // Wisconsin state Rep. Lee Snodgrass, D-Appleton, posted a disrespectful comment about parents who want school choice for their children Thursday. She quickly deleted the tweet, but outraged commentators shared images of her remark and expressed their disapproval.
"If parents want to 'have a say' in their child's education, they should home school or pay for private school tuition out of their family budget," Snodgrass initially tweeted.
After deleting the comment, she followed up with a short series of tweets in an attempt to explain herself, saying she deleted the initial tweet because "it was lacking in nuance and easily misinterpreted."
"I wouldn't want anyone to think that parents do not have a role in their child's public education," she continued:
I sure did. I encourage all parents to engage in voting for school board, join PTO and meet with teachers… To clarify, My point is we should be fully funding our public schools and that diverting funds away from our public schools only makes it harder for parents to have the relationships we deserve with our kids' teachers and their schools.
"Of course parents need to have a say in their kids' education and their classrooms! I'm a parent, and I have a say, as should every parent," she concluded. "I shouldn't have been cavalier or glib—that wasn't my intention, and I apologize. Carry on!"
Critics still took issue with her opposition to school choice reforms which give students more educational choices. Many school choice proposals give families some control over taxpayer education funds instead of allowing public school districts to control all of the funds. This way, proponents argue, underprivileged families can afford to use public funds, which are ostensibly intended for the education of their children, at schools of their choice, or even to offset costs related to homeschooling.
Snodgrass's position, favored by teachers unions, many public education officials, and most members of the Democratic Party, is that the public school system should be allowed total control of taxpayer funding for education. Critics point out, however, that America's tax-paying families are both the sources of that revenue and its intended beneficiaries.
"They already pay for their child's education," wrote journalist Mark Hemingway, responding to Snodgrass. "And I still can't believe there are Democrats dumb enough to say this stuff out loud."
"Rep. Snodgrass deleted her tweet because clearly WI Democrats don't want her telling parents what they really think," tweeted Wisconsin gubernatorial candidate Rebecca Kleefisch. "But as a mom, I keep receipts.. Message to liberals: as taxpayers we already pay for our children's education and have an absolute right to 'have a say.'"
"Wisconsin Representative Lee Snodgrass … tweeted and then quickly deleted a powerful reminder that Democrats believe you have no say in your children's education if you send them to a public school," wrote talk radio host Dan O'Donnell.
"Only rich people should have school choice!" tweeted school choice advocate Corey DeAngelis, satirizing Snodgrass's tweet.