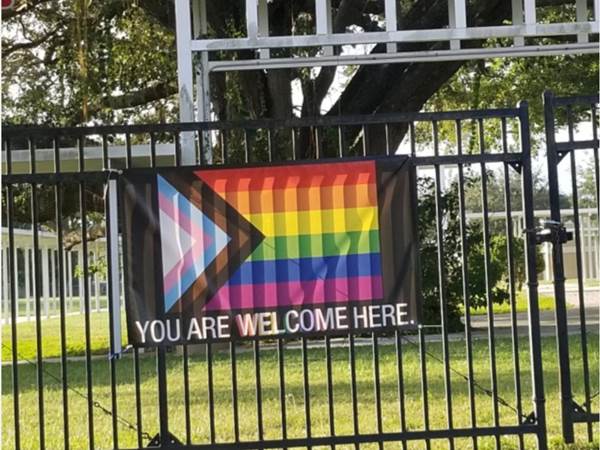 CV NEWS FEED // A public school in Orange County, Florida removed a "Rainbow Progress Flag" from its property after CatholicVote Action Network (CVAN) members met with the principal to voice their opposition to the display.
"[We] view this flag as … representative of a political ideology that advances a particular view of human sexuality that is in direct contradiction to values and morality that is taught in many students' homes," wrote CVAN's Irene Doyle Sandler in a followup email to Principal Joshua Bing of Conway Middle School after their meeting:
We view this flag, posted prominently on the fence, as the school's endorsement of one particular political point of view. Although we recognize that this may not have been your intention, it could nonetheless drive a wedge between children and their parents.
Doyle Sandler and 11 other community members met with Bing on Tuesday, Nov. 16. By the following weekend, the flag had been removed.
"The CatholicVote Action Network was pleased to assist our members in taking action to protect children from being indoctrinated in schools," said CVAN Director Mary Thomas. "Just as we successfully worked in Virginia to remove a school board member who targeted parents and pushed Critical Race Theory, CVAN members in FL were given the tools to empower them to effectively advocate for the removal of the political flag at issue."
The incident in Florida comes amid a national groundswell of concern over public school administrators' handling of the education of children. The battles over the inclusion of controversial LGBT- and race-themed materials in curricula have often taken the form of direct confrontations between concerned citizens and the Biden administration.
Earlier this month, it was revealed that the FBI has been tagging and tracking parents who complain to their local school officials, apparently investigating them as if they were potential criminal suspects. Parents and conservative political leaders were outraged.
"We're very appreciative that they decided to remove the flag," Doyle Sandler told CatholicVote Monday, adding that she and the other community members involved in the meeting were "pleased that it's possible that our courteous but firm request may have been instrumental in having the flag removed."
It is still somewhat concerning to CVAN members, however, that the flag was posted on the public middle school's property in the first place. Especially in light of the fact that, according to the school's principal, someone higher up in the Orange County Public School (OCPS) district "issued" him the flag.
"The flag was issued to all OCPS secondary (middle and high) schools to hang on their campus by the school district itself," Principal Joshua Bing wrote in a Nov. 12 email to Doyle Sandler. Teresa Jacobs — president of the school board — was CC'd in the email chain, and never denied Bing's claim.
Doyle Sandler says that she is truly grateful that Bing has been so open and responsive to her and others who were concerned about the flag. "We're glad that it was taken down," she said:
But if they had this rainbow flag out on the front of the school, and the school board sent this out to schools, then what's going on on the inside? We want to know, and we will ask more questions.
Thomas also believes CVAN members still have much to do to advance the causes that matter most to Catholics in America. "These wins in Virginia and Florida, by small groups of committed Catholics, show that the CatholicVote Action Network is equipping Catholics, throughout the nation, to successfully advocate for our values at all levels of government," she said.
"Within just a few months of launching, CVAN has already had big wins in FL, VA, and PA," she added, "but this is just the beginning."
If you'd like to join the CatholicVote Action Network by starting or becoming a member of a CVAN Chapter in your area, please sign up here.