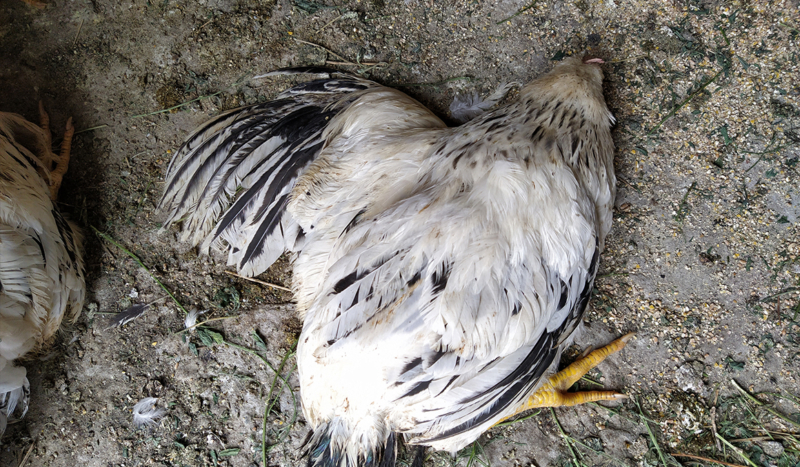 CV NEWS FEED // A Catholic pro-life pregnancy center in Orlando, Florida has been attacked in what its director calls a "ritualistic" act, which left several mutilated animal bodies in front of the organization's building.
At least one vandal "appeared to leave behind a beheaded chicken, another bird, and a young lamb" in front of JMJ Pregnancy Center, Fox News Digital reported. The clinic director says he has contacted a priest to ask for an exorcism of the property.
"We see this as a direct attack on our services and mission, as well as those seeking care at our facility and those providing that care." Bob Perron, executive director of JMJ Pregnancy Center told Fox. "We suspect it is because we do not support or refer for abortions, which we know hurts women and their families."
"Why are supposed supporters of all women's choices directly targeting a center whose only purpose is to help women struggling with difficult decisions — and do it for free no less?" Perron added. "By attempting to hurt us, they are hurting the women, babies, and families that rely on us for education, guidance, and resources in times of great need."
The attack is only the latest of dozens, with attacks on pro-life organizations (as well as Catholic churches) exploding across the nation following the May 2022 leak of the Supreme Court's decision overturning Roe v. Wade.
CatholicVote has tracked 87 attacks on pregnancy resource centers and other pro-life groups in the last year. As CatholicVote reported:
The pregnancy resource centers, which provide free medical and financial support to pregnant and new mothers, have been victimized by arson and firebombing; smashed windows; graffiti with threatening messages; destruction of signage; gluing of locks to prevent staff from entering; keying of staff members' cars; and other acts of violence and vandalism. In at least one case, the home of a board member of a pregnancy resource center was attacked. Other pro-life groups which advocate for the right to life have been subject to the same attacks.

The wave of violence began within 24 hours of the release of a leaked draft of the Supreme Court opinion which would overturn Roe v. Wade on May 2, 2022. Pregnancy centers braced for more attacks and acts of vandalism after the Supreme Court issued its final ruling overturning Roe v. Wade on June 24, 2022. The Department of Homeland Security issued a memo the same day warning that "domestic violent extremists" would exploit the decision to commit acts of violence against various targets, specifically naming Jane's Revenge.

The attacks appear to be organized under the umbrella of two domestic terror groups — Jane's Revenge and Ruth Sent Us — which have arisen since the Supreme Court opinion leak was published. Others appear to be connected to Antifa and anarchist groups. Many of the attacks have similar messages, including "If abortions aren't safe, neither are you".
Again, from Fox:
Perron said he and his organization "call on our local, state, and federal government to act immediately to find the perpetrator(s) of this horrific, ritualistic attack on our pregnancy center and bring to justice those who have caused this desecration."

"Nationally, the lack of arrests and charges against people who have targeted pregnancy centers, not only in our state, but across the country, is staggering and unnerving," Perron said." Why are centers who help women, many of them low-income and minority, not being protected against pro-abortion extremists?"
Perron says he reviewed security camera footage showing someone walking around the front of the clinic for 45 minutes. The individual also went into bushes on the organization's lawn, which is where the carcasses were found, Perron told Fox.