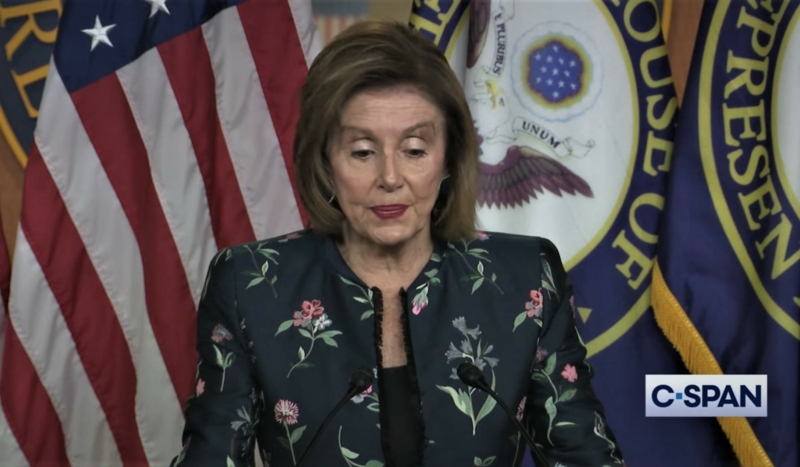 CV NEWS FEED // House Speaker Nancy Pelosi, D-CA, invoked her status as a mother and "devout Catholic" as she stated that taxpayer-funding for abortion is a "priority" for her party at a press conference Thursday.
A reporter asked Pelosi why Democrats are trying to do away with longstanding protections which ensure that American taxpayers do not fund abortion. "Because it's an issue of health, of many women in America, especially those in lower-income situations and in different states and it is something that has been a priority for many of us … a long time," Pelosi said.
She added:
As a devout Catholic and mother of five in six years, I feel that God blessed my husband and me with our beautiful family — five children in six years almost to the day — but that may not be what we should … it's not up to me to dictate that that's what other people should do, and it's an issue of fairness and justice for poor women in our country.
Pelosi made the comments a day after another Catholic Democrat, Sen. Joe Manchin, D-WV, co-wrote a bipartisan letter along with Sen. John Wicker, R-MS, defending the pro-life Hyde Amendment, which prohibits taxpayer funding of most abortions.
In their letter, the senators pointed out that the Hyde Amendment is "a decades-long, consensus-building compromise" and argued: "Repealing this provision would eliminate over 40 years of bipartisan precedent."
Many Catholic leaders, including representatives of the United States Conference of Catholic Bishops, have confronted the Biden administration and its allies in Congress over their new effort to eliminate the Hyde Amendment and other customary protections against taxpayer-funded abortion.
Pelosi's own local Catholic authority, Archbishop Salvatore Cordileone of San Francisco, has also publicly corrected her over her radical abortion advocacy, suggesting that if she refuses to back down on her pro-abortion stance, she ought to cease presenting herself to receive Communion at Mass.
Readers can watch Pelosi's remarks in the video below.