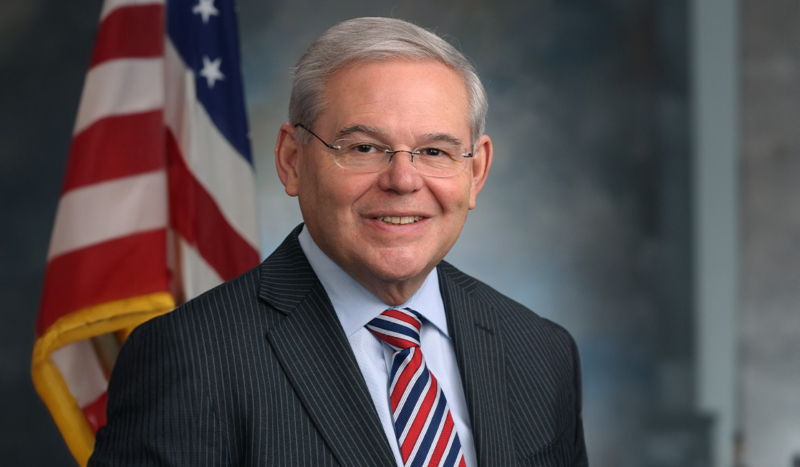 CV NEWS FEED // Sen. Bob Menendez, D-NJ, has lawyered up as several top Democrats call for him to resign following his indictment on bribery charges last week.
The indictment of Menendez and his wife alleges that they accepted "hundreds of thousands of dollars of bribes in exchange for using [his] power and influence as a Senator to seek to protect and enrich" three New Jersey businessmen and to benefit the Egyptian government. 
"Those bribes included cash, gold, payments toward a home mortgage, compensation for a low-or-no-show job, a luxury vehicle, and other things of value," the indictment stated.
According to The Daily Wire, "Menendez faces up to 45 years in prison if convicted of the charges, which include conspiracy to commit bribery, conspiracy to commit honest services fraud, and conspiracy to commit extortion under color of official right."
Just days after the indictment was unsealed, the embattled senator hired lawyer Abbe Lowell, the attorney currently representing President Joe Biden's son Hunter in his ongoing case.
The Daily Wire reported that Lowell "was hired by Hunter Biden after his plea deal fell apart in federal court last month, which eventually led to prosecutors charging Hunter Biden on firearm-related charges."
The website of Winston and Strawn, the law firm where Lowell is a partner, describes him as "one of the country's foremost white collar defense and trial lawyers."
The Daily Wire also reported that Menendez had previously hired Lowell "in 2015 to represent him in a similar corruption case, although legal experts have said that the evidence in the current case is much stronger."
CNBC noted that another one of Lowell's high-profile former clients was Jared Kushner, the son-in-law of former President Donald Trump. Lowell successfully helped Kushner obtain a permanent White House security clearance. Kushner served as a senior advisor to Trump during his entire presidency.
Lowell has also represented former Sen. John Edwards, D-NC, former Rep. Gary Condit, D-CA, and Republican former lobbyist Jack Abramoff, who were all embroiled in major political scandals.
>> DEMOCRATIC SENATOR MENENDEZ INDICTED FOR BRIBERY <<
Several Democrats have called on Menendez to resign from the Senate in the immediate aftermath of the indictment.
Among those leading the charge is Democratic New Jersey Gov. Phil Murphy, who stated Friday "the alleged facts are so serious that they compromise the ability of Senator Menendez to effectively represent the people of our state. I am calling for his immediate resignation."
The Hill indicated that "Murphy would select Menendez's replacement if he were to resign."
Multiple House Democrats from New Jersey have echoed Murphy.
"I don't have confidence that the Senator has the ability to properly focus on our state and its people while addressing such a significant legal matter," said Rep. Andy Kim, D-NJ, on Friday. "He should step down."
One day later, Kim announced that he would be running for Menendez's seat next year. 
"There is no room for this kind of conduct in public service," agreed Rep. Mikie Sherrill, D-NJ. "Today is a sad day for New Jersey and I believe it's in the best interest of our state that Senator Menendez resign."
"Senator Menendez is entitled to his day in court but it's very difficult to see how he can continue his service in the midst of these charges," said Rep. Frank Pallone, D-NJ, who has served in Congress since 1988. "He should resign in the best interest of our state."
Conversely, one member of New Jersey's House delegation has instead come out in support of the senator: Rep. Rob Menendez, D-NJ, Sen. Menendez's son.
In a Friday statement, the younger Menendez dismissed his father's "countless detractors" as refusing "to believe a son of immigrants from Hudson County could rise to be one of one hundred Senators."
State-level New Jersey Democrats have also called for Menendez to resign. State Assembly Speaker Craig Coughlin called his senator's alleged behavior "against everything we should believe as public servants."
Sen. John Fetterman, D-PA, on Saturday became the first U.S. senator to publicly state that his colleague should resign.
"He's entitled to the presumption of innocence, but he cannot continue to wield influence over national policy, especially given the serious and specific nature of the allegations," Fetterman wrote on social media. "I hope he chooses an honorable exit and focuses on his trial."
Many other members of the Democratic Party have been hesitant to join Fetterman and most of New Jersey's Democrats, however.
Two of Menendez's Senate colleagues, Sen. Chris Murphy, D-CT, and Sen. Mark Kelly, D-AZ, condemned his alleged conduct on televised interviews Sunday but stopped short of calling for his resignation. 

Menendez has served in the Senate since 2006. Despite being a self-professed Catholic, he is an ardent supporter of abortion and the LGBTQ movement. He also embarked on a months-long failed attempt to prevent CatholicVote co-founder Joseph Cella from becoming an ambassador in the Trump administration. The senator has an "F" rating from the Catholic Accountability Project.'