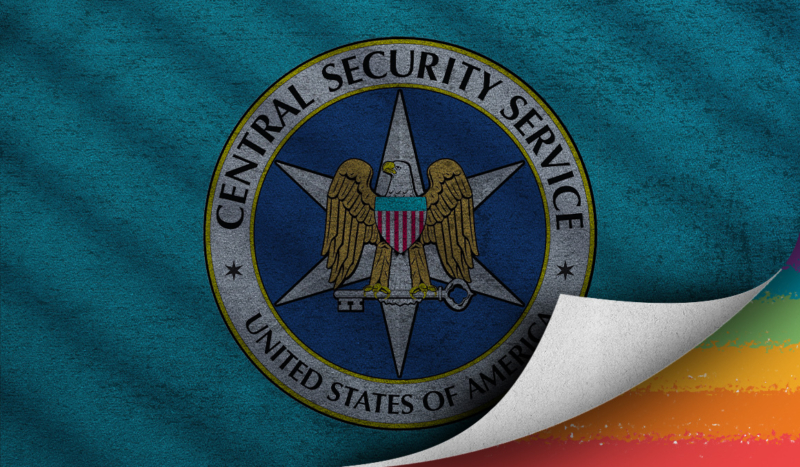 CV NEWS FEED // The Biden administration's National Security Agency (NSA) compiled a Diversity, Equity, and Inclusion (DEI) Glossary that contained 34 pages of far-left ideological words and phrases.
The NSA is an agency of the Department of Defense (DoD).
"The following is a glossary of terms and language commonly used in dialogue regarding diversity, equity, inclusion, and social justice to be used as a reference," stated the government document, which was recently leaked following an investigation by The Daily Wire. 
"It is by no means a comprehensive list and, in every context, the meaning of these words may change and evolve," the document continued. "This glossary and its definitions provide a starting point for engaging in open and honest conversation, and is a tool meant to build a shared language of understanding."
Daily Wire field reporter Spencer Lindquist wrote that the list of more than 300 terms was "published internally on May 6th, 2022" by the NSA. He added that it was "never released publicly before" it was leaked. 
Linquist also observed that the glossary "explicitly endorses the tenets of Critical Race Theory [CRT] and Queer Theory" – two terms it also defines.
"The definition for 'settler colonialism' blames 'white European occupations of land in what is now the United States,' for leading to 'oppressive governance' and 'white supremacy,'" Lindquist pointed out on X (formerly Twitter).
In their glossary, the NSA cited the work of discredited far-left activists Ibram X. Kendi and Robin DiAngelo.
The agency referenced Kendi in its definitions of two terms: "anti-racist" and "racist policy."
It defined an "anti-racist" as "someone who is supporting an antiracist policy through their actions or expressing antiracist ideas."
"This includes the expression or ideas that racial groups are equals and do not need developing and supporting policies that reduce racial inequity," the NSA glossary elaborated.
Citing Kendi, the NSA defines "racist policy" as "any measure that produces or sustains racial inequity between or among racial groups."
Kendi's critics on both the right and left have long accused him of being a "grifter." The criticism intensified after his research center at Boston University (BU) recently collapsed.
Prominent CRT critic Christopher Rufo reported in September:
Kendi accumulated more than $40 million for his Center for Antiracist Research at BU, produced virtually no research, and then laid off nearly half of his employees, who accordingly accused him of mismanaging funds, failing to deliver key projects, and mistreating his team. In the wake of these allegations, Boston University announced an official investigation.
The NSA also defined the term "white fragility," which was popularized by DiAngelo in her 2018 book of the same name.
Citing the book, the government agency called so-called "white fragility":
The state in which even a minimum amount of racial stress becomes intolerable, triggering a range of defensive moves [in white people]. These moves include the outward display of emotions such as anger, fear, and guilt, and behaviors such as argumentation, silence, and leaving the stress-inducing situation.
As CatholicVote has previously noted, "critics across the political spectrum" panned the book.
"Writing in the left-leaning Atlantic, African-American linguist John McWhorter called ['White Fragility'] a 'racist tract,'" CatholicVote reported. DiAngelo herself is white.
"But America's premier intelligence agency isn't just citing anti-white Critical Race Theorists like DiAngleo and Kendi," Lindquist wrote on X.
"It also went all-in on gender ideology." The glossary included entries on the terms "transmisogyny," the so-called "gender" known as "two spirit," and "female-bodied."
"Though still occasionally used this term is very problematic as it genders bodies nonconsensually and plays into cissexism (in that breasts or a vulva, for example, are considered inherently female)," the document noted in its definition of "female-bodied."
"Then there's the mind-boggling phrases 'male-to-male' and 'female-to-female,'" wrote Lindquist. "You have to read it to believe it."
The NSA document defined these terms as:
A transgender individual who has medically transitioned and feels their birth sex was never an identity to which they could relate. In other words, a person with a birth sex of female may have lived as female for many years, but never identified as a woman. 

Instead, they always identified as male and transitioned to become outwardly visible as male. The social identity of female (FTM) to male is an inappropriate description of their experience with gender.
"It is disturbing that this is what the senior leadership of one of our most critical intelligence agencies is worried about when we literally have the world on fire," Rep. Mike Waltz, R-FL, told Lindquist:
Those holding the keys to power, those with their finger on the nuclear button or on incredibly powerful surveillance capabilities…[are being] indoctrinated that our civilian institutions are inherently racist, are systemically misogynistic and have a colonialist past and therefore bad.
"Our military is not focused on lethality. They're focused on diversity and climate," added Waltz. "That's going to result in our enemies not fearing us and respecting us as they should."