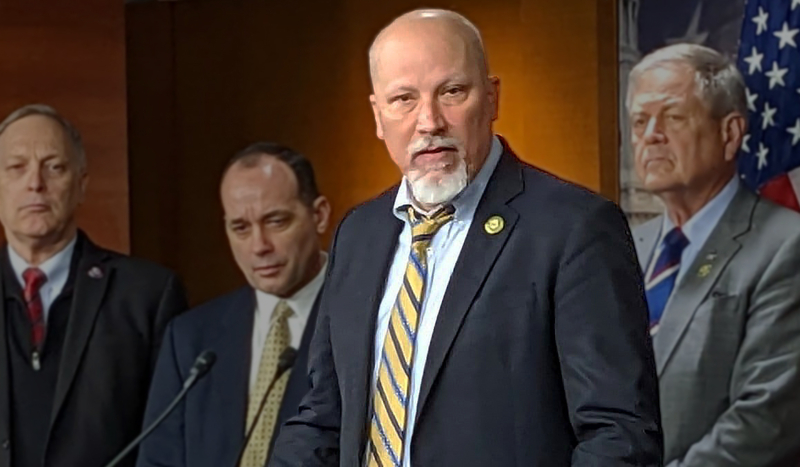 CV NEWS FEED // Congressman Chip Roy, R-TX, led Republican lawmakers in a letter demanding that Congress defund the FACE Act, a law under which Mark Houck and dozens of other pro-life activists have been charged in the last year.
The letter, addressed to the four lawmakers drafting the 2024 Commerce, Justice, Science, and Related Agencies Appropriations Act, requests that they "include language that would prohibit funding for the Department of Justice to enforce the FACE Act (18 U.S. Code § 248)."
The FACE Act was first proposed by then-Congressman Chuck Schumer, D-NY, in 1993. Democrats overwhelmingly supported the legislation, and it was signed into law by President Bill Clinton in 1994. Primarily known as a law pushed by pro-abortion politicians to limit pro-life activity on or near the properties of abortion facilities, the law also includes safeguards for houses of worship.
In September 2022, FBI agents stormed the home of Catholic pro-life activist Mark Houck and arrested him at gunpoint in front of his wife and seven children. Charged under the FACE Act for an alleged altercation outside an abortion facility, Houck was later acquitted.
>> WATCH: CATHOLICVOTE'S FULL INTERVIEW WITH MARK HOUCK <<
The letter cites the Houck case as a clear example of the weaponization of the FACE Act against pro-life Americans, but notes that his is not an isolated case:
This is far from the only example of the Biden DOJ abusing the FACE Act against American citizens. In 2022, the FACE Act was used more than two dozen times against pro-life activists including Mark Houck, Father Fidelis Moscinski, Lauren Handy, Herb Geraghty, and a Holocaust survivor. Prior to this year, the FACE Act had never been used to indict individuals related to an attack on a pro-life pregnancy center or house of worship. 
As reported by CatholicVote, many of these cases are still pending.
CatholicVote, along with Students for Life Action and Live Action, supported the Republicans' letter.
Since the leak of the Supreme Court's Dobbs decision in May 2022, there have been at least 83 attacks on pro-life pregnancy resource centers and pro-life organizations. Even more significant, over 145 Catholic churches have been vandalized or otherwise attacked.
Prior to January 2023, when the DOJ charged four suspects for attacking pregnancy care centers, the FACE Act had been used exclusively to target pro-life Americans. In what were described by some sources as the "first-ever" FACE Act indictments of pro-abortion activists attacking pro-life pregnancy resource centers, the Biden DOJ charged Caleb Freestone and Amber Smith-Stewart of Florida on January 24.
When the DOJ announced the charges, the agency referred to the attacks as being committed against providers of "reproductive health services."
As of April 3, the FACE Act has never been used to prosecute any church attacks.
Attorney General Merrick Garland testified before the Senate Judiciary that his agency has been unable to prosecute attacks on churches and pro-life organizations because they occur "at night, in the dark."
"We are proud to support Rep. Roy's efforts to defund the FACE Act," said CatholicVote President Brian Burch this week. "While it ostensibly protects abortion clinics, churches, and pregnancy resource centers, recent events have shown that the Act has become a political weapon wielded by the Biden administration against pro-lifers."
CatholicVote Director of Governmental Affairs Tom McClusky added: "Defunding the FACE Act is a great first step in holding the DOJ accountable for its failure to apply the law impartially,"
Co-signers of the letter include Rep.Jeff Duncan, R-SC, Rep. Daniel Webster, R-FL, Rep. Ralph Norman, R-SC, Rep. Harriet Hageman, R-WY, Rep. Eric Burlison, R-MO, Rep. Paul Gosar, R-AZ, Rep. Andrew Clyde, R-GA, Rep. Eli Crane, R-AZ, Rep. James Moylan, R-Guam, and Rep. Dan Bishop, R-NC.