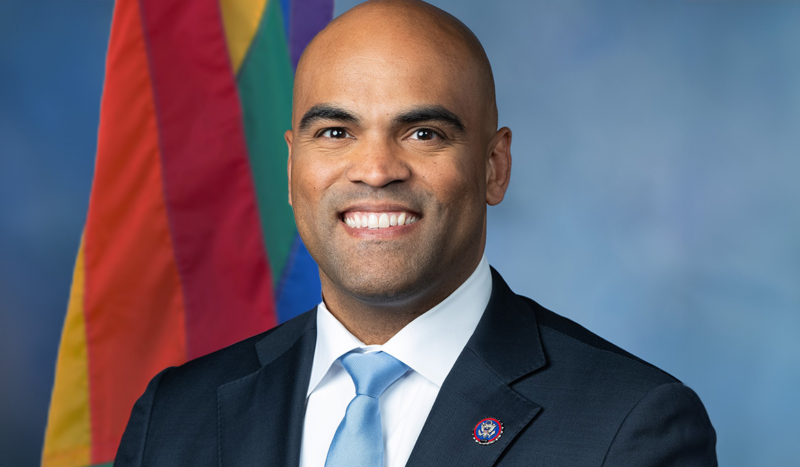 CV NEWS FEED // Rep. Colin Allred, D-TX, who is the leading challenger to Sen. Ted Cruz, R-TX, in next year's U.S. Senate election, secured a $1 million grant of taxpayer money to a far-left LGBTQ group.
According to the congressman's government website, the grant was for a "housing project."
"In recent years, Allred has publicly praised and made multiple appearances with the group, known as the Resource Center," FOX News reported.
Five years ago, when the now-Senate candidate was first running for the House, he took to Facebook to promote one of the organization's events. He also attended the event.
"It was great to be among so many LGBTQ community leaders last night at Resource Center's Back to School Fundraising event!" Allred wrote at the time. "The event supports Youth First, a group that creates safe spaces for LGBTQ youth in North Texas."
FOX explained the context surrounding Allred's 2018 post:
Three days prior to that post, Youth First, a part of the Resource Center that the fundraising event benefited, posted a photo to Instagram of an individual in drag that said, "I Think That Drag Is The Artform Of The Queer Imagination."

The post advertised "Open Drag Night," and the caption stated, "Come explore your own QUEER IMAGINATION at Open Drag Night this Saturday … Any youth ages 12-18 can come perform, whether it is your first time ever or you are a seasoned drag monster. Youth, friends, and family are also welcome to come watch and cheer the performers on!"
The Dallas-based Resource Center was founded in 1983. It hosts many pro-LGBTQ programs targeted toward minors, such as Queer Sex Ed, which its website describes as follows:
For many LGBTQIA+ people, the sex ed that they experience at school or at home (if they receive any education at all) is very heteronormative. So, we created Queer Sex Ed so that we could have a space to talk about things not always talked about in conventional sex ed like trans anatomy, consent and more.
The organization claims the program would instill in children "what they won't teach you in school."
FOX noted that "the group has also hosted 'Gender Identity Night,'" which "involves children as young as 12."
The program has been hosted since 2014, but a recent link shared to the website was removed. An internet archive of the webpage was saved, however. Topics at past meetings have included "transition products" and "recent anti-LGBTQIA+ legislation in Texas," according to the group's Instagram.
For adults, the Resource Center provides "required assessments and letters" for so-called "gender-affirming care." These procedures on children are now prohibited in Texas.
Allred was first elected to Congress in 2018 and represents a portion of Dallas and its northern and eastern suburbs. Previously, he was a lawyer, an Obama Administration official, and an NFL linebacker who played five seasons for the Tennessee Titans.
He is a member of the New Democrat Coalition (NDC), which is often described as a caucus of "moderate" House Democrats. The NDC bills itself as "center-left" and "made up of nearly 100 pragmatic House Democrats who work across the aisle and across the Capitol to advance innovative, inclusive, and forward-looking policies."
In order to face Cruz in the November 2024 general election, the congressman still has to win a crowded Democratic Primary field that currently includes State Sen. Roland Gutierrez, State Rep. Carl Sherman, and criminologist Tracy Andrus.
Allred is not the only Democratic Senate candidate revealed to have earmarked $1 million in taxpayer funds to an extremist LGBTQ group's "project."
In June, CatholicVote reported that Sen. Bob Casey, D-PA, "a self-professed Catholic, requested one million dollars in federal taxpayer funding for a Philadelphia LGBTQ organization that has hosted 'youth drag shows' and advanced communist events."
Casey is running for re-election to a fourth term in November 2024, on the same day Cruz and Allred will likely face off.