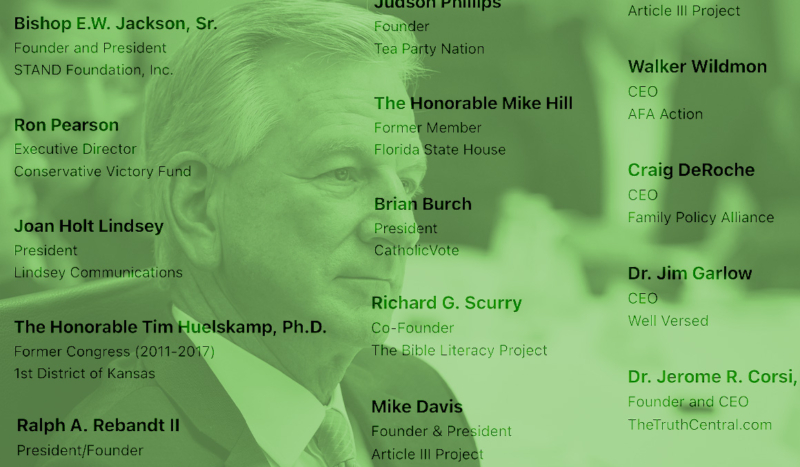 CV NEWS FEED // CatholicVote President Brian Burch on Tuesday joined 90 other pro-life leaders in signing an open letter in support of Sen. Tommy Tuberville's, R-AL, ongoing campaign to end abortion in the military.
Senior Political Advisor to CatholicVote and former Congressman Tim Huelskamp, R-KS, and CatholicVote Director of Governmental Affairs Tom McClusky also signed.
"Conservatives are proud to stand behind Sen. Tommy Tuberville in his fight to protect the lives of the unborn," the letter began. "For months, Sen. Tuberville has stood fearlessly and alone in protest of an illegal policy implemented by the Department of Defense (DOD) to pay for service member travel in order to obtain an abortion."
"He has done so by objecting to the unanimous consent passage of military promotions, using the leverage granted to every single Senator to slow down these promotions in protest of the DOD's illegal policy," the letter continued:
Sen. Tuberville's stand is unique. When the DOD signaled they would implement this abortion travel policy, he warned them not to do it. DOD Secretary Lloyd Austin did it anyway. Yet instead of simply demanding a vote on legislation he knows will fail, Sen. Tuberville chose to maximize his leverage with a tactic that actually withholds something the White House wants.
The letter also pointed out that despite Tuberville's holds on mass promotions, Senate Majority Leader Chuck Schumer, D-NY, still has the power to bring each individual promotion to "the floor and vote on [it] at any time." Schumer has for months refused to do so – with a few exceptions.
The letter referred to the small but cohesive group of Tuberville's Republican colleagues who have in recent weeks teamed up with Democrats to oppose the holds.
These senators are Sen. Dan Sullivan, R-AK, Sen. Joni Ernst, R-IA, Sen. Lindsey Graham, R-SC, Sen. Mitt Romney, R-UT, and Sen. Todd Young, R-IN. All of these lawmakers continue to publicly identify as "pro-life."
Ernst in particular has gone out of her way this month to prove her "pro-life" credentials against the backdrop of her controversial attacks on Tuberville. Days after making a failed attempt to stop the holds, she slammed the Biden administration for funding abortion for migrant minors – a move which critics said was made to provide "cover" for opposing Tuberville's stand.
The letter stated that Ernst and the other four anti-Tuberville Republicans "now want to unite with Senate Democrats to modify Senate procedures to strip every senator of the right to block the unanimous consent passage of military nominations and promotions."
"We strongly oppose this effort," the letter stated, noting that it "would further degrade the rights of elected senators:"
Moreover, because this Standing Order is only being proposed to block Sen. Tuberville's efforts to respond to DOD's abortion policy, we view a vote on this Standing Order as a proxy vote on the abortion policy itself.

Specifically, this Standing Order would allow any senator to proceed to up to two or more nominations or promotions at a time, with a single vote. While this sounds innocuous, this undercuts the efforts of conservative senators (the senators most willing to use their procedural rights to fight for just causes) to use their leverage to block or respond to efforts by the left.
The Hill reported that the Senate Rules Committee "voted along party lines Tuesday to advance a resolution that would allow [Schumer] to confirm more than 350 military promotions being held up by" Tuberville's campaign, en masse.
However, the measure requires 60 votes to pass the Senate. Therefore, even with all members of the Democratic caucus in addition to the five aforementioned Republicans voting in favor, it would still be four votes short.
The letter's signatories cautioned Senate Republicans that they "should either back up their colleague, or propose a different solution to credibly fight this outrageous policy from Biden's DOD."
"It is rare to find true courage in Washington," the letter concluded:
It is even more uncommon to find sustained courage under pressure – but this defines Sen. Tuberville's sustained fight for human dignity and pro-life values against a lawless and inhumane administration. We are proud to stand with Sen. Tuberville. We oppose any effort to undermine him by changing the Senate's rules, and we urge all Senate Republicans to support him in opposing the Biden administration's blatant attack on life.
The letter, titled "Conservatives Stand With Sen. Tommy Tuberville And Oppose The Senate's Rules Change," was posted on the Conservative Action Project's website.
Other notable signatories include Conservative Action Project Chairman and former Ohio Secretary of State Kenneth Blackwell, Citizens United President David Bossie, Heritage Foundation President Kevin Roberts, Family Research Council President Tony Perkins, and former U.S. Senator Jim DeMint, R-SC.

Tuberville has on multiple occasions affirmed that he will not end his holds unless the Biden administration stops using taxpayer money to facilitate abortions in the military.