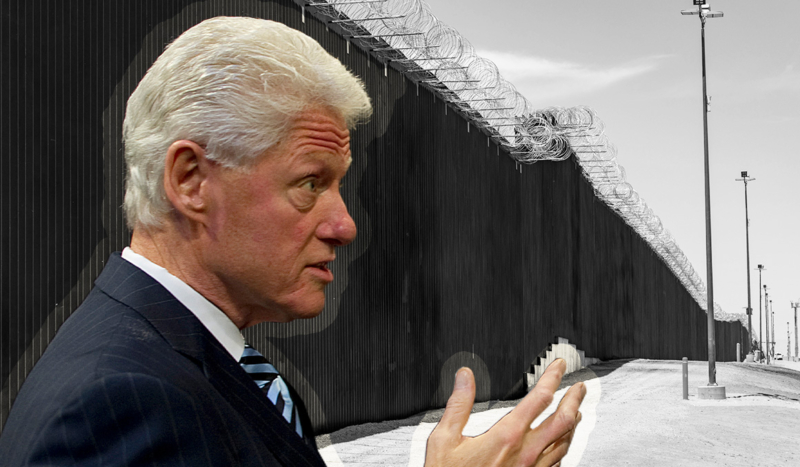 CV NEWS FEED // Former President Bill Clinton has joined a growing number of Democrats in calling for increased immigration control as the effects of the ongoing border crisis threaten New York and other blue states.
During an interview on WABC radio, the 42nd president took aim at New York City's "Right to Shelter" mandate  – which has been widely blamed for the skyrocketing number of migrants there. Clinton lives in a New York City suburb.
Clinton's apparent support for increased border security measures follows a recent trend among other New York Democrats who previously backed lax immigration policies, including Gov. Kathy Hochul and Mayor Eric Adams.
In addition, Clinton seemed to disagree with Adams' previous assertion that Republican governors sending migrants to Democratic-run states were largely to blame for the city's crisis.
"The real problem that I got now," he told host John Catsimatidis, "is not the people that were sent up here from Florida and Texas."
"It's the huge number of Venezuelans who have shown up because of the collapse of the Venezuelan economy," the former president said.
He went on to cite "American law going back for decades," which he said "stated we have always had a blanket offer of entry into America for people who have a reasonable fear for the lives and safety of their families and themselves."
"They come in here, and under the current law, they have to wait six months for a work permit," Clinton continued. "Now, very few of them do, but about 80% of the people who come to New York and to Massachusetts, the two states with 'Right to Shelter' laws within the states."
"Gov. Hochul thinks it should be modified, and it probably should under the circumstances," he said:
They come up here, and we're supposed to shelter people who can't get work permits for six months. We need to change that.

They ought to work. They need to begin working, paying taxes and paying their way. Most of these people have no interest in being on welfare.
When asked if he missed being in office, Clinton laughed before replying, "It's unbelievable. It seems like it was only yesterday. It's been a long time."
Although often described as a "law," the "Right to Shelter" mandate in New York City was never passed by the state legislature or city council, nor was it signed by a governor or mayor.
Instead, it was instituted by the State Supreme Court in 1981 as part of a settlement of the case Callahan v. Carey. The lead plaintiff in the class action suit was not an immigrant but an American homeless man.
The New York Post reported that Hochul and Adams 
have argued that the Right to Shelter law was designed to address the local homeless problem — not the unrelenting massive waves of migrants flooding the city for months after crossing the southern border with Mexico.

The issue is currently in litigation, with advocates for the homeless and asylum seekers opposing any significant rollback of the law.
Tuesday, the Adams administration asked a judge to suspend the mandate, stating it is "outmoded and cumbersome in the face of the present migrant crisis."
Forbes reported that in a "letter to New York judge Erika Edwards, the city's lawyers said there is no sign the influx of migrants seeking shelter is stopping, and over the last 18 months the number of people coming in has posed 'unprecedented and extraordinarily complex challenges' to the City."
In a statement released the same day, Adams said the "Callahan decree" was "never intended to apply to the extraordinary circumstances our city faces today."
"With more than 122,700 asylum seekers having come through our intake system since the spring of 2022, and projected costs of over $12 billion for three years, it is abundantly clear that the status quo cannot continue," the mayor added.
In May, Alex Maroño Porto wrote in the local news source West Side Rag that
New York [City] is the only major city in the country that offers a legal "right to shelter" to anyone within its borders who requests it. There are no residency or income requirements. You can come from another city, state, country, or continent, and, if you have no place to stay, New York must shelter and feed you, in a timely manner, in a place that — theoretically — meets certain court-set standards.