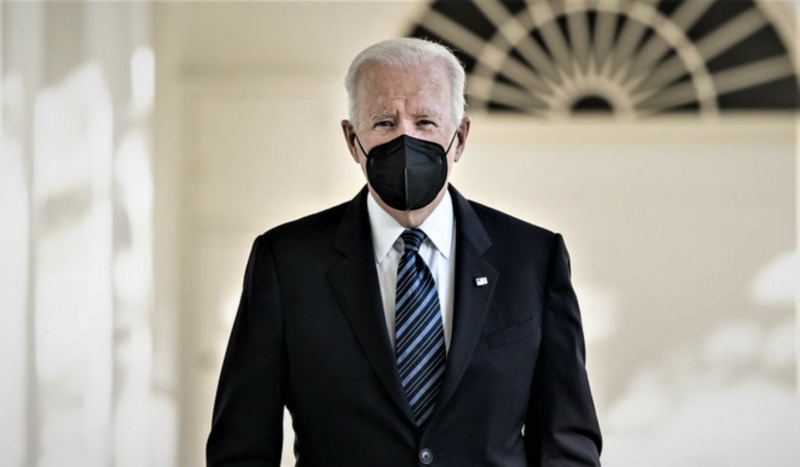 CV NEWS FEED // A majority of American Catholics have voted for the winning candidate in nearly every presidential election in the last four decades, including Joe Biden in 2020. But two years into Biden's term, the case the Catholic Left made for him has unraveled.
In a Wednesday column at the Catholic News Service (CNS), which was republished by the liberal National Catholic Reporter, Rhina Guidos reported that while immigrant advocates say they "welcomed President Joe Biden's 2020 election, when it comes to immigration policy, his administration … has left much to be desired."
Hazel Contreras of the nonprofit Alianza Americas, who accused the Trump administration of "blatant racism," also said that "in key (immigration) areas, the Biden White House continues to uphold the hateful spirit of Trump migration policies," Guidos reported:
The organization was one of various groups to voice discontent with the White House on immigration policy one year after the Biden-Harris administration unveiled its strategy to address immigration flows at the southern border.
Some of the Biden administration's failures to deliver on immigration might be dismissed as the result of inherited problems from previous leadership:
But there are those who say some of the wounds are self-inflicted. The latest complaints are focused on reports that administration officials are expelling Venezuelan migrants to a third country, namely Colombia, if they recently resided there.
"The recent reports of the Biden administration removing Venezuelans through third countries is extremely disturbing," said Sen. Bob Menendez, a Democrat and self-professed Catholic. Menendez has also criticized the administration for "turning its back on the immigrants who need our protection the most," and called Biden's deportations "cruel" and "unconscionable."
Guidos also cited a migrant advocacy group's statement that they found "troubling" Vice President Kamala Harris's comment to would-be migrants last year: "Do not come."
Aside from denunciations of the Biden administration's border policies, the general message of advocacy groups to Biden was to plead with him to "recommit" to the promises he made on the campaign trail, since he has so far forsaken them.
The 2020 Catholic Case for Biden
Ahead of the 2020 election, Catholic advocates for then-candidate Joe Biden presented him as a deeply ethical Catholic who could represent religious voters and offer a moral and humane answer to President Donald Trump, whom they framed as antithetical to what Catholics stand for.
Many faithful Catholics argued against a Biden vote due to his total embrace of abortion, including a new and unprecedented campaign to remove pro-life protections from spending bills and therefore force taxpayers to directly fund abortions. They also objected to Biden's promises to remove protections for religious freedom. Catholic Biden supporters, however, countered these arguments by pointing to Biden's promises of treating migrants humanely.
A "Catholic Republican might feel impelled to vote for Trump despite his policies promoting racism or subjecting immigrants to subhuman living conditions, because of other morally grave reasons, for example, his opposition to abortion," allowed Fr. Thomas Reese, SJ, in a piece published by the National Catholic Reporter. But a "Catholic Democrat might feel impelled to vote for Biden despite his position on abortion and gay marriage because of other morally grave reasons," such as his positions on – among other things, "racism" and "immigration."
Other Catholic leaders on the political left expanded on the meaning of what it is to be "pro-life," arguing that while Trump staunchly opposed abortion, he could not be called "pro-life" due to his treatment of immigrants. "Still think he's pro-life?" wrote Bishop John Stowe of Kentucky in response to a report of migrant living conditions under Trump.
Similarly, the Boston Globe issued a "Case for Biden" aimed at Catholic and other religious voters. Trump's policies had led, among other things, to "immigrant children being caged and separated from their parents," the Globe wrote. "Biden's proposals," including "reshaping the nation's immigration system," would be "far more in line with the beliefs of nearly all major faiths who see the care of the most vulnerable as foundational."
Cardinal Joseph Tobin of Newark, NJ, contrasted Biden and Trump precisely on abortion and treatment of migrants, the National Catholic Reporter reported:
The cardinal [challenged] key planks of both the Republican and Democratic platforms, noting that one party seeks to "remove the unborn child from the moral equation" and the other party fails to treat migrants with human dignity by taking "away their faces, their significance."
"I think that a person in good conscience could vote for Mr. Biden," Tobin concluded. "I, frankly, in my own way of thinking have a more difficult time with the other option."
An Evaporated Argument
As CatholicVote reported, within a few short months of President Joe Biden's inauguration, the new administration was holding nearly 25,000 migrant children separated from their families:
Of particular concern to many onlookers is the plight of vulnerable children attempting the journey. The Biden administration, however, has frustrated efforts by lawyers and other advocates to access the children.
"Children told attorneys who visited some sites they had not met with case managers, who are tasked with reuniting them with family members," the AP reported. "HHS has refused all access to news media once children are brought into facilities, citing the coronavirus pandemic and privacy restrictions."
Some of the new facilities have a "very institutional setting feel" that is bad for children, Sarah DeYoung told the AP. DeYoung is a professor at the University of Delaware and studies evacuation shelters. "It is critical that there would still be an outside assessment … including public health experts and people who have pediatric expertise."
U.S. officials apprehended nearly 19,000 unaccompanied migrant children at the southern border in March alone — the highest number ever recorded in a single month.
As CatholicVote reported in March, "one Texas migrant facility had reached 729% of its planned capacity as of March 2, with 1,800 staying in a facility designed for 250." 
Since then, the situation at the border has not much improved, according to migrant advocates – including those cited in the piece at the National Catholic Reporter at the beginning of this analysis.
Catholics who opposed Biden's candidacy in 2020 faced strong criticism from the Catholic Left, who accused them of erring morally by choosing Trump's advocacy for the unborn (despite his immigration policies) over Biden's promise to relieve the plight of migrants (despite his support for abortion).
Today, CatholicVote Communications Director Joshua Mercer says conservative Catholic voters should feel vindicated, although they should maintain their concern for what Trump called the "humanitarian crisis" at the southern border.
"Right now, thanks to three pro-life Supreme Court picks from the Trump administration, we have a very good shot at repealing Roe v. Wade, and saving countless millions of lives going forward," Mercer said:
And given Joe Biden's complete failure to deliver a 'humane' solution on immigration — the issue that supposedly "balanced" his unqualified support for abortion —the moral analysis for Catholic voters is easier and clearer now than it ever has been.