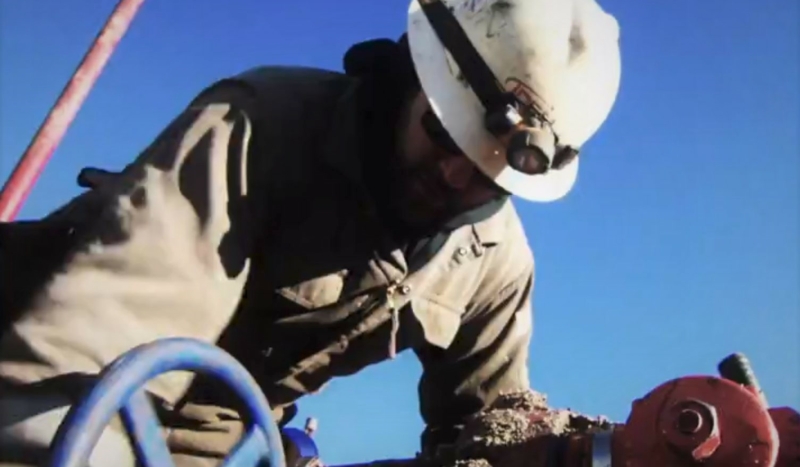 CV NEWS FEED // The oil and gas industry is calling out North Face after the popular apparel corporation refused to fulfill an order of workplace jackets for a fossil fuel company.
The new campaign, headed up by the CEO Chris Wright of the Denver-based Liberty Oilfield Services, has a twist. In a video ad, Wright said "thank you" to North Face.
Why? Because approximately 90% of the corporation's products are made from oil and gas.
"North Face recently came out against my industry, even refusing to let one of my competitors put their company logo on a North Face jacket," Wright said in the video. A Washington Times headline appears on screen: "North Face accused of 'virtue-signaling' for refusing oil-and-gas firm's jacket order."
However, Wright continued, he searched the North Face website and "failed to find a single product that wasn't made out of oil and gas."
Most clothing today is made out of petroleum products — the base material for artificial fabrics like polyester, nylon, and spandex. North Face's merchandise is no exception. In fact, the corporation's products, Wright pointed out, are arguably more predominantly oil-and-gas-based than many other companies'.
From their jackets to their shoes, pants, hats, etc. — North Face's products are chiefly "made out of the oil and gas that we so proudly produce," Wright explained. "Globally, 60% of all clothing fibers are made out of oil and gas. For North Face, it is likely 90% or more."
North Face is therefore "not only an extraordinary customer of the oil and gas industry;" they could even be called a "partner with the oil and gas industry," Wright said.
"So thank you, North Face," he concluded. "And you're welcome."
Wright decried North Face's "crazy hypocrisy" in attacking the oil industry in comments to Fox Business last week. "It's like bees shunning honey," he said.
He also pointed out that it wasn't just a matter of the clothing material being made from oil and gas. Fossil fuels also "fuel the factories that manufacture the goods," Fox Business reported. "And fossil fuels are the backbone for shipping North Face products around the world."
As part of the campaign to call out the company, Wright also set up billboards that mock North Face's "virtue-signaling," which are currently placed near their parent corporation's Denver offices.
"That North Face puffer looks great on you," reads one billboard. "And it was made from fossil fuels."
Readers can watch the video calling out North Face below.