CV NEWS FEED // Over 200 Catholics gathered at the Wisconsin Capitol Friday, March 19, to call on St. Joseph during a time when organizers say fatherhood is under attack in America.
Fathers and mothers with young children in tow had a pronounced presence at the "Protect Our Families" event, which featured a Eucharistic procession and prayers invoking the intercession of St. Joseph.
Rev. Richard Heilman led the gathered Catholics in prayer before the Blessed Sacrament, right on the steps of the State Capitol building in Madison, WI.
Before disbursing the crowd after Benediction, Heilman added one last "St. Joseph!" to which the crowd shouted in reply "Pray for us!"
Kevin O'Brian, a cofounder of the Wisconsin-based men's apostolate Men of Christ, was present. This was only the first of many such events, which will lead up to a "monster" number of Eucharistic processions around the country on Fathers Day, he said.
O'Brian is a cofounder of "Catholic Fathers Day," a movement founded by laymen to organize Eucharistic processions in dioceses across America for the purpose of strengthening Catholic fathers through the intercession of St. Joseph, Foster Father of Jesus.
Pope Francis has pronounced 2021 The Year of St. Joseph. The Catholic Fathers Day movement aims to use this year as a launching point for "an annual celebration of Catholic fatherhood during June," O'Brian explained.
In addition to wanting to address the social ills that come from fatherlessness and the denigration of fatherhood, some of the movement's backers see events like these as a rendezvous with destiny — and an opportunity to cooperate with a much-needed and timely divine intervention.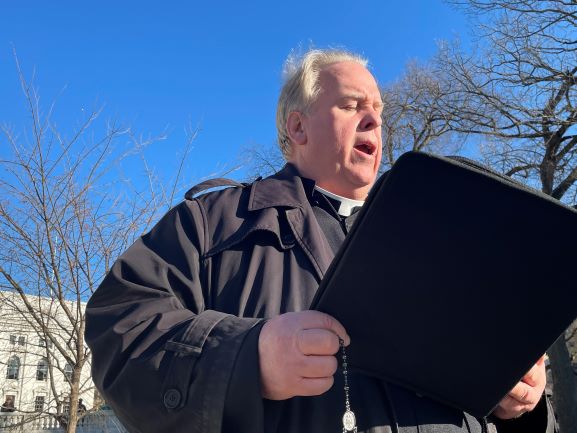 In the Roman Catholic liturgical calendar, March 19 was the Solemnity of St. Joseph, and came 150 years after St. Joseph was pronounced "Patron of the Universal Church," explained Pat Moertl of Men of Christ and the Catholic Men's Leadership Alliance.
So Friday's "Protect Our Families" event took place on "the only Solemnity of St. Joseph in the Church calendar; in the month of St. Joseph (March); in the year of St. Joseph; 150 years after being named Patron of the Universal Church!"
Jill Yanke, a local Catholic mother who attended, was deeply moved by Friday's event. "Given the direction that the world is going now, bringing Christ [in the Eucharist] out to the streets of Madison was a really powerful way to witness," she said.
"St. Joseph is also near and dear to me," she told CatholicVote. "I ask his intercession to strengthen my husband and my sons in their role as heads of their families."
Yanke sees Joseph as an important intercessor for our time in an additional way, too.
She and her family ask St. Joseph regularly to bolster the Church's bishops and priests, "the spiritual fathers of their flocks."