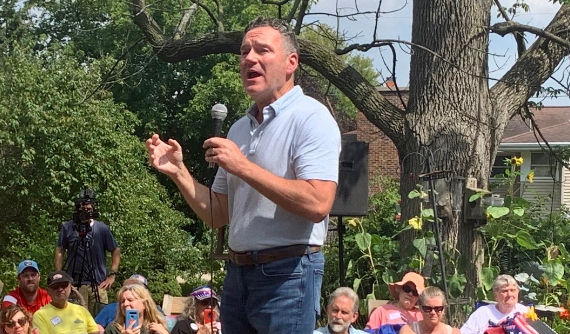 CV NEWS FEED // Wisconsin gubernatorial candidate Tim Michels went on offense after a local media outlet reported on his pro-life and Catholic charitable giving, framing it as "anti-LGBTQ."
"Wisconsin's Republican candidate for governor Tim Michels and his wife donated $250,000 to anti-LGBTQ and anti-abortion groups, representing about 15% of his total donations in 2020," wrote Corinne Hess of the Milwaukee Journal Sentinal in an article published Wednesday:
The Timothy and Barbara Michels Family Foundation funded organizations that oppose all forms of contraception and abortions in all cases. The foundation also spent thousands on churches with anti-LGBTQ beliefs. 
The article went on to suggest that Michels' charitable donations, including to churches and the Sisters of St. Francis of Assisi, are controversial and worrisome.
While the MSJ report may have been intended to hurt Michels, the Republican candidate responded by immediately pointing out the "disgusting" premise of the "attack:" that Catholic beliefs and causes are somehow shameful.
"The dishonest media are so in the tank for [Wisconsin Democratic Gov.] Tony Evers, they have now stooped so low as to attack mainstream churches and religious organizations," Michels' campaign stated within hours of the article's publication:
Assaulting the reputations of Catholic nuns, some of the largest churches in Wisconsin, and even cancer research is shameful, and the people of Wisconsin should not tolerate this disgusting, anti-religious bigotry.
By late morning, the article attacking Michels had gone viral in Wisconsin, but not for the reasons its author seemed to have intended. 
The Wisconsin Republican Party called the article "a shameful smear," noting on Twitter: "According to the intolerant Left, donating to religious organizations is no longer OK."
"The media has truly wrecked their own credibility with this attack," added Anna Kelly of the Michels campaign. "Writing a hit piece over religious contributions (including to nuns) shows a disconnect from reality."
Chad Doran of the Wisconsin GOP also came to the defense of Catholic organizations, confronting the Wisconsin Democratic Party over the article. The Democrats and their allies in the media "are desperate for ways to attack" Michels, Doran wrote. "It's low, even by their standards, to attack supporting churches and faith-based orgs."