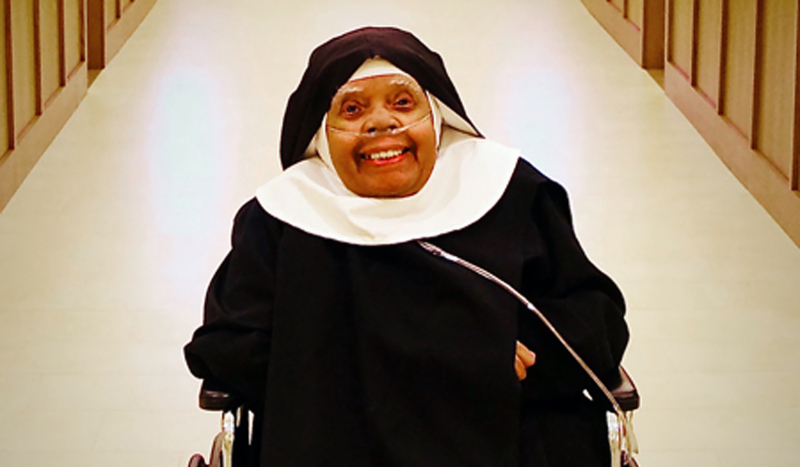 CV NEWS FEED // "I became a nun because I was in love with the Lord," Sister Mary Wilhelmina Lancaster told her chaplain once. Decades later, Sister Wilhelmina continues to be a witness to the love of the Lord through her possibly incorrupt body. 
Born Mary Elizabeth Lancaster in 1924, Sister Wilhelmina felt drawn to become a nun from an early age. Growing up in St. Louis, Missouri, her pastor, Fr. William Markoe, encouraged her to discern a vocation. Upon taking first vows, Mary Elizabeth took the name Wilhelmina in honor of her pastor.
After serving across the United States with the Oblate Sisters of Providence, Sister Wilhelmina left to found the Benedictines of Mary, Queen of the Apostles, in Scranton, Pennsylvania. The order is rooted in the Rule of St. Benedict and consecrated to Mary in prayer and making sacrifices for priests. The Benedictines of Mary dedicate five hours a day to chanting the Mass and Divine Offices, offering prayers specifically for priests and for vocations.
In 2006, the order moved to Kansas City, establishing an abbey in 2010. Located 45 minutes north of Kansas City, the abbey sits in the unassuming countryside of rural Missouri, a peaceful location for a life of prayer and sacrifice.
On May 29, 2019, at the vigil of the Ascension, with the rest of the community gathered around her singing Marian hymns, Sister Wilhemina said her last words, "O Maria," and breathed her last. She was laid to rest in the abbey's graveyard.
A week and a half ago, the sisters decided to follow the longstanding tradition of burying the bodies of founders and foundresses in crypts inside monastery chapels.
Upon digging up the grave, they found a decaying wooden coffin, subject to four years of water damage. Expecting to find bones and moldy fabric, the sisters were shocked to see what appeared to be a foot when they shined a flashlight through a crack.
"I thought I saw a completely full, intact foot and I said, 'I didn't just see that,'" said abbess Mother Cecilia, OSB. "So I looked again more carefully."
To Mother Cecilia's surprise, she found a fully intact body, preserved despite Sister Wilhelmina never being embalmed.
"There was just this sense that the Lord was doing this," said Mother Cecilia. "Right now we need hope. We need it. Our Lord knows that. And she was such a testament to hope. And faith. And trust."
Currently, Sister Wilhelmina's body lays in state in the sisters' private chapel. On May 29, the sisters plan to have a rosary procession to the altar of St. Joseph, where her body will be placed in a glass box for pilgrims to venerate.
A traditional nun known for her piety and love for the Traditional Latin Mass, the Sister Wilhelmina has attracted a following of Catholics from across the Midwest, drawn to this Missouri rural town to witness the apparent miracle themselves. The Church has yet to verify Sister Wilhemina's case as an authentic incorrupt body and a formal cause for her canonization has not been opened.