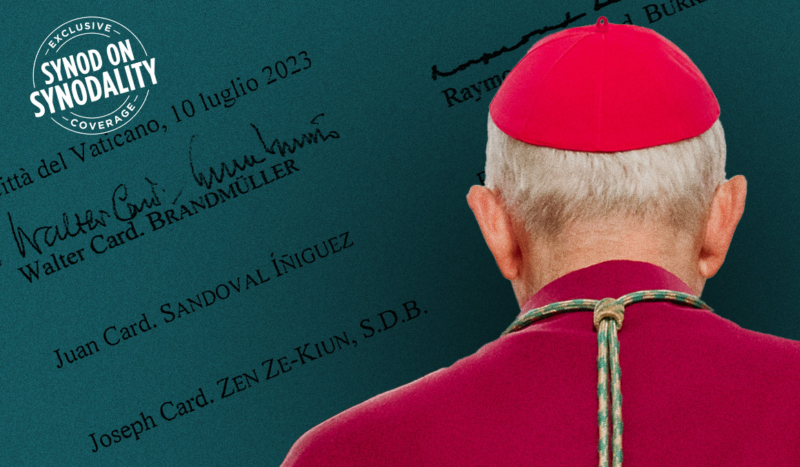 On Monday, five cardinals released the text of questions, or dubia, they submitted to Pope Francis this past July. Dissatisfied with the Pope's initial response, they resubmitted the dubia in August and have yet to receive a response. The dubia addressed concerns regarding how theological and moral issues will be dealt with at the Synod on Synodality, which begins this week in Rome.
The following profiles each of the five cardinals who contributed to the dubia.
Cardinal Robert Sarah (Born June, 1945, Guinea, Africa)
A prominent signatory of the dubia and a proponent of the celebration of Catholic liturgy in traditional form, Sarah has been at odds with Pope Francis' liturgical preferences.
Pope John Paul II appointed Sarah as the Metropolitan Archbishop of Guinea's capital, Conakry in 1979. He served as bishop there for more than twenty years, during which time he actively opposed communist dictator Ahmed Sékou Touré.
Sarah was later transferred to Rome and became the secretary of the Congregation for the Evangelization of Peoples under Pope John Paul II, and president of the Pontifical Council Cor Unum under Pope Benedict XVI.
He was created a Cardinal on November 20, 2010, and was appointed later to the prefect of the Congregation for Divine Worship and the Discipline of the Sacraments, where he served from November 2014 to February 2021.
Cardinal Sarah, who speaks French, Italian and English, is well known for his biographical and spiritual books:
"God or Nothing" (2015)
"The Power of Silence: Against the Dictatorship of Noise" (2017)
"The Day Is Now Far Spent" (2019)
"Couples, Awaken Your Love" (2021)
"Catechism of the Spiritual Life"(2022)
"For Eternity: Restoring the Priesthood and Our Spiritual Fatherhood" (2023)
Cardinal Raymond Leo Burke (Born June 30, 1948, Wisconsin, USA)
A specialist in canon law from the Gregorian University in Rome, Burke was ordained a priest by Pope St. Paul VI in June 1975 at St. Peter's Basilica.
He was appointed Bishop of the Diocese of La Crosse from 1995 to 2004, and then Archbishop of St. Louis from 2004 to 2008. During that period, he was one of the first open critics of then-Cardinal Theodore McCarrick, who, for decades, sexually abused seminarians with impunity.
On June 27, 2008, Pope Benedict XVI appointed Burke Prefect of the Supreme Tribunal of the Apostolic Signatura. Pope Francis found Burke's interpretation of canon law to be "too strict" because Burke opposed the streamlining of marriage annulments. Francis displaced him as Patron of the Sovereign Military Order of Malta from 2014 to 2023, one year before Burke reached the age of 75, the customary retirement age.
Pope Francis removed Burke from the membership of the Congregation for Divine Worship in November 2016, following a series of critiques made by the Cardinal on the state of the Church.
Burke is known for his comment "there is a strong sense that the church is like a ship without a rudder," and helped draft the dubia following the release of the document Amoris Laetitia.
Cardinal Joseph Zen Ze-kiun (Born January 13, 1932, Hong Kong)
A member of the order of Don Bosco (Salesian), Cardinal Joseph Zen Ze-kiun is the sixth Bishop of Hong Kong. Pope Benedict XVI appointed him Cardinal in 2006.
He has spoken out regarding the Vatican's agreement with Communist China, human rights, and religious liberty. On May 11, 2022, he was arrested by the National Security Police, but released a day later on bail.
Cardinal Walter Brandmüller (Born in Germany in January 1929)
A convert from Lutheranism in his youth and an expert in Church history, Cardinal Walter Brandmüller served as president of the Pontifical Committee for Historical Sciences from 1998 to 2009.
Pope Benedict created him a Cardinal in 2010.
In general, the German Cardinal has kept a low profile, except for his 2019 letter to Pope Francis requesting action against what he called "the homosexual agenda" at the Vatican.
He joined his fellow cardinals in publicizing the letter "Seeking Clarity: A Plea to Untie the Knots in Amoris Laetitia".
Cardinal Juan Sandoval Íñiguez (Born March 28, 1933, Mexico)
Pope John Paul II appointed Íñuegez as Archbishop of Guadalajara in April 1994 and created him a Cardinal later that same year. As a Cardinal, Sandoval had a major role in increasing the number of vocations in Guadalajara to nearly 1000 seminarians.
Cardinal Sandoval participated in a dangerous investigation of the murder of his predecessor, Cardinal Juan Jesus Posadas Ocampo, rejecting the theory that Posadas Ocampo's death was an unintended casualty of a fight between drug gangs. Sandoval eventually succeeded in demonstrating the culpability of Mexican government forces in his predecessor's death.
He survived a poisoning attempt during the investigation.
Following the legalization of same-sex marriage in Mexico City in 2015, Sandoval and the Spanish exorcist José Antonio Fortea performed a mass exorcism against "abortion, Satanism, corruption, the cult of 'holy' death and the legalization of sexual aberrations."
Prior to the dubia, Sandoval had not previously criticized Pope Francis, and has mostly kept away from Church controversies. His signature on the dubia is therefore a surprise, and expected to have a significant impact in Latin America.