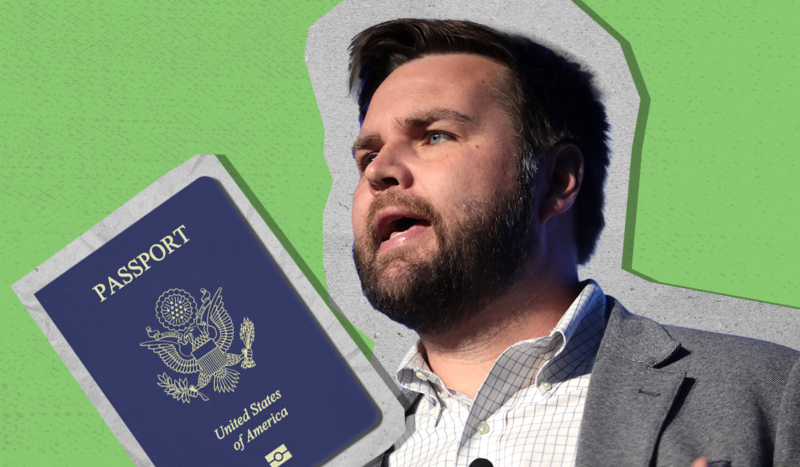 CV NEWS FEED // Sen. J.D. Vance, R-OH, has introduced a bill to prevent the State Department from issuing passports with the new "X" gender category that was instituted by the Biden administration last year.
The "Passport Sanity Act" would return to pre-2022 passport gender guidelines in which "M" for male and "F" for female were the only acceptable choices for applicants.
Mary Margaret Olohan of The Daily Signal reported that this would apply to "all applications for passports, passport cards, or Consular Report of Birth Abroad documentation."
"The last thing the State Department should be doing is wasting its time and your tax dollars pushing far-left gender ideology," Vance told the Signal.
"There are only two genders," he noted. "Passports issued by the United States government should recognize that simple fact. I am proud to introduce this bill to restore some sanity in our federal bureaucracy."
Vance is a Catholic and has an "A" rating from the Catholic Accountability Project.
"The Department of State has reached another milestone in our work to better serve all U.S. citizens, regardless of their gender identity," Secretary of State Antony Blinken said in a press statement dated March 31, 2022:
Starting on April 11, U.S. citizens will be able to select an X as their gender marker on their U.S. passport application, and the option will become available for other forms of documentation [in 2023]. The Department is setting a precedent as the first federal government agency to offer the X gender marker on an identity document.

After thoughtful consideration of the research conducted and feedback from community members, we concluded that the definition of the X gender marker on State Department public forms will be "Unspecified or another gender identity."  This definition is respectful of individuals' privacy while advancing inclusion.
Rep. Chip Roy, R-TX, who introduced the House version of the bill back in June, told the Signal: "I am proud to partner with my friend Senator Vance to advance this important, bicameral effort."
"There are two sexes — male and female — and government documents like passports should reflect that self-evident truth," Roy stated in a press release after unveiling his legislation. "Passports exist to accurately identify people, not play pretend with radical gender ideology."
"Anti-science, radical gender ideology has no place in our government, and it's time for Congress to step in and restore sanity," he added.
In addition to the State Department, other sectors of the Biden administration have attempted to introduce elements of radical gender theory into routine practices as well.

In the summer, the Department of Defense attempted to replace the pronouns "himself" and "herself" with "themself" in awards given to military personnel. After weeks of extensive criticism from veterans, the Pentagon reversed the unusual new policy.