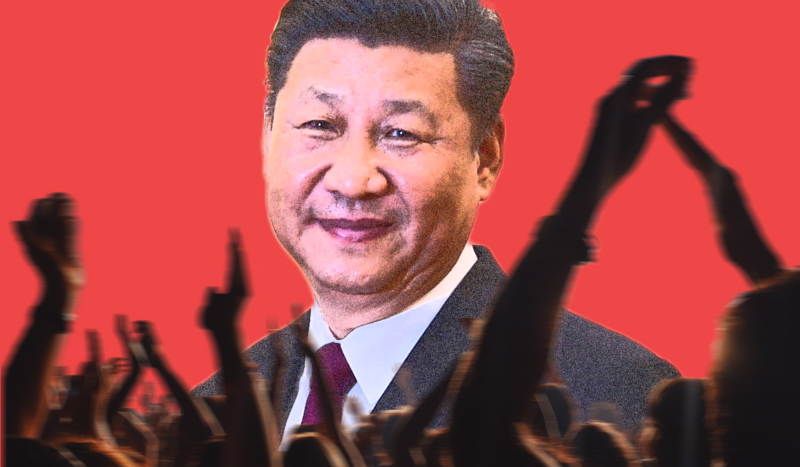 CV NEWS FEED // Chinese communist dictator Xi Jinping received a standing ovation as he delivered the keynote speech for a gathering of American business executives in San Francisco Wednesday.
Just shy of 400 executives from major corporations and several members of the Biden administration attended the event at the Hyatt Regency. The event was reportedly organized by the U.S.-China Business Council and the National Committee on U.S.-China Relations.
"The number one question for us is: are we adversaries, or partners?" the Chinese Communist Party (CCP) leader asked the elite crowd. His speech was translated from Mandarin into English.
"This is the fundamental and overarching issue," he continued. "If one sees the other side as a primary competitor, the most consequential geopolitical challenge and a pacing threat, it will only lead to misinformed policymaking, misguided actions, and unwanted results."
"China is ready to be a partner and friend of the United States," he claimed. "The fundamental principles that we follow in handling China-U.S. relations are mutual respect, peaceful coexistence and win-win cooperation."
Mairead Elordi of The Daily Wire reported that among those in attendance were
Apple CEO Tim Cook, Pfizer CEO Albert Bourla, FedEx CEO Raj Subramaniam, Salesforce CEO Marc Benioff, Boeing Commercial Airplanes CEO Stanley Deal, Blackstone CEO Stephen Schwarzman, BlackRock CEO Larry Fink, and Mastercard's independent board chairwoman Merit Janow.
The House Select Committee on the Chinese Communist Party posted screenshots of two pages from the evening's program on X (formerly Twitter).
The program referred to Xi as "His Excellency" and listed him as the dinner's "Guest of Honor."
It also named three members of the Biden administration who were in attendance: Commerce Secretary Gina Raimondo, Ambassador to China Nicholas Burns, and National Security Council Coordinator for the Indo-Pacific Kurt Campbell – popularly referred to as Biden's "Asia Tsar."
"San Francisco Mayor London Breed was seated at the head table," wrote Elordi. "California State Treasurer Fiona Ma attended the dinner as well."
"Tickets for the event cost $2,000 each," Elordi continued. "However, companies could pay $40,000 for eight seats at a table plus one seat at Xi's table."
According to a Pew Research Center poll published in July, half of Americans named communist China as the country that poses the greatest threat to the United States. This is almost three times more than the 17% who said Russia posed the biggest threat. 
"While Biden is appeasing Xi in San Francisco, the Chinese Communist Party's app TikTok is spewing pro-Osama bin Laden propaganda on our kids' phones," the press office for Sen. Josh Hawley, R-MO, wrote on X.
Xi's CCP is notorious for committing a great number of human rights abuses and atrocities against ethnic and religious minorities living in China.
The Party is currently spearheading a genocide against the Uyghurs and other Muslim Turkic minorities who live in Chinese-occupied East Turkestan (which the CCP claims as "Xinjiang" – Mandarin for "New Frontier").
Forced labor of minority groups by the CCP in the region is common. Furthermore, reports show that solar panels made in China are heavily connected to this forced labor. Around 80% of the world's solar panels are Chinese-made.
Democratic California Gov. Gavin Newsom confirmed claims that officials cleaned up San Francisco solely to prepare for Xi's arrival were "true."
"I know folks say, 'Oh, they're just cleaning up this place because all those fancy leaders are coming into town,'" Newsom said in a Thursday speech in the city.
"That's true, because it's true," he acknowledged.
Newsom was born and raised in San Francisco. He served as the city's mayor from 2004 to 2011.