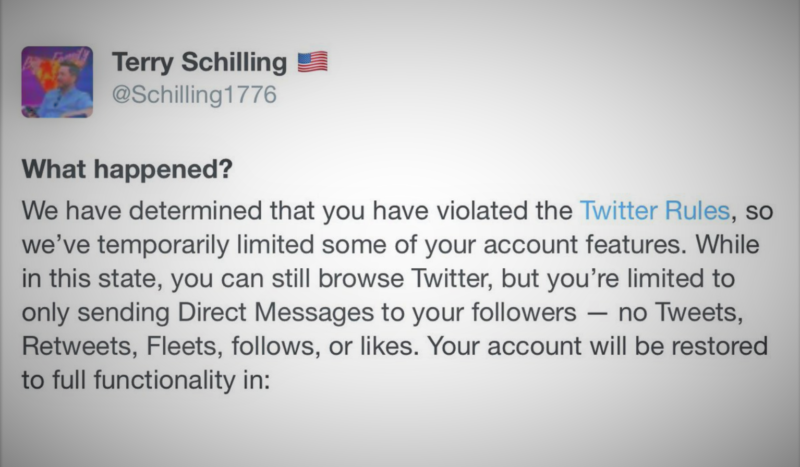 CV NEWS FEED // Twitter suspended the social media account of pro-family advocate Terry Schilling just one week ahead of the gubernatorial election in Virginia.
"We have determined that you have violated the Twitter Rules, so we've temporarily limited some of your account features," Twitter stated in a message to Schilling, which journalist Raheem Kassam shared. "While in this state, you can still browse Twitter, but you're limited to only sending Direct Messages to your followers — no Tweets, Retweets, Fleets, follows, or likes."
Schilling, president of the pro-family organization American Principles Project (APP), had been tweeting about Democratic candidate Terry McAuliffe and the scandals currently roiling Virginia's Loudoun County school district. It is unclear exactly which tweet led to the suspension.
In the Virginia race for the governorship, Democrat Terry McAulliffe has pitted himself energetically against a growing movement of parents concerned about the safety and learning of their children in public schools.
In the past few months, parents have learned that elements of the controversial teaching method Critical Race Theory have been slipped into some classrooms, and that some school officials denied the fact while seeming to know their denials were untrue.
Parents also discovered that the Loudoun County School District allowed pornographic materials depicting acts of homosexuality and child rape in a favorable light to be carried by school libraries and made available to minors as young as 14.
In addition, the Loudoun school board has been rocked by scandal after school officials apparently covered up the rape of a 14-year-old girl in a school bathroom. The bathroom was designated for girls. The alleged perpetrator was a boy who wore a dress during the alleged assault.
Despite the incidents, school board members would later deny that there was any record of sexual assaults in Loudoun County school restrooms — citing that claim to justify a new policy allowing students to disregard bathroom and locker room signs in order to be more inclusive of "trans" students.
In the midst of these revelations, Republican gubernatorial candidate Glenn Youngkin encouraged parents to become more involved in their schools, while his opponent McAulliffe took an opposite position.
"I'm not going to let parents come into schools and actually take books out and make their own decision," McAuliffe said during a debate. "I don't think parents should be telling schools what they should teach."
When Twitter eventually restored Terry Schilling's Twitter account, he sent his first tweet to McAuliffe.