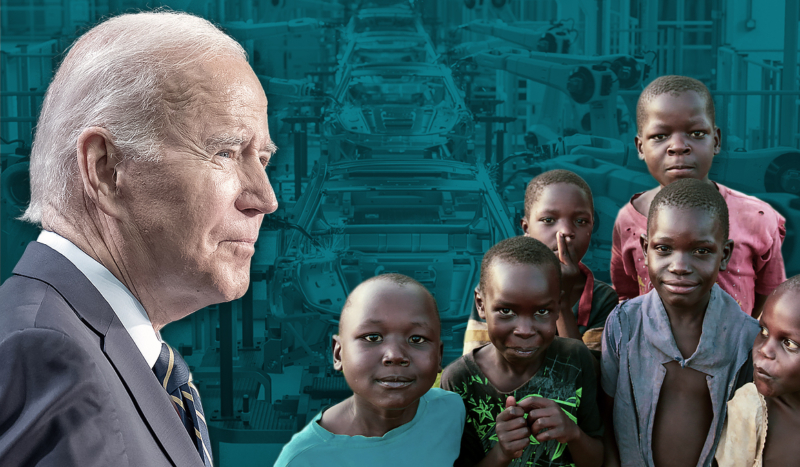 The Biden administration's progressive green energy agenda made electric vehicles (EVs) a key component in its solution to the "global climate crisis." The dark underbelly of the EV industry, however, is a humanitarian crisis of epic proportions in the Congo basin.
Tens of thousands of children, along with hundreds of thousands of "artisanal workers" – who are not officially employed by a company – work for a pittance in dangerous, inhumane conditions, mining the minerals and metals required for EV production.
"Rarely in history has the practice of preying on the weak been so severe, generated such profit, and touched the lives of so many. Every level of the chain is preying on some of the poorest and most heavily exploited people in the world," author Siddharth Karta told the Free Press.
An African humanitarian catastrophe is a price global superpowers are more than willing to pay.  
Recharge, the End is Near
Governments and companies alike justify the heavy toll being borne by African miners and their children by the scale of the perceived climate threat. Increasingly, climate change activists and their political acolytes have argued in apocalyptic terms: "The world is going to end in 12 years if we don't address climate change," Congresswoman Alexandria Ocasio-Cortez, D-NY, warned in 2019.
Climate alarmist Greta Thunberg wrote that same year, "Around 2030 we will be in a position to set off an irreversible chain reaction beyond human control that will lead to the end of our civilization as we know it."
The 2030 Deadline
Taking a cue from Thunberg's careful analysis, the Biden administration has pledged to cut greenhouse gas emissions in half by 2030. As part of that effort, the president issued an executive order that half of all new car sales in the United States will be electric vehicles (EV) by that date. 
The private sector responded in kind. According to Politico, in just nine years "78 percent of sedans, 68 percent of pickups and 62 percent of crossovers and SUVs could be battery-powered." American automakers Ford and General Motors claim they will stop manufacturing gas-powered vehicles entirely by 2035. 
Americans can expect to feel the pinch in their wallets, as EV prices have consistently remained higher than gas-powered cars. 
In a cheery EV promo piece, "The Nerd's Guide to Biden's Newest EV Push," Politico promotes purported benefits of the top-down EV diktat: consumer savings on fuel, less frequent maintenance, and, of course, federal kickbacks. 
Buyers – at least those who can afford a brand new EV – can also take moral satisfaction in knowing they are reducing oil imports and air pollution as they do their part to reduce their environmental "footprint".
Politico's panegyric fails, however, to address the elephant in the room. Or the elephant in Africa, as it were. 
A Truly Sustainable Solution?
While advocates of EVs emphasize "zero-emission," EVs are anything but a renewable resource. The so-called "green energy" shift away from fossil fuels replaces them with metals and minerals as "primary inputs," and that means new big business. The World Energy Outlook predicts the critical minerals market will reach $280 billion by 2030 and surpass $400 billion in 2050. It's not the $4.3 trillion oil and petroleum industry, but it's growing rapidly, in part because of regulations that are driving a rapid increase in EV production.
The top-selling electric vehicles of 2022 – from makers Tesla, Ford, Volkswagen, Kia, Hyundai, and Chevy – are all powered by lithium-ion batteries. Their chemistry depends on five critical minerals: lithium, cobalt, manganese, nickel, and graphite, "whose domestic supply," according to a Congressional report, "is potentially at risk for disruption." 
Of these, cobalt has garnered the most scrutiny for moral and economic issues related to its sourcing. But the fact remains: Biden's 2030 deadline depends on a massive amount of cobalt. To meet the demands of the European Union and United States' aggressive green energy regulations, the International Energy Agency (IEA) estimates that global cobalt production – currently at 170,000 metric tons – must triple in the next six years.
Where Will It Come From?
Cobalt supply chains can pass through many different hands, but almost all of them have a source in the Democratic Republic of Congo (DRC). Just five countries supply 80% of the world's cobalt, and the DRC accounts for between 70% and 75% of all cobalt distributed globally.
Artisanal miners account for 15% – 30% of the DRC's cobalt production. This means a sizable percentage of the cobalt purchased by industry giants comes from small-scale subsistence workers in the heart of Africa. Reuters reports "about 150,000-200,000 artisanal miners currently working cobalt deposits in Congo, with more than a million others directly economically dependent on their activity." 
The Wilson Center places the estimates higher: "Of the 255,000 Congolese mining for cobalt, 40,000 are children, some as young as six years. Much of the work is informal small-scale mining in which laborers earn less than $2 per day while using their own tools, primarily their hands."
As the Institutional Shareholder Services proxy research report mildly puts it, "Cobalt mining practices present human rights concerns. A large portion of DRC cobalt production is through artisanal and informal small-scale mining, which operates without safety standards or worker protections." 
This includes exposing children already living in abject poverty to dangerous working conditions where accidents are common. Needless to say, Congolese children have no access to a local OSHA compliance officer.
The ethics of cobalt sourcing extends beyond the EV industry: cobalt is also vital to smartphone, tablet, and laptop batteries. In 2019, International Rights Advocates filed a lawsuit against Apple, Google, Tesla, Dell, and Microsoft on behalf of 14 Congolese families. The companies, they claimed, "failed to regulate their supply chains and instead profited from exploitation."
Also listed in the lawsuit were two mining companies, the Chinese-based Zhejiang Huayou Cobalt and Swiss-based Glencore.
No Accountability for Human Rights Violations
Nevertheless, the Biden administration has aggressively pursued a relationship with the DRC, praising the current government's human rights efforts. In June 2021, the United States and the DRC held a much-touted "human rights dialogue" to discuss "challenges related to freedom of expression, trafficking in persons, and allegations of security force abuses." 
According to Amnesty International's 2022 report, "No substantial progress [has been] made towards systematically and appropriately addressing widespread impunity for crimes under international law and other serious human rights violations committed in the DRC since the 1990s."
An Unholy Alliance
DRC officials were welcomed to the December 2021 Summit for Democracy, and two months later the troubled nation signed mineral rights agreements with other countries at the United Nations.
In 2021, DRC announced, to international applause, that a new state-backed agency, the Entreprise Generale du Cobalt (EGC), would "assume total control of the artisanal cobalt sector with monopoly rights to buy all production." EGC promised to "ensure responsible mining standards," a move that Reuters lauded as a "game-changer for the cobalt market" and the "millions working globally in artisanal mines."
Two years later, the EGC has failed to produce results. Microsoft found it necessary to once again try to "jump-start formalization of the little-regulated and dangerous industry" with a planned visit to a cobalt mine in the DRC. The techware giant would not share details of the visit, but acknowledged that it is not up to the task of reforms. "It's an issue that will take a coalition to solve."
No Slowing Down
None of these ethical concerns have slowed Western elites' eagerness to force ordinary citizens to participate in the EV revolution.
The United States and its allies continue to support the DRC, which, with impunity, allows its workers to be exploited by foreign companies, perpetrates mass killings, cracks down on dissent, and has a mass displacement crisis. But the DRC holds the key to Biden's – and the EU's – aggressive Net Zero timelines. As journalist Adam Popescu notes, "Whoever occupies eastern Congo has access to unbelievable wealth and global influence." 
The 2030 deadline infuses American dependence on cobalt with a particularly ugly willingness to get it by whatever means necessary. If a few hundred thousand Africans have to suffer to fuel a First World energy revolution, so be it.
As with any technological shift, the energy revolution should be a ground-up test of human ingenuity and inventiveness. That model of social progress, however, requires time, virtue, acuity, and freedom; resources the Biden administration has in short supply.