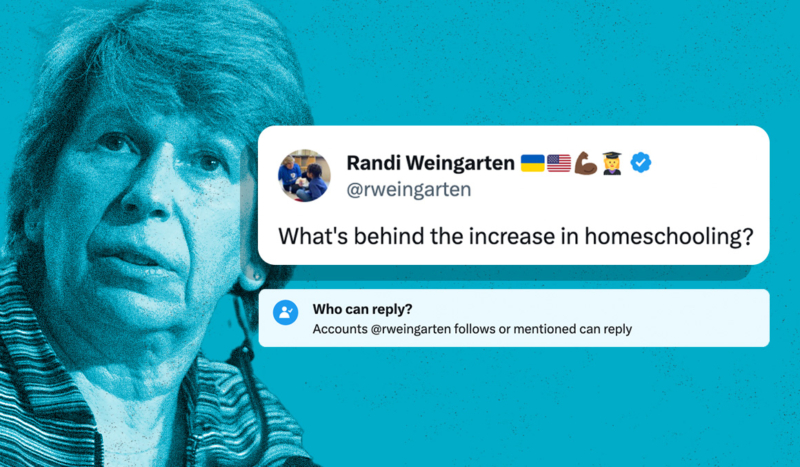 CV NEWS FEED // Randi Weingarten, the longtime president of the American Federation of Teachers (AFT), was widely mocked and criticized after she appeared to ask why more parents are choosing to homeschool their children.
"What's behind the increase in homeschooling," she wrote on X (formerly Twitter) Sunday afternoon. She included no punctuation in her post, and linked an Axios article on the topic.
Regardless of the union boss' intention, her critics nevertheless decided to answer her question – and there seemed to be a consensus on the answer. Weingarten is well known for being a vehement opponent of school choice and alternatives to public education.
"Narrator: It's you, Randi. It's you," wrote school choice advocate Corey DeAngelis, PhD.
"She knows," DeAngelis added, referring to Weingarten's decision to turn off replies to her post.
X does not allow users to prevent other users from responding to their posts via quoting them, however.
"Randi Weingarten's post asking why people are homeschooling has 1,500 quote tweets," DeAngelis stated in a later post. "She only has two replies because she shut them off for people she isn't following."
He showed that one of the comments Weingarten allowed was from a public school policy advocate who called homeschooling parents an "Ivermectin-addicted Dunning Kruger movement."
"And they wonder why people want to homeschool," DeAngelis wrote.
In a similar vein, conservative political commentator Stephen L. Miller posted a picture of a hand holding a mirror.
"Can't believe she posted this unironically," wrote Jeremy Redfern, the press secretary for Republican Florida Gov. Ron DeSantis. "The lack of introspection continues."
"Homeschooling is now the fastest-growing form of education in the U.S.," the account of Young Americans for Liberty (YAL) commented. "Randi still doesn't realize she is one of the greatest homeschool advocates in American history."
On a podcast this September, Weingarten compared parents who want more control over their children's education to white segregationists. 
In doing this, she cited the Southern Poverty Law Center's (SPLC) widely discredited "hate map."
The SPLC is a far-left activist group that frequently includes parental rights groups on the same lists as chapters of the Ku Klux Klan (KKK) in order to suggest that the pro-parent groups are "racist" or "hateful."
Weingarten has been at the helm of a teacher's union for 25 years. She has served as the President of the AFT – the second-largest teacher's union in the country – since 2008. For the previous ten years, she was president of the United Federation of Teachers (UFT).
She is also a member of the Democratic National Committee (DNC) and is considered a powerful and influential figure in her party.