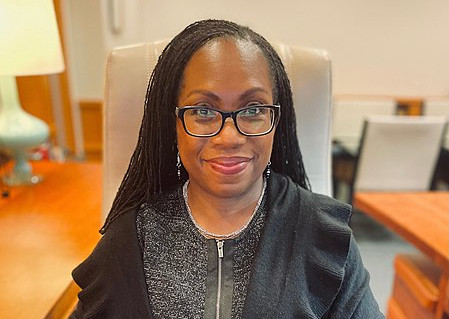 CV NEWS FEED // With Senate confirmation hearings slated to begin this week, Judge Ketanji Brown Jackson's record has come under intense scrutiny.
CatholicVote Director of Government Affairs Tom McClusky commented that throughout her career, Judge Jackson has established a record not only of supporting extreme leftist ideologies and activists but has also garnered a reputation for issuing decisions later reversed by higher courts.
McClusky noted:
Judge Jackson's record, especially on life, should immediately disqualify her for a lifetime appointment to the US Supreme Court. The US Senate should not rush the nomination through.
Here is an overview of Judge Jackson's record.
The Constitution & Judicial Branch
Judge Jackson rejects constitutional originalism – the judicial philosophy espoused by Justices Amy Coney Barrett and Clarence Thomas, among others – and instead has stated that the Constitution contains "unenumerated rights" that the judicial branch is tasked with "discovering."
This stands in contrast with the Catholic preference for originalism, McClusky said.
As Justice Scalia said, "The Constitution is not a living organism. It's a legal document, and it says what it says and doesn't say what it doesn't say."
In particular, Judge Jackson views the Fifth, Ninth and Fourteenth Amendments as a source of unenumerated rights, including the source of the "right to terminate a pregnancy" (see "Abortion" below).
Outside the Mainstream
During her time as a district judge, Jackson was one of the most frequently reversed judges on the D.C. federal district court, a statistic that signals low judicial competence. Reversal data was obtained by First Liberty Institute on February 25, 2022, from legal analytics available on the website for Westlaw.
Jackson's reversal rate was 11.9%, putting her in the bottom 30.8% among Democrat-appointed D.C. federal district judges.
For example, in AFGE, AFL-CIO v. Trump (2018) Judge Jackson struck down provisions of three executive orders limiting the time labor union officials could spend with union members, the issues that unions could bargain over in negotiations, and the rights of disciplined workers to appeal disciplinary actions. A unanimous three-judge panel for the D.C. Circuit reversed Judge Jackson's decision, holding that she lacked jurisdiction to hear the case.
Abortion
Judge Jackson has supported abortion throughout her career, earning her an endorsement from pro-abortion activist Fatima Goss Graves of the National Women's Law Center when she was nominated for the D.C. Circuit Court.
In its own endorsement, abortion-extremist group NARAL cited her work as a clerk under Justice Stephen Breyer, whom Jackson would replace on the Supreme Court if confirmed. In 2000, Jackson would have been responsible for researching and drafting a significant portion of his opinion for Tenberg v. Carhart, striking down a Nebraska law banning "partial-birth" abortion.
In 2001, Jackson cleared up any doubt on her own legal opinions in abortion when she wrote an amicus brief on behalf of NARAL, the Religious Coalition for Reproductive Choice, and other pro-abortion groups supporting a buffer zone law that blocked pro-life advocates from approaching abortion facilities.
In 2018, she blocked the Trump administration's attempt to end taxpayer funding of abortion as a "teen pregnancy prevention" measure. Her ruling restored federal funding to abortion giant Planned Parenthood.
Religious Freedom
Although she stated during her 2021 confirmation hearing for the D.C. Circuit court that she does "believe in religious liberty," Judge Jackson did so in the context of distancing herself from her stint on the board of Montrose Christian School. The school's statement of faith is explicitly pro-life, and she professed ignorance of any such statement during her brief tenure in leadership.
During her Senate Judiciary Committee hearings she implied that she does not believe the principle of church autonomy provides definitive protection for religious organizations. Rather, she said, "Federal courts, including the Supreme Court, are actively evaluating the scope of the fundamental First Amendment right of religious liberty."
Sentencing & Sex Offenders
Last week, Senator Josh Hawley, R-MO, raised concerns with Judge Jackson's soft treatment of sex offenders and her habit of deviating from sentencing guidelines on this and other issues.
This speaks to Judge Jackson's long-standing record of viewing sentencing as an art that "melds together various types of law" rather than as a strict adherence to criminal law codes.
While a student at Harvard Law, Jackson questioned having convicted sex offenders register as such as it leads to "stigmatization and ostracism." As a member of the U.S. Sentencing Commission, she advocated for drastic change in how the law treats sex offenders by eliminating the existing mandatory minimum sentences for child porn. She argued "that some people who possess child porn 'are in this for either the collection, or the people who are loners and find status in their participation in the community."
In every single child porn case for which records have been found, Judge Jackson deviated from the federal sentencing guidelines in favor of child porn offenders. In the case of United States v. Hawkins, the adult sex offender had multiple images of child porn. The Sentencing Guidelines called for a sentence of up to 10 years, but Judge Jackson sentenced him to only 3 months in prison. This pattern was repeated in equally horrific cases: United States v. Stewart, United States v. Cooper, United States v. Chazin, United States v. Downs, United States v. Sears, and United States v. Savage.
CatholicVote's Tom McClusky stated, "The recent revelations from Senator Joshua Hawley, R- MO, on her record of coddling sex offenders was not known the last time she was nominated for a confirmable position. What else could be out there?"
Critical Race Theory (CRT)
Judge Jackson has explicitly stated that CRT is a significant factor in her judicial philosophy. In 2015, she lectured on federal prison sentencing guidelines, which she said are "interesting on an intellectual level" because of the nexus of topics that impact them, including CRT. Jackson said:
I also try to convince my students that sentencing is just plain interesting on an intellectual level, in part because it melds together myriad types of law – criminal law, of course, but also administrative law, constitutional law, critical race theory, negotiations, and to some extent, even contracts.
She has repeatedly praised in her lectures and speeches CRT pioneers such a Derrick Bell and the 1619 Project author Nikole Hannah-Jones for their work.
Immigration
In 2019, Jackson issued a sweeping nationwide preliminary injunction preventing the Department of Homeland Security from expanding its "Expedited Removal" program for non-citizens. The D.C. Circuit reversed her injunction, finding Jackson had engaged in judicial "abuse of discretion" in issuing the injunction.
The Supreme Court
Judge Jackson is endorsed by Demand Justice, a group which has received funding from Arabella Advisors, (a "massive progressive dark-money group") and from the Open Society Policy Center (a non-profit in George Soros' network).
McClusky commented:
Demand Justice was instrumental in forcing Justice Breyer to retire, and spent a lot of dark money to achieve that goal. Their preferred candidate after the death of Justice Scalia was Ketanji Brown Jackson, and that has not changed now with Stephen Breyer's announced retirement.
Demand Justice is the leading group in support of packing the court with liberal justices to guarantee decisions that favor liberal ideologies over the U.S. Constitution.
Concerns
CatholicVote President Brian Burch noted:
In reviewing Ketanji Brown Jackson's record, it is clear that she's hardly an impartial defender of the U.S. Constitution. She has consistently legislated from the bench and promoted the most radical ideologies of the left. Senators should reject this nominee and demand more from President Biden.

Even disregarding Judge Jackson's radical ideology, her nomination was a mistake on the most basic level of judicial competence.

President Biden's insistence on filling the vacancy left by Justice Breyer with a black female put identity politics ahead of preserving the U.S. Constitution itself. Ketanji Brown Jackson's record raises grave concerns about her intentions regarding the rule of law and furthering leftist agendas from the bench.