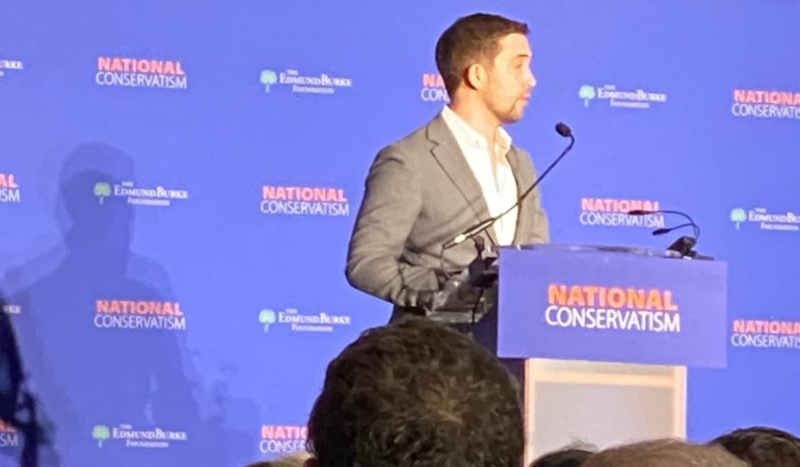 CV NEWS FEED // Speaking at the National Conservatism Conference in Orlando, Christopher Rufo emphasized the importance of supporting the rights of American families.
The division in politics today is no longer on economic lines, he said, but on cultural lines.
Rufo, who has waged a national campaign to expose critical race theory, argued against emulating the Left's long march through the institutions in the 1970s and 1980s. There is a better alternative, he said: "Lay siege to the institution and expose them for their corruption."
Rufo went on to address the common adage that "politics is downstream from culture." It's more important to realize that politics is downstream from state institutions, he argued. Such institutions can subsidize and spread radical ideology through bureaucracies and educational systems.
Rufo said, however, that we can push back against government-fueled radical ideology through our elected representatives.
"Ten states, covering 75 million people, have banned critical race theory," he pointed out, but he added that these bans are a "temporary" fix. The real answer, Rufo said, is to "provide every American family with the right to exit" government schools.
Rufo said that the great "American revolt" against forcing left-wing ideology, with parents sticking up for their kids at school board meetings across the nation, is proof that Americans want to fight for their country, and fight for their children.
He noted that Republican gubernatorial candidate Glenn Youngkin was down in the polls in August when he decided to rally on behalf of families worried about critical race theory being pushed in public schools.
"Within two months, education became the number one issue of the campaign," said Rufo. The emphasis on cultural issues catapulted Youngkin upward in the polls during his election battle with Democrat Terry McAuliffe in Virginia, a state that President Biden won by 10 points just last year.
Rufo also noted that supporters of critical race theory deny it's being taught in public schools "while also asserting that teaching critical race theory is essential."
The encouraging news, Rufo said, is that Americans intuitively understand that critical race theory is wrong.
"The American people are saying that we still have the instinct for self-government… and we're willing to fight it," said Rufo.