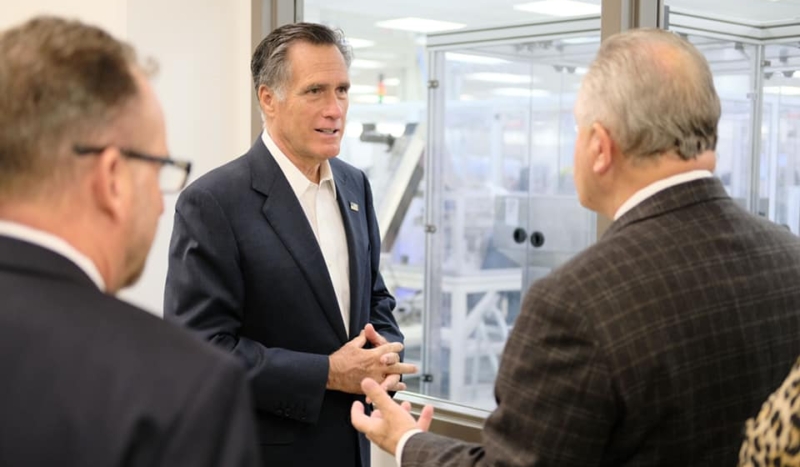 CV NEWS FEED // Sen. Mitt Romney, R-UT, has a new plan to provide economic security for working families. The scope of the plan goes beyond current COVID-19 relief efforts.
The Utah senator's new Family Security Act would deliver $350 per month ($4,200 per year) to parents of children 5 years old and under. Parents of children between 6 and 17 would receive $250 per month ($3,000 per year).
Families would become eligible for the funds 4 months before a child is due to be born, and for larger families, all payments would be capped at $1,250 per month ($15,000 per year).
The $15,000 family cap, though, could cause the program to lose support among big families, who would not see a benefit by growing their family. CatholicVote Political Director Joshua Mercer called that a "major flaw in an otherwise solid program."
Included in Romney's ambitious plan is the promise that it would remain budget-neutral — which could help it win bipartisan support. In order to avoid adding to deficits, Romney proposes cutting costs elsewhere to make up for the considerable expense of the Family Security Act.
Among the programs and policies Romney would cut back on are TANF (Temporary Assistance for Needy Families) and SALT (State and Local Tax Deduction).
A Growing Pro-Family Consensus?
Romney's proposal will likely come as a surprise to some on both sides of the political aisle.
The plan represents a substantive, far-reaching Republican alternative to President Biden's Child Tax Credit expansion plan.
Romney also has the attention of so-called populist Republicans — promoters of pro-family policy who in recent years have seen him as an opponent — and more traditional free-marketers, who might frame the Romney plan as an example of welfarism.
Jon Schweppe, Director of Government Affairs for the American Principles Project, takes a more nuanced view.
"As a country we value families, and we have real concerns about the fertility crisis," Schweppe told CatholicVote.
He believes Republicans should give serious thought to Romney's Family Security Act. Proposals like this one don't come around every day. It's a "well-thought-out, really innovative plan," Schweppe said.
As for Romney's reputation as an "establishment" Republican and opponent of Trump-era innovations, Schweppe sees a silver lining. "Romney's credibility with establishment Republicans grants a certain new legitimacy to [this] pro-family policy."
"I think there's a lot to be said for this plan," Schweppe wrote elsewhere:
It's thoughtful. It's innovative. It gives Republicans a serious proposal with which to counter the Democrats…. And most importantly: it provides families, who bear way too much taxation as it is, with needed tax relief when they need it the most.