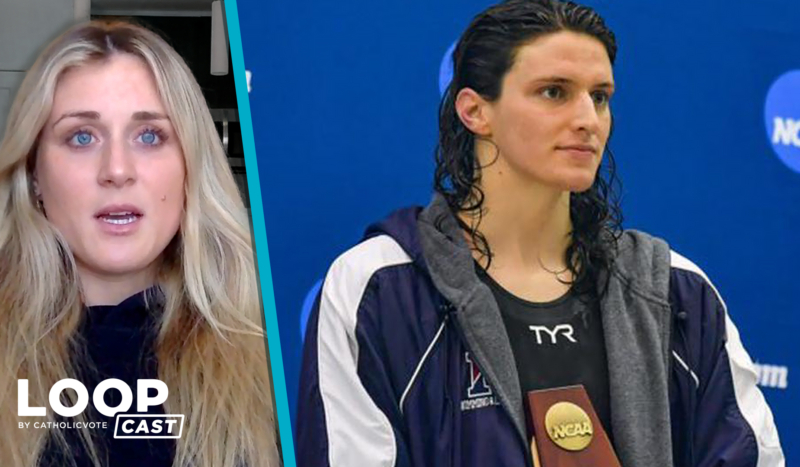 CV Exclusive: Riley Gaines Interview
CV NEWS FEED // "It is not kind to put a man in a women's locker room, and it is not inclusive to allow a man to take opportunities away from women." Those were the words of Riley Gaines, a retired twelve-time All-American swimmer at the University of Kentucky, who sat down for an exclusive interview with CatholicVote's Tom Pogasic in a special bonus episode of LOOPcast.
Gaines reflected on her time competing against male swimmer Lia Thomas, her recent experience being ambushed by "trans" activists in San Francisco, and also her unfailing Christian faith. "I realize our God, of course, loves all. But he's a God who hates sin and our God made man and woman, and he doesn't make mistakes," she said.
---
Riley Gaines: And they were screaming back and forth. One side would say, "'Trans' rights are under attack," and the other side would say, "What do we do? We fight back." But I didn't think anything of it. I thought it was just kind of a silly chant. But all of a sudden, after I'm done speaking, we wrapped up. People were standing up to leave – ambush!
Tom Pogasic: Hello, everyone. Welcome back to this edition of LOOPcast. I'm joined by a very, very special guest, a very fast swimmer, a very brave woman. Today, I'm joined by Riley Gaines. 
Riley, thanks for joining the show.
Riley: Of course. Thank you so much for having me on. Except I call myself a "swammer" now. I'm too old [to compete]. "Swammer." (laughs)
Tom: I still think you could be a swimmer. I think you could beat me in a pool. Let's just put it that way.
So, Riley, you obviously had quite the altercation at San Francisco over the weekend, but I was hoping to actually go a little bit to the beginning of your story and just get everything in totality. So you started swimming at a very young age?
You're one of the best swimmers in Tennessee high school history, from what I understand. What was that first moment where you knew, hey, I really want to do this swimming thing? Like, I have something going on here?
Riley: So, I played lots of sports growing up, but I started to notice at age 12 or so (middle school) that I was pretty good at swimming. This was the first time I ranked first in the nation.
I was oblivious at the time. I just went in every day, did as well as I could, went home, didn't think about it, but I started having other parents come up to my parents, or other swimmers come up to me and say, "You know, you're like, really good. You should really consider making this your only sport."
And I was like, "No, I want to play softball. I want to play basketball." All the different things.
But by the time I got to high school, I decided it was time to stick [with] just the swimming. Just because it took up so much time. I was very fortunate to [have been] pretty heavily recruited.
And I knew I wanted to stay in the SEC. I'm sorry, I'm biased. I think the SEC is the best conference. My dad was an SEC football player. My mom played Division I softball. I knew I wanted to stay here close to home. And I eventually committed to the University of Kentucky where I had a phenomenal experience.
Tom: That's awesome. I was doing a little bit of research. And you have tons of accolades. You had a great career at Kentucky.
But what really stuck out to me was there was steady improvement. By the time you reached your senior year, you really seemed to fully realize your potential, and put all the techniques to work.
And so you head to the NCAA Finals for swimming. Really almost like this should be your year. You've fully realized, "This is my year. Senior year. I'm going to get it done."
At the same time, there's a swimmer kind of rising the ranks, suddenly, out of nowhere. From Penn. I'm referring to Lia Thomas here. And it almost seemed to me in [my] research that you guys were kind of coming to a head in a strange way.
Was that on your mind as you went into the finals? That, "This is my year, but this weird thing is happening." Was it a distraction? Did you think it would be a big deal?
Riley: Totally. It was a distraction. I think a lot of the listeners know swimming is not a sport that garners a lot of media attention. But there was so much media attention around this meet, which was new to us.
It was a total distraction from what we dedicated not just our entire lives to, but that specific year, my senior year, this was my last swim meet ever.
I knew I had to give it all at this meet. But it was a distraction. It was totally like you couldn't even focus on yourself.
Of course, we had physically prepared all year. But like most sports, there's a lot of mental preparation that goes into competing well. But I felt like our mental preparation was severely hindered, not just because we knew we were going to be competing against a male, which of course feels like you're competing with your hands tied behind your back.
But also the locker room piece. When you're in the locker room undressing next to someone who is fully equipped with and exposing male genitalia.
It was, for lack of a better word, almost traumatic. Of course, it felt like betrayal and belittlement. And it was just distracting.
Tom: For sure. And [like] I'd imagine before a competition you spent a lot of time preparing for. Was there a heads up given to you like, "Hey, you're going to be changing in the same room as a biological man?" Was that ever prepared for?
Riley: Never. The NCAA never once told us we would be sharing this locker room space. We had to find out with our own eyes. And again, a swimming locker room is not a place of modesty, necessarily. These [swim] suits you put on, they're so tiny and you have to squeeze and pull yourself into them. It takes about 15 minutes to put these suits on.
15 minutes when you're fully exposed. And so, I can't even describe the feeling when you're undressing in the locker room. A male walks in and drops his clothes, fully exposed. It's this subconscious feeling, this innate feeling to want to cover yourself.
It's embarrassing, it's awkward, it's uncomfortable. And I know I mentioned it. It just felt like betrayal.
It felt like the people who are supposed to be protecting us, the NCAA, our coaches, our parents, no one was doing so.
Granted, we're adults. I know we were 18 to 22 years old, but it still felt like the people who were supposed to be doing their jobs weren't.
Tom: Yeah, absolutely. And it did almost feel like betrayal in the pool as well. We actually had someone from CatholicVote protesting on the ground. We had a sign made for you.
I remember the lead-up to that event. Everything about it just felt so wrong. And interestingly, when I was doing research again, I noticed that your website is full of Bible quotes and you're very open about your Christian faith.
And one moment really stuck out to me. It said on your website, that before that race you prayed to God for focus and strength and that His will be done.
And then, that day you statistically tie Lia Thomas in, I believe the 200 Free[style]. And for people who aren't super into swimming, that's really rare, right? I mean, you have all these sensors that go off.
The fact that you tie him is just unbelievable. Kind of setting you up for this big moment where you're going to be on the podium at the same time.
Did you feel it while it was happening or after it happened that God's hand was somehow in this? That this was no mistake, that you would have this rare tie?
Riley: Absolutely. I mean, this whole thing couldn't have been "perfect." It's obviously not perfect, but more perfect for His plan. It couldn't have laid itself out better, to have a conversation about this. Not only did we tie, which again, is rare. I think our times were both one minute 43 seconds and 52 one-hundredth, or whatever it was.
And so, we go behind the podium where the official looks at both Thomas and myself and he says, "Hey, you guys tied, but we don't really account for ties. So Lia takes the trophy home."
And I, of course, was taken aback by this. But I asked him, you know, okay, "I understand, we tied. I understand there's one trophy. But why are you giving this trophy to Lia?"
And the official says, "Well, Lia has to take the trophy for pictures. You can pose with this one, but you'll go home empty handed or you'll give it back. Lia takes the trophy home." And so I say that because that also feels like God was just moving through that situation to perfectly highlight what is wrong here and how women are being harmed.
Because this official reduced everything that I, not just myself, my teammates, the other girls at this meet, everything we worked our entire lives for – it was reduced down to a photo-op to validate the feelings of a male.
Tom: And, I think what stuck out to me as an observer. I mean, I could only imagine the betrayal and the hurt going on [on] that podium. So many girls, you could just see, almost put on a smile, like they weren't sure how to act or they'd offend someone. And I think what's been so inspirational about your story is [that] you decided to speak out.
But right when it happened, on the ground, how did it feel like being with other people who are at the absolute top of their sport, at the top of their craft, and feeling like you all pretty much had a gag on your mouth? Is that how it felt? Like you just weren't sure how to act?
Riley: Absolutely. I know I'm one of the few voices out there for female athletes and from someone who directly experienced this.
But why that is, is because look at what just happened in San Francisco. No one wants to subject themselves to an angry mob calling them names. Of course, that takes [away] that sense of security, which I find my sense of security and my faith.
And so I'm alone, it seems. But I'm not alone. I speak for so many when I share how I felt. It's not really just how I felt, it's how we felt. We as female athletes, my teammates, my team at the University of Kentucky. We had 40 girls and 38 felt the exact same way I do.
It was just just walking around the pool deck that first day. The mood didn't feel right. This is the fastest short course meet in the world. Yet there was this sense of anger and frustration. And there were grumbles and whispers under people's breath, because we were mad, we were frustrated, we were heartbroken. It was a feeling like you had just been punched in the gut.
When you have to watch a man stand on top of the podium beating out Olympians, beating out American record-holders, beating out the most impressive female swimmers this country has ever seen. It was a feeling as if you'd been slapped in the face by the NCAA, by the people who were supposed to be enforcing Title IX.
Tom: So you do eventually speak out. An interesting element to the story, too, is the University of Kentucky (UK) kind of pops in again.
I think from what I understood, you were able to speak out with the support of the University of Kentucky, and that was actually kind of a rarity.
So why do you think that you were able to do so when so many other schools didn't support their swimmers speaking the truth of how they felt?
Riley: And, you know, I totally resort this back to God, because my whole time growing up, I thought I was going to be a Florida Gator. I really only took a trip to Kentucky because my boyfriend at the time liked UK [basketball]. And I said, okay, I'll go on a recruiting trip there and we can go to a basketball game.
Like that's something a really cool girlfriend would do. But I fell in love with the university. They weren't a good swimming school at the time. It was nowhere on my radar. Again, in the vein of being totally transparent, I could have gone anywhere in the country to go to swim, but I chose UK. And looking back, it was the perfect place for me.
After all this, I called my athletic director and I said, "Hey, this is what happened. This is how we feel. I can't keep lying." Because that's what this is. We weren't standing in the truth, we were lying. I said, "I can't keep feeling like I'm lying. How do you feel if I take a public stance on saying that [this] is wrong?"
He said, "Riley, we love you. I support you. I want you to speak your heart. Stay true to your convictions." He said, "I would support you with whatever stance you took. But don't feel like you're going to paint this university in a bad light. We're behind you."
And I just kind of hung up and thought nothing of it because I thought that's how any athletic director would act.
But oh my gosh, I was so naive and wrong because there is no other athletic director, administrator, president of a university who has taken that approach. None.
And it shows how they are cowards. It shows how they lack a backbone. There's no authenticity. There's no leadership. Because privately, I have so many [people] messaging me, telling me they feel the exact same way. They support me, they're proud of me and [tell me] to keep fighting.
And I ask them, "Why won't you say this publicly?"
"Oh, well, we don't want a lawsuit. We can't risk our jobs. We have families we have to feed. I'm the breadwinner, so I can't really say it publicly."
And at first I feel so humbled and honored when people would message me privately.
But very quickly, I realize this is an honoring experience. This just shows how silence is complicity. And these people are all complicit in allowing women to lose out on opportunities.
Tom: And your message has inspired so many.
So, you're actually the star of CatholicVote's most viral video clip I think of all time. And CatholicVote has been around since 2005, and we've done some things. But there's a video on Twitter that has been seen by 6.6 million people as of right now. It garnered a comment from Elon Musk. It was retweeted by James Woods and a lot of other really major accounts. James Woods called you the "Woman of the Year," which I think I tend to agree.
The video I'm talking about was actually you testifying in Virginia to the [state] House Subcommittee. And it was the most heartbreaking, honest, and raw speech.
Do you remember how you felt on that day and what gave you the courage to go on such a public forum and just start pouring out the truth?
Riley: Absolutely. I remember how I felt. You just feel helpless.
Once again, I know I'm an adult. I know I'm old enough to not have this false perception of needing someone else to protect me. But you just felt, like I mentioned in the competition piece, you felt like your hands were tied behind your back.
This was a mediocre male swimmer. He was ranked 462nd at best amongst the men. Of course, when transitioning to female, he dominated and beat everyone.
And it just felt so frustrating that the NCAA didn't see it how I saw it. Nothing opinionated, nothing hateful. The facts of it. You know, this was someone who went from mediocre to dominating.
So, [those] were my feelings, heartbreak, anger, frustration.
There were a lot of different feelings. And truthfully, I felt my feelings shift because I did come into it angry.
But that first day when I watched – her name is Reka. She's from Virginia Tech. I watched her place 17th in the morning of the 500 meeting. She didn't make All-American. She didn't get to come back, because [only] the top 16 make it to come back and swim Finals.
And so she missed it by one place. She was displaced, of course, by Lia Thomas. And she looked at me. I didn't know her at the time. We were just standing next to each other. And she looked at me with tears in her eyes and grabbed my hand and said, "I just got beat by someone who didn't even have to try."
And that's when my feelings shifted to gutted. I just felt like I was heartbroken.
But what's given me the courage to speak out? I know I've mentioned my faith, but truthfully it has. And there's been lots of prayer that has gone into this.
And the hardest comments I received, especially initially: people would call me, and they would say, "Why didn't you just swim faster," or "Why didn't you train harder," or "You're ugly," or whatever personal attack they wanted to throw my way.
And I was cool with it. That just to me, shows their insecurities more than it does mine. But I wouldn't be comments that would say, you know, "You call yourself a Christian, but this isn't what Christ would do. Our God loves all."
And I struggled with that at first because of course I know our God loves all. But I really struggled with the thought of doing something that wasn't Christ-like because before anything, I want to live a Christ-like life.
But I realized that was Satan trying to silence me. But after prayer and talk with different youth pastors at my church and different people, who I value their input, I realize our God, of course, loves all.
But he's a God who hates sin and our God made man and woman, and he doesn't make mistakes.
So my faith has definitely been a proponent, but also just thinking about the girls who are silenced. I mentioned my story and I mentioned how rare that is. I could talk about the silencing that these other female athletes are facing. And it's chilling to think about how these universities are able to suppress their voices as they are.
But then I also think about the women who fought for Title IX, my grandmother's generation. These were women who, in their same lifetime, they're seeing the benefits of Title IX, and now they're seeing that being taken away. So, I fight for them and of course, I fight for the next generation. I have a little sister. She's the Tennessee State Champion in gymnastics.
She's probably the best athlete of my whole family and I fight for her. I just got married and I can only hope one day I get to have a daughter, and I can't imagine being in the position I'm in, having the platform I have and the experience and the testimony that I have and not using that to fight for her rights.
And, so there's kind of a lot of different thoughts because I'm done playing. It's not for me anymore. This is a lot bigger than me. I'm not fighting for my rights in sports. You could pay me to do a fifth year thing, but it's a lot bigger than this.
Tom: This element of injustice just keeps coming back. And I think one thing that I could see just being so frustrating to you is other women.
In this case, there was just an altercation between you and Megan Rapinoe, who played soccer for the United States, in which she is attacking you for standing up for women as a woman.
So, a few things come to mind here. You've been so effective online and I see you as a part of this future of leaders who have kind of had to respond to a world gone a little crazy in being concise, and sometimes confrontational, in a good way. Because injustice and evil needs to be confronted.
So your response [to Rapinoe] I thought was so good and so honest at the same time. Could you just run us through what was going through your head when you responded? I'm sure how frustrated you must have been to see that tweet.
Riley: Absolutely. So, there are a slew of athletes, the majority of these athletes are done playing sports.
They have signed on to – almost as a petition to oppose these state bills going around that are preventing anyone who has gone through male puberty from playing on women's teams. They oppose that. And so I was looking at this list and I was trying to find something in common with these women who signed on to this.
You know, these are women who are successful in their sport, yet they want to take away other women's success, and their opportunities, and their dreams to achieve. And so I'm looking, and something I notice with a lot of these women, of course, like I mentioned, they're done playing.
It's, you know, why not be seen as "inclusive" when you don't have to lose out?
Tom: They have no skin in the game.
Riley: Exactly. And a lot of these women are in the position where it's unlikely they will have children because they're not in a heterosexual relationship. And that's not to say that lesbian women can't adopt, or [can't become pregnant] in other ways, but I think it's important to highlight that these women, a lot of them, don't have daughters to defend.
Like you just said, there's no skin in the game. It's just virtue signaling. They want to be seen as kind, and inclusive, and accepting, and welcoming, and loving, and all of the things.
But in reality, again, from my own personal experience, it is not kind to put a man in a women's locker room, and it is not inclusive to allow a man to take opportunities away from women.
It's exclusive. It's not anything that is progress. This is not moving in the forward direction. This is taking us back in time. And so, I think it's a bit hypocritical, and there's a lot of irony to it because these women call themselves feminists, but I call them "faux" because they're not actually fighting to protect women's rights.
They're fighting to take them away.
Tom: I've seen a lot of clips of you going to colleges and giving speeches and speaking of inclusion, and lovingness, and welcome, you didn't really receive much of a welcome or inclusion from San Francisco State.
But before you get into what happened there, how did you get from speaking out publicly against what happened in the pool to now going around and giving speeches at colleges, testifying in front of subcommittees?
There's been a lot of legislative wins in terms of keeping biological men out of biological women's sports, which is amazing. I'm sure you're a part of that. So how did you get on the speaking tour?
Riley: My life trajectory has totally changed, first of all. I graduated last year with the intent of being in dental school this year. I'm clearly not working on teeth, so it's taken a turn.
But once I spoke out and once it was proven I was one of the few to do so, the media just loved it. A lot of, of course, right-wing media: Fox News, Newsmax, CPAC, all the different things.
They wanted me to continue talking about it. And I, of course, initially did. But then I started to feel like I was preaching to the choir. All of these people agree with me. I need to get people who don't agree with me.
And, so that's when I started reaching out to left-leaning sites. I started reaching out to CNN and MSNBC and a lot of local left-leaning sites to which every single one of them responded back to me with, "We don't want to give you a platform to spread your hate."
And so, this was really hard for me, but this was the first time I was eye-opened to how the media works and how politics – not that sports should ever be political, but it was inevitable that we go this way – and how politics work.
There was such a divide and such a misunderstanding of the message. There's still obviously a misunderstanding of the message I'm trying to communicate.
It's not out of hate. I have so much compassion in my heart for every person. I love even the mob I was met with in San Francisco. I've been praying for them. So, it's not out of hate. There's a misconception here.
And so, I realized the only way changes are going to be made is through policy. At least at the legislature level there has to be some things put in place so this doesn't keep happening.
And that's when I started, totally out of my own pocket, out of my own will, testifying in and traveling to different states, providing my perspective, just like the video you saw in Virginia. And I've probably been to 12, maybe more, different states and testified.
And so a lot of it was self-determination. Like I mentioned, this was not where I thought I was going to be this time, even last year. But I believe God puts you in a place at the time He needs you in that place. And that's what I think this whole thing really is, with me being here, continuing to talk about it.
Tom: We're going to get into it now. San Francisco. So, one thing that crossed my mind was we were actually supposed to do this interview a little bit sooner for the listeners, and you said, "Oh, my flight got delayed. I'm going out to San Francisco State University. Can we push it to next week?"
And of course, I was happy to oblige, but in the back of my head I was like, "Oh gosh, San Francisco State University. Talk about the lion's den. I hope you're okay. Best of luck, you know, I really hope everything goes well."
And so when you went into that, did you have any indication this was going to be different than other times you spoke at schools?
Riley: Yeah, I definitely knew what I was getting into. But again, I want to reach the people who don't agree with me.
And I knew they were planning some different things on campus, including different sign-making events where they could make signs to protest me, or they had planned to sit in.
So lots of protesters came to the event and they sat and they listened, and they had written signs and all the things which I'm fine with.
I believe in everyone's right to protest and think independently. I can only do my job to help eye-open as much as I can and change perspectives. But I can't force anyone to change their mind. And so I encouraged them to be there. I encouraged questions at the end to which I was asked many, and the speech portion went fine. There was some heckling, but for the most part it was good.
But it was after the speech where I was totally ambushed. I could hear people screaming in the hallway during my speech, and I could hear people screaming outside the building. So [in] the hallway there was one group of people on this end, and another group at the other end, and they were screaming back and forth.
One side would say, "Trans rights are under attack," and the other side would say, "What do we do? We fight back." But I didn't think anything of it. I thought it was just kind of a silly chant.
But all of a sudden, after I'm done speaking, we wrapped up. People were standing up to leave – ambush and a mob filters in through the door, they flicker the lights, they turn out the lights.
They rush me, they push forward, they push, they shove, they begin hitting. And I was so shocked by this. I had no idea what to do because I was supposed to meet the campus police an hour and a half before the event. But the police never showed up to where we were supposed to meet. And so there was no action plan set in place.
And so a woman comes up and she's grabbing me, telling me, come on, "I'm with the police." But I didn't believe her because she was wearing nothing that indicated she was with the police. She had her face covered with a mask. And so I was kind of resisting going with this lady, but I realized I had no other choice.
And so we get pushed along, pushed along, and finally we get out into the hallway to where again, [we were] being ambushed from both sides of the hallway. So we had to filter into another classroom building along that hall, where ultimately I was barricaded for 3 hours.
Tom: And they, I believe, were requesting a ransom-style payment. Is that correct?
Riley: Yeah. It's so crazy because, of course, in this 3 hours that I was in this room, I could hear them yelling the entire time just outside the door: yelling violent, yelling obscene, awful things yet again, doing it in the disguise of love, doing it in the disguise of saying that I'm the one being hateful. I'm the one with violence in my heart.
I just didn't understand. I was like, wow, okay. And in this time I was supposed to have a flight back home. I missed my flight because I couldn't safely leave the building. They were negotiating with the dean of students.
This word for word what they said. "If she got paid to be here, we deserve to be paid to let her go home safely." Which, first of all, the university did not pay me to be there.
But yet they felt like they needed reparations for simply a conservative speaker being on their campus. They were owed money. It just blew my mind.
And the Dean of Students was sitting there negotiating with them, talking this out. And I just didn't understand. I'm like, I'm stuck behind this door wanting to go home yet I have people on the outside who, in the disguise of love, are trying to say, I can only go home safe if I pay them.
It just was so messed up.
Tom: Yeah. And so as an observer of this situation and just seeing all of your activism, I almost want to dispel the idea that what they're doing is out of love or is somehow loving. The obvious to me is that you are a brave, poised, beautiful young woman who is charging into the absolute worst of situations and places.
You know you're going to see adversity and the people there are screeching. They look terrible. They're threatening. It's such an obvious good and evil situation. And I guess from your perspective, with the people that are out there yelling at you, did you somehow feel in your heart that you needed to pray for them? Which I know Jesus asked us to do, and it's hard for me sometimes.
Do you think that what you're doing is going to be able to potentially plant a seed in them? Like, do you see any hope or optimism for them to potentially change their ways or see what's really going on in the situation, or even some students that you spoke to? Do you feel like you were able to inspire plants from seeds there, or was it just a total, you know, mess of a time?
Riley: There were some students who were relatively eye-opened. Of course, I think a lot of them show up with the only thing they know about me is they read the headlines. These headlines say "Anti-Trans Swimmer Slams Lia Thomas," or something of that nature, which again, I'm not anti-trans, I'm pro-woman. My argument is pro-fairness.
It's not anti-trans. I believe people who identify as trans should be able to compete. But with your biological sex, or in a separate category where fairness, safety and privacy are ensured for everyone.
So I'm not anti-trans. And so I think when people hear me talk about my experience, and see how real it really was for me and for my teammates and the other girls at that meet. I had a couple people [who] came up afterwards in the seconds before I was ambushed. One person who was trans gave me a note, and it was a pretty kind note.
Even a few weeks ago I went to Cal Berkeley and spoke and a lot of people on that campus came into it with the wrong mindset. But I had one girl who came up to me afterwards, and she was on an athletic team at University of California, and she said, "You know, I came into this thinking that as a lesbian I had to advance the LGBTQ community. But you made me realize that I don't really want to see male parts in the locker room either."
And so she was like, "You've totally opened my eyes to how this is harmful to women." And so I believe there are people who just need to hear it from someone who lived it. From someone who saw firsthand what it really looked like, not just the media headlines.
But that being said, I do believe there are some people who, no matter what, won't change their mind. I'm one of those people, no matter what kind of argument you put in front of me at this point, I will not back down from the fact of saying that women deserve equal opportunity and they deserve sex-protected spaces.
There are people on the opposing side who won't change their mind. So it's just finding the people who will, being respectful in a way that you can talk to them with open dialogue and conversation.
I think what we see so much in our political system: there's so much divisiveness, there's so much religious extremism on both sides to where people aren't willing to have a conversation.
But we have to have that conversation to get people to understand our perspective. And so I'm trying my best to be that person in some capacity without faltering for my morals, which is something I'm not willing to do.
Tom: And I'm glad you're okay. And, I think to wrap up, we have a lot of people in this audience that really like to get involved in very practical ways. And I think one thing that you've kind of revealed is that if you stand to your principles, and you're smart, and you make good, smart confrontations while being respectful, you can be effective.
And, I think so many people feel kind of bludgeoned by what kind of being coined "woke" ideology in many parts of their lives. In their workplace, in their athletic competitions for their kids, even in some places, their churches.
And so what advice would you give to someone who feels oppressed by this, but is nervous about speaking out or doesn't know exactly what to do? What would you say to them?
Riley: My advice is, truthfully, the overwhelming majority of people, not just athletes, not just females, people in general, the general public, regardless of where you are – again, there are so many, even liberals, people within the LGBTQ community, of course, all the people on the right – agree that this whole trans gender ideology movement has been harmful.
It's harmful specifically to women and to children.
And so I think feeling comfortable enough to express really how you feel. We see too many people hold back a little bit. Or they read the room before they say anything. And I'm not telling you to go out and talk about it all the time, but when it comes up, feel comfortable saying that this is harmful to women and children specifically.
Contact your local representative. I think it's so important that you know where your state stands, especially on the various women's sports bills at the state level. It's so important. There have been 20 states thus far that have passed this bill. That means there's 30 more that need to have it passed. So knowing how your representatives represent you and represent the majority of the district is crucial.
And I think the language you use to talk about it – what I've seen going to these different states and testifying, [is] what the opposition likes to do is make it about humanity. [They] make it so emotion-full and make it about one's life, depending on it.
But what people don't consider is the emotions behind the other side. You know, who's considered our mental health or our feelings or dignity or privacy or safety or fairness?
No one. And that's a conversation that we don't really have. But there's more than one group being put in a vulnerable position here. And so, then raises the question, how do we pick one group's mental health or self-perception or feelings to matter or value over another group or persons? And there's no clear answer for that.
But right now what we're seeing is we're catering to the minority at the expense of the majority.
And so talk about it in a way of making our side have emotion as well, because I promise you, we do. So that's my advice. I'm trying to think of more ways for people to get involved.
Obviously, I know you mentioned Megan Rapinoe and Sue Bird. They signed a petition. And so I'm thinking of creating a petition, and getting people to sign on to show again that this is the majority even if they want to do so anonymously.
It's important to show how many people truly feel the exact same way in which both you and I are speaking.
Tom: Yeah, and I'd be happy to link that in the show notes for us here.
Riley, thanks again for coming on you're a personal inspiration to me and also to so many people in our audience here. And I just want, if there's ways that we can help you and your mission – what is the best way for people listening now that want to help you out?
What can they do?
Riley: Absolutely. I think following along with my Twitter, which is @Riley_Gaines_. The past year, I've been trying to do a really good job of posting stories of this happening to other athletes, because my story is not unique by any means. It's actually happening at rampant rates around the country.
And so I try to post relevant things in regards to sports, different companies that highlight men in place of women, different representatives who either do a good job of something in this space or a bad job in this space.
Just trying to – I hate using the word educate because it makes me sound like a total activist. Just trying to educate the general public who wouldn't typically see these things on what's going on. And so I think following along Twitter, it's @Riley_Gaines_ is a good way. I'm also now working for the Independent Women's Forum.
And so if you go to www.iwf.org they have lots of resources, lots of links, lots of scientific articles, just lots of really amazing things on their site as well.
Tom: Okay. And we will definitely have both linked. Riley, thanks for coming on and you're always welcome back.

Riley: Of course! Thank you so much.