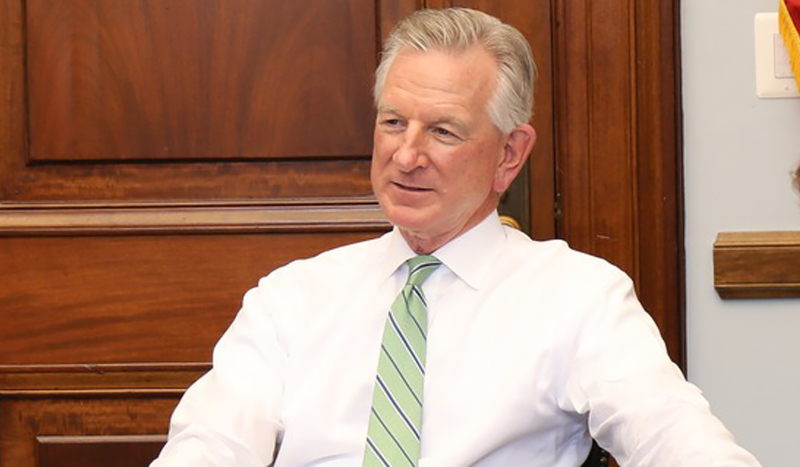 CV NEWS FEED // Sen. Tommy Tuberville, R-AL, in mid-March made a bold move to thwart the Biden administration's plans to promote abortions among military personnel. Two weeks later, the Alabama senator is still holding strong, but other Republicans are facing scrutiny for their lack of support for his effort.
Tuberville announced two weeks ago that he would block all Biden nominees to Department of Defense positions until the Pentagon reverses course on a slate of policies that promote abortion in the military.
"The Secretary of Defense is following through with his radical plan to facilitate thousands of abortions a year with taxpayer dollars," Tuberville stated. "So, I will follow through with my plan to hold all Department of Defense (DoD) civilian, flag, and general officer nominations that come before the U.S. Senate."
CatholicVote reported at the time:
Tuberville's announcement was lightning fast, coming on the heels of an announcement just one day earlier from the Pentagon.

The Pentagon issued three policies aimed at providing what the liberal news site Politico called "easing access to abortion and other reproductive care for troops and family members." 
"Everyone who cares about unborn life should thank God for Senator Tuberville's quick thinking on this. I know I am!" said CatholicVote President Brian Burch in response to Tuberville's announcement:
But I also say: Let's not leave Tuberville fighting the battle alone!

Courage like this deserves our praise and encouragement. As Catholics and as Americans, we need to stand behind men like Senator Tuberville when they stand for the principles we care about the most.
CatholicVote sent a letter to the senator thanking him for taking the stand. Soon after, numerous other pro-life leaders also expressed their support. 
"Conservative leaders representing millions of pro-life Americans are joining forces with Sen. Tommy Tuberville, R-Ala., to overturn the Defense Department's newly revamped and expansive abortion policies," The Daily Signal reported:
Tuberville is blocking the confirmations of U.S. military flag and general officers, as well as civilian nominees, unless the Pentagon rescinds policies that could lead to a massive increase in the annual number of abortions from approximately 20 to more than 4,000.

Now, with the backing CatholicVote and 23 pro-life conservative leaders, many of them affiliated with well-known organizations, the Alabama Republican has a grassroots army standing with him.
Despite that surge of grassroots support, however, few Republican lawmakers have voiced their support for Tuberville's "crucial and courageous actions in defense of the unborn," said CatholicVote Director of Government Affairs Tom McClusky on Wednesday.
"Many Republicans rant against 'wokeness' in the military, yet now that Sen. Tuberville has given them an actual chance to fight back and win, they are silent," McClusky added, pointing out that Republicans in the Senate have had weeks now to join their voices to Tuberville's against the Pentagon's "shameless use of unelected power to promote a radical abortion agenda out of step with public opinion."
"The Republicans are faced with two choices: support Sen. Tuberville or give tacit approval to Joe Biden's illegal move to turn our military into a pro-abortion force for evil," McClusky said.
In an essay at The Daily Signal last Friday, Tuberville assured supporters that he would not back down. "In December, I warned Austin and his department that I would hold nominees from Senate confirmation if the Biden administration tried to force abortion on demand on our military. They did it anyway. They knew what the consequences would be. This was their choice," the senator wrote:
Despite efforts to pressure me to drop my hold, I will continue to block these nominees until the Department of Defense follows the law—or Congress changes the law.

If these nominees are so important to the Democrats, then the Democratic Leader can find time to get them on the Senate floor.
On Wednesday, Tuberville demonstrated that resolve for more than the dozenth day in a row.
"Tuberville blocks military promotions on the floor again after SASC Chair Jack Reed tries to get UC to confirm them. He says he won't back down," reported Politico's Connor O'Brien. "'I'll stay here until hell freezes over,' Tuberville says. 'I'm not going to be intimidated by a campaign of selective outrage.'"