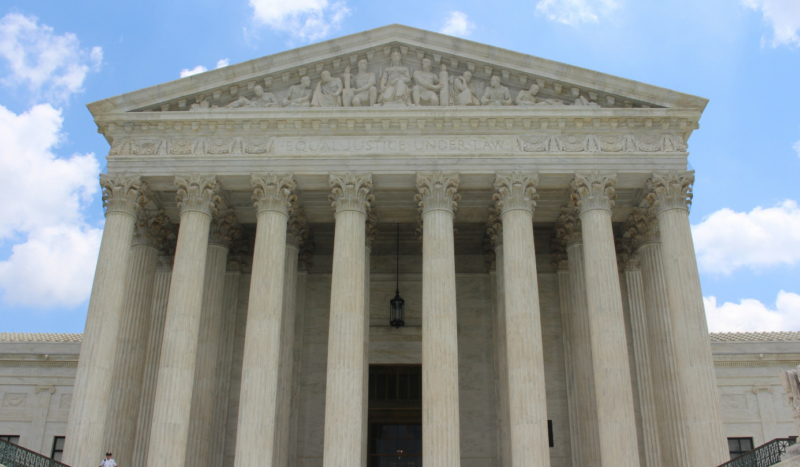 CV NEWS FEED // At a Tuesday hearing before the Senate Judiciary Committee, Republican members confronted the Democrats for allegedly trying to undermine public trust in the Supreme Court following the repeal of Roe v. Wade.
The hearing focused on S. 359, "The Supreme Court Ethics, Recusal, and Transparency Act of 2023. Sponsored by Democratic Sen. Sheldon Whitehouse of Rhode Island, the bill would require the Supreme Court to submit a "code of conduct for the justices" for public comment. Democrats also designed the bill to create a new "judicial investigation panel" composed of five judges from the circuit courts, who would oversee the justices of the Supreme Court.
The Democratic effort comes amid widespread claims among left-wing activists that Justice Clarence Thomas – arguably the high Court's most outspoken pro-life justice – is guilty of taking inappropriate gifts from a conservative citizen. The accusations, which have been roundly debunked, are based on a longtime family friendship between Thomas and a wealthy Texan with whom the justice and his wife often vacation.
S. 359 details new rules for gifts, income, and reimbursement disclosures while also amending standards of recusal for the justices. Critics of the bill point out that Congress has no authority to compel the Court to adopt or amend guidelines related to its self-governance.
Prior to the hearing, Sen. Dick Durbin, D-IL, summoned Chief Justice John Roberts to appear at the hearing, stating: "There has been a steady stream of revelations regarding justices falling short of the ethical standards expected of other federal judges and, indeed, of public servants generally." 
"These problems were already apparent back in 2011," Durbin's letter continued, "and the court's decade-long failure to address them has contributed to a crisis of public confidence."
Roberts replied with his own letter, declining to appear and reminding Durbin of the separation of powers. Attached to his letter was a statement of the Court's own "Statement on Ethics Principles and Practices" signed by all nine justices. Roberts' response and its unanimous backing by the nine justices of the Court were widely seen as a defense of Thomas and a repudiation of the Democratic senators who had been spreading the baseless claims against him.
Democrats nonetheless spent much of the hearing alluding to those accusations and suggesting the Court ought to allow Democratic lawmakers to rein in Thomas' actions.
In his opening remarks, Durbin stated that he was "disturbed" by the Court's letter and Roberts' rejection of the Democrat's summons to attend.
"We are here today because the Supreme Court of America does not consider itself bound by [rules that govern other judicial tiers]," he said. "I invited the Chief Justice to join this conversation. Last week he sent me a letter declining to testify…."
While Roberts had told Durbin in his letter that it was "rare" for a chief justice to appear before such a panel, listing a very small number of such instances in the Court's whole history, Durbin claimed Tuesday that "sitting justices have testified at 92 Congressional hearings since 1960."
"I'm more troubled by the suggestion that testifying to this committee would somehow infringe on the separation of powers," Durbin added.
He acknowledged the statement of ethics practices and principles attached to Roberts' letter. "It is an extraordinary document and not in a good way," Durbin said. "It makes clear that while the justices are fine with consulting with certain authorities on these issues, they do not feel bound by those authorities."
Ranking member Sen. Lindsay Graham, R-SC, said he saw the hearing as "a concentrated effort by the left to delegitimize the Court," but added:
What I would urge the court to do is to take this moment to instill more public confidence. I'm not gonna vote for any of these bills, but I think we would all be better off if they did that.
Democrats invited panelists to testify in favor of the bill.
Jeremy Fogel, a former federal judge, said in his opening statement, "I'm here because I think more is needed." He lamented the fact that in 2013 over two-thirds of Americans indicated confidence in the Court, while today less than one-third of those polled feel the same. A new code of ethics, he stated, would help restore the public's trust in the Court.
Amanda Frost, a law professor at the University of Virginia, noted that the original Oath of Office required of Supreme Court justices is nearly identical to that still taken today. She argued that Congress adjudicated the establishment of the Court, its Oaths, and the original recusal statute.
"Congress has the authority to enact this legislation," she said. "The view of some seems to be the Supreme Court justices should be accountable to no one."
Testifying for the minority, former Attorney General Michael B. Mukasey argued that the Court is solely responsible for its code of ethics and recusal standards, and dismissed Senator Durbin's contention that the Democrat-controlled committee must restore public confidence in the Court.
"It is impossible for me to square these accusations with the professed concern of some with the integrity of the Court… which remains intact," he said. "The fault lies with those who offer unfair criticisms" of justices whose decisions they don't like, Mukasey concluded.
Sen. Ted Cruz, R-TX, condemned the recent attacks on Clarence Thomas, suggesting Democrats resent the justice for failing to play the role they have cut out for African Americans.
Thomas H. Dupree Jr., a partner at Gibson, Dunn & Crutcher, called the proposed bill an "extraordinary" breach of the separation of powers.
"The power to manage its own affairs insulates the Court from inappropriate political influence," Dupree said. "This is crucial to preserving public trust in its role as a separate and coequal branch of government."
Dupree added that S. 359 "seems to be animated by an assumption that the Supreme Court of the United States is no different than the Department of Agriculture or any federal agency that can be commanded by Congress to engage in rule-making."
Senator Kennedy, R-LA, recalled for the committee Sen. Chuck Schumer's words in March 2020, when he controversially threatened pro-life justices not to interpret the constitution in a way contrary to the Democratic Party's position on abortion. "I want to tell you, Gorsuch, I wanna tell you Kavanaugh, you have released the whirlwind and you will pay the price. You won't know what hit you," Schumer had said.
"Some of my Democratic colleagues have been on a crusade to undermine the Court's legitimacy… for years," Kennedy added.
Kennedy then questioned Kedric Payne, a vice president of the watchdog group Campaign Legal Center, whom Democrats had summoned as a panelist in the hearing. Payne had claimed at the hearing that the Supreme Court "has the lowest ethical standards in government" and lacks "ethics experts" to govern its members.
Sen. Kennedy presented printouts of Tweets from the Payne. "You tweeted this: 'Some justices are politicians in robes who thrive in a system where access and influence are for sale.' Which justices are for sale, Mr. Payne?" Kennedy asked.
"I don't recall that Tweet," Payne replied.
Payne, Kennedy pointed out, also retweeted a comment stating, "John Roberts is a disgrace."
"I did not retweet that," Payne said.
"Maybe Twitter got it wrong," Kennedy mused.
Payne later acknowledged that he had, in fact, retweeted the comment.