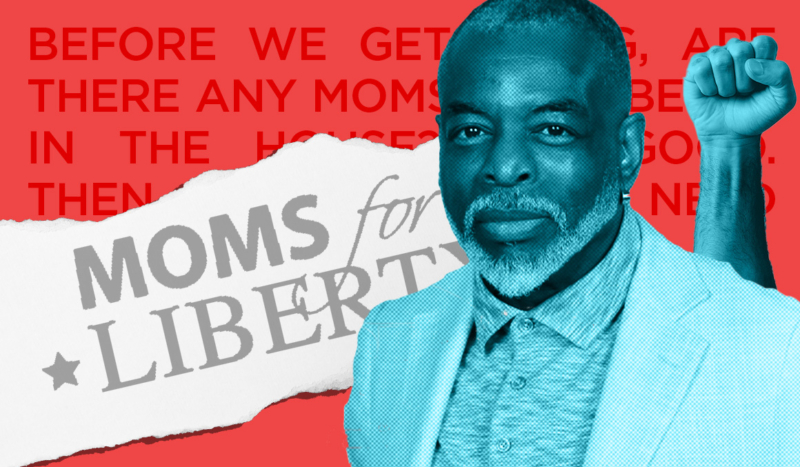 CV NEWS FEED // Actor LeVar Burton appeared to joke about fighting members of the pro-parent group Moms for Liberty at the National Book Awards Wednesday.
"Before we get going, are there any Moms for Liberty in the house?" Burton asked while hosting the awards ceremony.
The question reportedly elicited laughter from the audience. 
"No? Good," he said. "Then hands will not need to be thrown tonight."
Throwing hands is commonly understood to be a euphemism for fistfighting. The membership and leadership of Moms for Liberty is primarily female, hence its name.
Burton has a long history of publicly opposing the group, and the parental rights movement in general.
"One of the things I'm most thrilled about is that hardly any candidates backed by Moms for Liberty won their races," he said in an interview the left-wing men's magazine Esquire published on the same day he hosted the National Book Awards. Burton was referring to the November 2023 elections, which were considered a victory for the Democratic Party.
"There are bright spots, but these are people who would rather children not know the truth," Burton said. "Those kids will never know what they're missing, but it's our job to stand up for them, to be their voices and their advocates."
Burton has frequently repeated the talking point that removing pornographic content from school libraries amounts to "book banning."
"So, read the books they're banning," he said on The View last year while denouncing Moms for Liberty and other parental rights groups. "That's where the good stuff is. If they don't want you to read it, there's a reason why."
Burton hosted the PBS Kids program "Reading Rainbow" for over 20 years, beginning in 1983 and ending in 2006. He is also known for his roles in Star Trek: The Next Generation and Roots.
The actor was raised Catholic and reportedly discerned the priesthood and attended a seminary. However, he eventually fell away from the faith and embraced a secular worldview.

"I walked away from the seminary, I walked away from Catholicism, I walked away from organized religion because I felt that there was more for me to explore in the world," he said on a podcast.