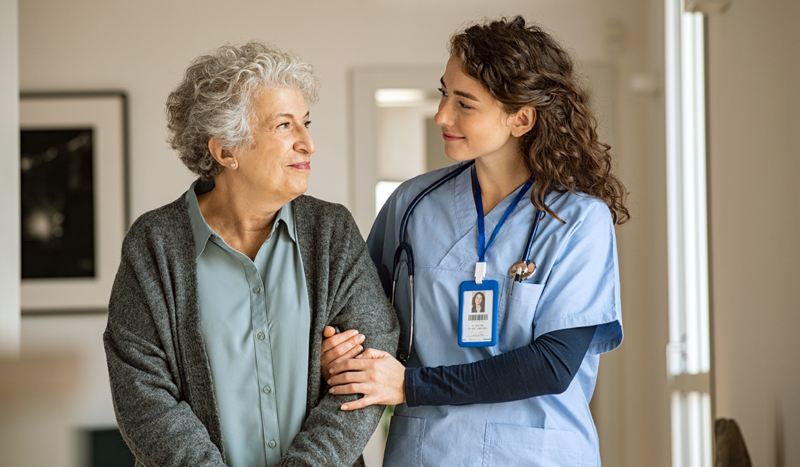 Navigating today's healthcare scene can often be a treacherous experience, from the exorbitant cost, to the promotion of the culture of death, to medical advice that doesn't align with right morality.
Despite the difficulties, Catholics are not alone in the fight to find healthcare that prioritizes caring for the body without abandoning the mind and spirit.
From fertility treatment at the FertilityCare Centers of America to the National Catholic Bioethics Center's work to tackle the tough moral questions, it is reassuring to know there are Catholics working on the frontlines of the medical field to provide solutions removed from the medical establishment. 
The Christ Medicus Foundation (CMF) is one of these organizations on the frontlines fighting each day to provide practical, Christ-centered healthcare made by and for Catholics. 
"We live in a time where investing in Christ-centered healthcare is more vital than ever," Mariah Buzza, CMF's assistant director of health policy and member community, told CatholicVote. "This is something that will tangibly promote the healing love of Christ into our world."
The State of Healthcare
As Catholics continue to witness anti-life government mandates that tear faith, love, and community out of the healthcare system, CMF Executive Director Louis Brown says people are left feeling isolated and objectified as mere means of profit for the healthcare industry rather than patients to be loved.
Not only is the medical field increasingly permeated by secularism and commercialism, but also the American government has exercised heavy-handed intervention since the 2011 Affordable Care Act. Today the Biden administration's is once again pushing for the HHS mandate that strips conscience protections from those opposed to abortion, contraceptives, or sterilization. 
On the political front, CatholicVote took action and mobilized over 7,000 people of faith to stand against this egregious attack through submitting official, unique comments demanding that the administration back down. But Catholics also need action in the field of healthcare itself.
New Solutions
It's into this tumultuous state of our country that organizations like CMF dive in to counter the darkness with Christ's healing love. CMF was first founded to stand against attacks on conscience rights in the medical field, and now serves as a Catholic healthcare ministry that takes a holistic approach to preserving body, mind, and spirit.
In an interview with CatholicVote, Brown shared how the founding of the organization was driven by political attacks on medical conscience and religious freedom in America.
"For many years, so many Catholics were unaware of just how steeped the culture of death was in the healthcare of this country," said Brown,
until the HHS contraceptive mandate came out starting around 2011. I think that it sparked a greater urgency within the Catholic community to choose Christ-centered, truly pro-life healthcare and wellness programs for oneself, family, and business. I think that, through the help of the Holy Spirit, energized the launch of CURO.
CURO is CMF's online health and wellness portal and community. By joining the CURO platform, members gain access to a host of Catholic health and wellness resources, including personal health coaching, bioethics counseling for sorting through the morality of medical situations, and even spiritual direction.
A Catholic Health and Wellness Platform
Committed to fostering community and providing Christ-centered medical resources, CURO offers three paid membership options tailored to one's medical needs. All three options include access to CURO's online Catholic community and a wealth of premium health and wellness tools such as courses, webinars, and a digital wellness program. This allows Catholics to take themselves out of the secular establishment healthcare industry while finding the care they need. 
One CURO membership plan even features an option for health sharing, which serves the need for finding affordable healthcare that is pro-life and aligns with Church teaching. Rather than buying from an insurance company, health sharing is a service that allows members to assist each other in paying medical bills. CURO's health sharing program is offered through Samaritan Ministries International. This membership plan also provides assistance in finding Catholic care providers nearby. 
Battling a Lack of Catechesis
CURO seeks to inform Catholics about their health while also evangelizing and provides 22 online wellness courses that are rooted in Catholicism and scientific evidence. These courses are loaded with practical medical and wellness information that show how biological realities reflect spiritual reality.
That means receiving medical advice and information with no abortion, no sterilization, and no artificial contraception that masks underlying fertility issues.
Catholics can feel free to research and learn about their medical and wellness options without being bombarded with "solutions" that promote death and ignore biological realities. This provides individuals and families with a sense of peace and security throughout their medical journey.
When describing CURO's mission, Brown added a nod to Our Lady:
We believe that the Holy Spirit, through CURO, is bringing individuals and families into the womb of the Blessed Mother, where we can heal, be whole, and live as sons and daughters in our health and wellness.
For more information on the Christ Medicus Foundation and the CURO platform, visit ChristMedicus.org. 
Additional Resources
If you want to get started on reclaiming your healthcare from the medical establishment, here are some additional resources.