Last Updated September 26, 2022
Attacks Since Supreme Court Leak:
73
CV NEWS FEED // At least 73 pregnancy resource centers and offices of pro-life groups have been attacked and vandalized since a draft Supreme Court opinion overturning Roe v. Wade was leaked in early May. Pro-abortion domestic terrorists have claimed responsibility — and are promising more attacks in a "summer of rage". 
Click/tap on the icons on the map to view locations, details, and photos of each attack.

The pregnancy resource centers, which provide free medical and financial support to pregnant and new mothers, have been spray-painted with pro-abortion and anarchist messages and symbols. Several have been set on fire. Other pro-life groups which advocate for the right to life have also had their offices vandalized.
The attacks appear to be organized under the umbrella of two domestic terror groups — Jane's Revenge and Ruth Sent Us — which have arisen since the Supreme Court opinion leak was published on May 2, 2022. Many of the attacks have similar messages, including "If abortions aren't safe, neither are you".
After an attack in Madison, Wisconsin, Jane's Revenge claimed credit and said they were at "war" with pro-life groups. They demanded "the disbanding of all anti-choice establishments" and said the first attack was "only a warning". Since then, several attacks have used the words "Jane Was Here" or "REVENGE". The group is planning a "Night of Rage" for the night after the final Supreme Court decision is released. The identity of the group's leadership and the sources of its funding are unclear. Thus far, clinics in 26 states have been attacked.
The group Ruth Sent Us has organized illegal protests outside the homes of Supreme Court justices, and has also called on its extremist supporters to storm Catholic churches during Mass. They even warned on Twitter, "We'll be burning the Eucharist to show our disgust for the abuse Catholic Churches have condoned for centuries." Ruth Sent Us is also a shadowy group, though Influence Watch has connected the group to two Democrat activists named Vara Ramakrishnan and Sam Spiegel.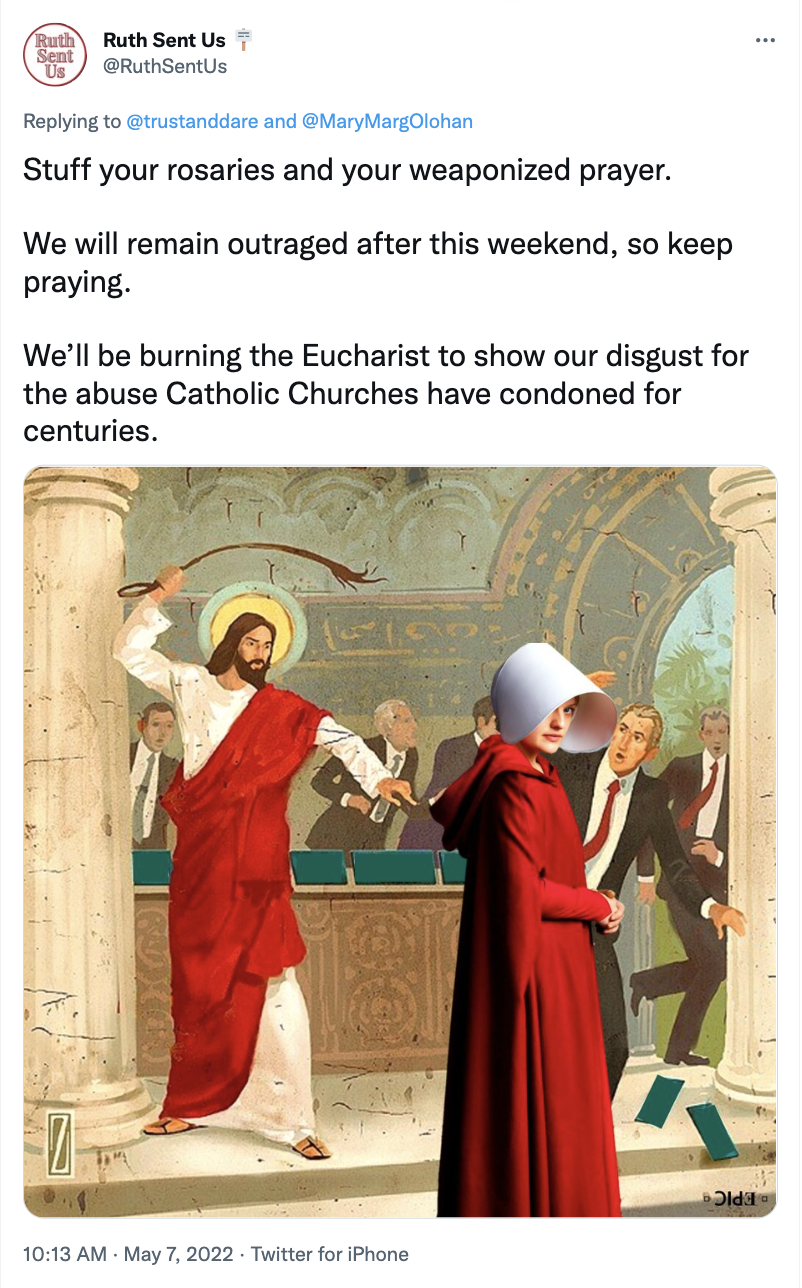 Pregnancy centers are bracing for more attacks and acts of vandalism after the Supreme Court issued its final ruling overturning Roe v. Wade on June 24, 2022. The Department of Homeland Security issued a memo the same day warning that "domestic violent extremists" would exploit the decision to commit acts of violence against various targets, specifically naming Jane's Revenge. Various terror groups have issued threats against them on social media since the decision was made, with one group urging its followers to "mask up, stay dangerous".
Some attacks are going unreported because pregnancy resource centers want to protect their clients. This post covers attacks which have been reported in the news media, sent as tips directly to CatholicVote, or uncovered from terrorist groups online. If you know of an attack which is not covered here, please email info@catholicvote.org. All tips are anonymous and your identity will not be revealed.
Some states have been hotbeds for these attacks: Oregon (6), California (6), Michigan (4), Minnesota (4),  Washington (4), Texas (3), Virginia (3), Florida (3), and Massachusetts (3).
The map and this post will be updated as the news develops.
This list covers attacks on pregnancy centers and offices of pro-life organizations. Attacks on Catholic churches are covered here.
List of attacks:
Southfield, Michigan — Mother & Unborn Baby Care (June 24, 2022)
Dayton, Ohio — Women's Centers of Ohio (June 27, 2022)
Tomah, Wisconsin — Monroe County Right to Life (July 19, 2022)
Northfield, Minnesota — Northfield Women's Center (July 26, 2022)
Petoskey, Michigan — Pregnancy Care Center of Petoskey (September 5, 2022)