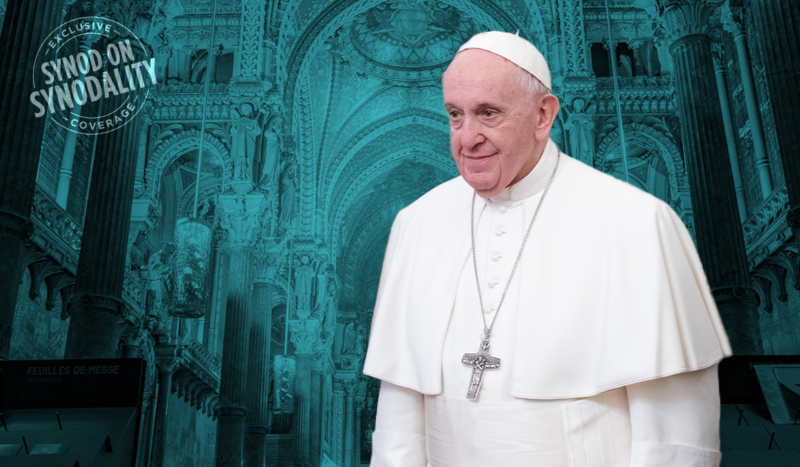 CV NEWS FEED // During the final Mass concluding the Synod on Synodality, Pope Francis said true reform of the Church is not accomplished by "good ideas," but by loving God and fellow men and women.
"The General Assembly of the Synod has now concluded," Pope Francis said during his homily in St. Peter's Basilica. "In this 'conversation of the Spirit,' we have experienced the loving presence of the Lord and discovered the beauty of fraternity," but, he noted, "today we do not see the full fruit of this process."
Commenting on Sunday's Gospel, the pope warned "against all types of idolatry; not only the worldly kinds," but also "those forms of idolatry disguised as spirituality: my own religious ideas, my own pastoral skills."
"We may have plenty of good ideas on how to reform the Church, but let us remember: to adore God and to love our brothers and sisters with his love, that is the great and perennial reform," he said.
"This is the Church we are called to 'dream': a Church that is the servant of all, the servant of the least of our brothers and sisters. A Church that never demands an attestation of 'good behavior,' but welcomes, serves and loves. A Church with open doors that is a haven of mercy," he added.
Pope Francis ended the homily by thanking the synod's participants "for the journey we have made together, for your listening and your dialogue."
"In expressing my gratitude, I would also like to offer a prayer for all of us: may we grow in our worship of God and in our service to our neighbor. May the Lord accompany us. Let us go forward with joy!" he concluded.
The first part of the Synod on Synodality, a month-long meeting held at the Vatican, concluded yesterday with the release of a final document. A second, final synodal assembly is scheduled to take place at the Vatican in October 2024.