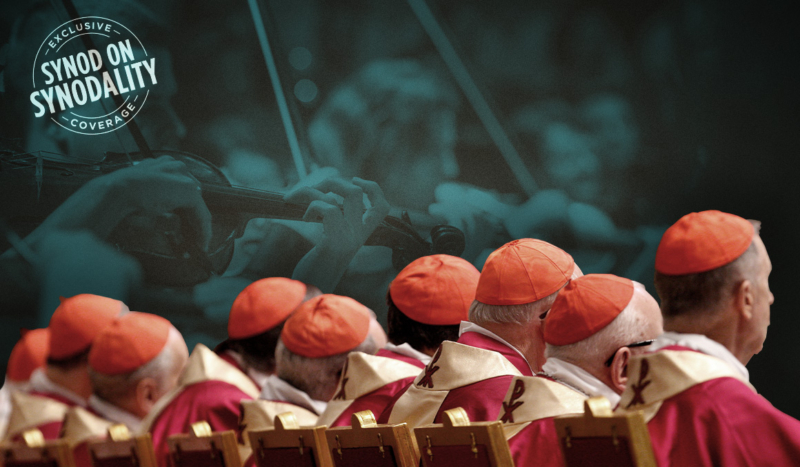 In Rome on Saturday, Pope Francis created 21 new cardinals from around the world, telling them they are like "an orchestra" in which "each sound must contribute to the common design."
"The College of Cardinals is called to resemble a symphony orchestra, representing the harmony and synodality of the Church, " Pope Francis said.
"I also say 'synodality,' not only because we are on the eve of the first Assembly of the Synod that has precisely this theme, but also because it seems to me that the metaphor of the orchestra can well illuminate the synodal character of the Church."
Continuing with the orchestra metaphor, the Pontiff told the new cardinals that "each sound must contribute to the common design. This is why mutual listening is essential: each musician must listen to the others. If one listens only to himself, however sublime his sound may be, it will not benefit the symphony; and the same would be the case if one section of the orchestra did not listen to the others, but played as if it were alone, as if it were the whole."
Apparently alluding to his own role in the upcoming Synod on Synodality, which begins in Rome this week, Pope Francis said that "the conductor of the orchestra is at the service of this kind of miracle that is each performance of a symphony. He has to listen more than anyone else, and at the same time his job is to help each person and the whole orchestra develop the greatest creative fidelity: fidelity to the work being performed, but also creative, able to give a soul to the score, to make it resonate in the here and now in a unique way."
The list of new cardinals created this Saturday includes American Robert Francis Prevost, the new Prefect of the Dicastery of Bishops, and the current Apostolic Nuncio to the U.S., Christoph Pierre.