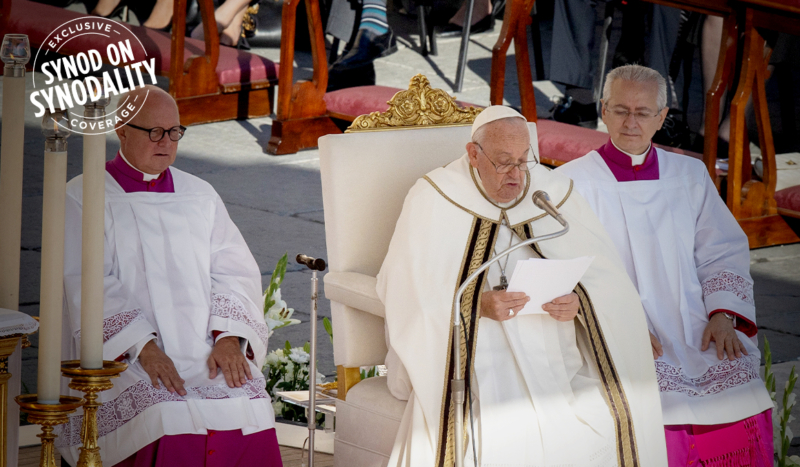 CV News Feed // At the Synod on Synodality's opening mass on Wednesday, Pope Francis said during his homily that the synod is neither a "political gathering" nor a "polarized parliament," but a time to look at reality with "the gaze of the Lord."
Pope Francis clarified that "here (at the synod) we do not need a purely natural vision, made up of human strategies, political calculations or ideological battles." He continued:
We are not here to carry out a parliamentary meeting or a plan of reformation. No. We are here to walk together with the gaze of Jesus, who blesses the Father and welcomes those who are weary and oppressed. This gaze of the Lord that blesses also invites us to be a Church that, with a glad heart, contemplates God's action and discerns the present. And which, amid the sometimes agitated waves of our time, does not lose heart, does not seek ideological loopholes, does not barricade itself behind preconceived notions, does not give in to convenient solutions, does not let the world dictate its agenda.
"Jesus' gaze," he continued, "invites us to be a Church that does not face today's challenges and problems with a divisive and contentious spirit but, on the contrary, turns its eyes to God, who is communion, and with awe and humility, blesses and adores him, recognizing him as its only Lord. We belong to him and – let us remember – we exist only to bring him to the world."
Pope Francis quoted Benedict XVI, who said at a synod in 2012: "'The question for us is this: God has spoken, he has truly broken the great silence, he has shown himself, but how can we communicate this reality to the people of today, so that it becomes salvation?'"
Pope Francis said the primary task of the synod is
to refocus our gaze on God, to be a Church that looks mercifully at humanity; a Church that is united and fraternal, that listens and dialogues; a Church that blesses and encourages, that helps those who seek the Lord, that lovingly stirs up the indifferent, that opens paths in order to draw people into the beauty of faith; a Church that has God at its center and, therefore, is not divided internally and is never harsh externally.
The pope said Jesus calls the Church to be a "welcoming Church" because "in such a complex time as ours, new cultural and pastoral challenges emerge that call for a warm and kindly inner attitude so that we can encounter each other without fear."
He then warned against what he described as "some dangerous temptations: of being a rigid Church, which arms itself against the world and looks backward; of being a lukewarm Church, which surrenders to the fashions of the world; of being a tired Church, turned in on itself."
Recalling that October 4 is the feast day of St. Francis of Assisi, the pope said of the Italian saint:  "In a time of great struggles and divisions, between temporal and religious powers, between the institutional Church and heretical currents, between Christians and other believers, [he] did not criticize or lash out at anyone. He took up only the weapons of the Gospel: humility and unity, prayer and charity. Let us do the same!"
Pope Francis closed his homily with a tone of optimism, saying "the Holy Spirit often shatters our expectations to create something new that surpasses our predictions and negativity. Let us open ourselves to him and call upon him, the protagonist, the Holy Spirit. And let us walk with him, in trust and with joy."