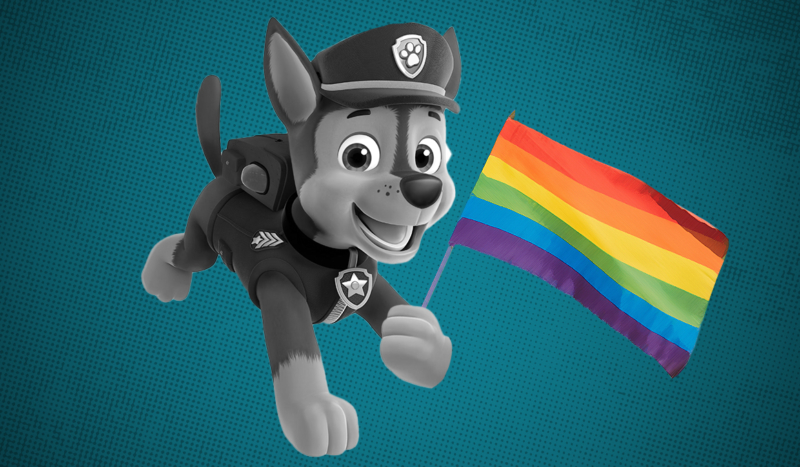 CV NEWS FEED // Nickelodeon has hired a far-left activist who reads pro-LGBTQ and pro-abortion books to children on YouTube to be a writer for a spinoff of the popular children's show "PAW Patrol."
"Rubble & Crew" is the newest installment of the wildly successful "PAW Patrol" franchise, which in 2020 Paramount called "a multibillion-dollar business." The media company noted that the flagship show "airs in more than 170 countries, reaching 350 million households."
"PAW Patrol" began in Canada ten years ago and is marketed toward preschool-age children. In addition to its television series, it has also spawned two feature films and a line of popular toys.
Lindsay "Lindz" Amer, an LGBTQ activist YouTuber with no known previous experience writing for television, was hired to write an episode of the new spinoff show.
Amer said on Instagram that the franchise brought her on "to consult on the first nonbinary character" and write said character's episode. "Talk about a bucket list item," she said.
Amer also revealed that the show's producers "found an awesome nonbinary actor" to voice the character. Amer herself "identifies" as "non-binary" and "prefers they/them pronouns."
The episode, titled "The Crew Builds an Observatory," aired a month ago. So far, it is the only episode of the series that Amer has written to date. For several weeks, it has received little media coverage aside from praise from a few pro-LGBTQ sources.
However, this week Daily Wire personality Matt Walsh exposed the popular children's show for their hiring decision.
"One of the biggest distinctions between shows that are made for adults, and shows that are made for children, is that you rarely hear much about the people who make shows for children," wrote Walsh, a Catholic and father of six.
He continued:
Studios go out of their way to promote the latest "Christopher Nolan film," or the latest action movie directed by Michael Bay or James Cameron. Adults are expected to buy tickets to see these films primarily on the basis of the famous people who worked on them. But when it comes to productions that are intended for children, you're left in the dark. You're really not supposed to know anything about the people producing those shows. 

Instead those productions are marketed directly towards children, usually with the help of cutting-edge animation and CGI. Parents aren't told anything about who's putting this stuff together behind the curtain.
"That's why, the other day, I decided to take a close look at someone named Lindz Amer," Walsh wrote. "Lindz Amer is not a household name. Very few people have ever heard of this person."
"Tens of millions of children are being exposed to content written and produced not just by soulless automatons but also soulless automatons who happen to be hyper Left-wing, like Lindz Amer," he went on. "So it's important to ask a basic question, which Nickelodeon and Paramount desperately don't want you to ask. That question is simple: Who is this person?"
Walsh explained that Amer is primarily known as the creator of the YouTube channel "Queer Kid Stuff." It describes itself as "an edutainment company that brings LGBTQ+ and social justice media to kids and families."
According to its promotional banner, "Queer Kid Stuff" has been "Spreading Queer Joy Since 2016" and hosts a segment known as "Rainbow Storytime" each Saturday morning in which Amer reads "LGBTQ picture books."
In a 2018 interview with Shondaland, she stated that the purpose of the channel is to teach kids the "ABCs of LGBT," also adding, "I've made videos about race for 3-year-olds."
In one episode of "Rainbow Storytime" that was posted five months ago, Amer read a book titled "What's An Abortion, Anyway?"
"I'm really excited to read this book because I don't think there are any other picture books that talk about what an abortion is," she said in the video. "And it's [a] really important idea to understand right now."
"Isn't it, Teddy?" she asked her teddy bear "co-host."
"Yeah, that's right," she responded, speaking as the bear.
Walsh commented on Amer's decision to read the book to a child audience. He noted that its stated reading level is "for children ages seven and up."
So the point, of course, is to indoctrinate children who can't possibly understand the ramifications of abortion, as early as possible, before they know what they're talking about. And if you read this book, of course, it's the most overt pro-abortion propaganda you can possibly imagine. It includes lines like this for example: "Some people have abortions because their doctors say pregnancy could make them sick." Another page contains this line: "Some people have abortions because they can't take care of a new baby right now."
In addition to her promotion of abortion, Amer is also "bent on sexualizing kids," Walsh wrote.
"She even sings a whole song about kids being drag queens," he pointed out. Walsh referenced another "Rainbow Storytime" video on Amer's channel in which she reads the book "If You're a Drag Queen and You Know It" while playing a ukelele.
Comments for both this video and the one on abortion are turned off.
An X (formerly known as Twitter) user known as "Gays for Trump" wrote:
Queer Kids Stuff was the most disturbing thing I have ever seen on YouTube. Straight-up grooming and teaching young children things that I don't think is even appropriate for high school teenagers!
Walsh also noticed that Amer is the author of a book titled "Rainbow Parenting: Your Guide to Raising Queer Kids and Their Allies," in which she argues for preaching LGBTQ propaganda to infants.
An excerpt from the book's first chapter reads: "You can create a queer and gender-affirming environment in their nursery, babble to them about consent while you're changing their diaper, and start up your well-rounded book collection."
Walsh posed a theory of why the already successful "PAW Patrol" franchise brought in Amer as a writer and decided to feature a "non-binary" character in the new show.
"If you've ever had a conversation with a proponent of this 'non-binary' concept, you will quickly notice that they struggle mightily to explain it or defend it," Walsh wrote:
They cannot answer any skeptical questions about it.

They claim that some people are not on the sex binary, that they exist in a state beyond male or female. But if you ask them, for example, to name the third and fourth and fifth sexes, if you ask them to give you more information about these people who possess this "transcendent" identity, they can't do it. So how do you get people to buy into this concept — one that you can't defend or even answer any questions about? 

The only way to do it is to indoctrinate them at a young age, before they can think for themselves or ask these kinds of questions. And that's exactly what's happening. It's why Nickelodeon and Paramount have enlisted Lindz to write for them.
Former music video director and parental rights activist Robby Starbuck agreed. "Hollywood is working to indoctrinate your kids into the woke cult," he wrote on X:
Paw Patrol's new spinoff series is just the latest example of it. After watching this video, you know what they're doing now so if you oppose it, do three things: Turn off mainstream shows for good, don't let your kids surf the internet without supervision and share this video to wake up more parents.